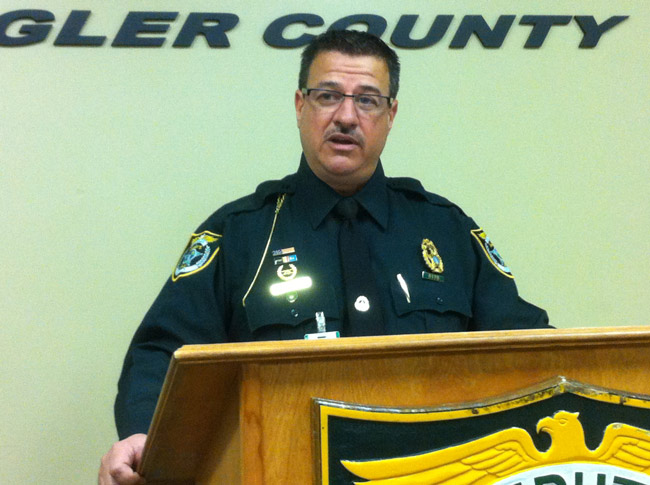 In a hastily arranged ceremony Monday morning Flagler County Sheriff Don Fleming appointed Maj. David O'Brien, a 29-year-veteran of the department, his chief deputy. O'Brien replaces Rick Look, 63, who left the agency he'd served since 2005 on disability last year, after suffering various ailments.
"I am humbled by the faith you have placed in me taking on this new responsibility within the agency," O'Brien said in prepared remarks delivered at the department Monday. "It is a role in which I hold with great responsibility and I am ready to stand with each and every one of you and meet the challenges of the day."
Thanking the ranking and file at the agency, O'Brien quoted Winston Churchill, Britain's leader during the last world war, saying: "Success is never final. Failure is never fatal.  It is courage that counts."  O'Brien added, to the rank and file: "We thank you for the courage that you show each and every day.  It is our responsibility to ensure we provide you with the tools that will keep you as safe as possible."
O'Brien, 48, began his law enforcement career at the jail when the agency was headquartered in the old Flagler County jail off State Road 100 in Bunnell, in a building built with Works Progress Administration labor during the 1940s. O'Brien transferred to the road patrol division, and in 1991 became the first full-time motorcycle deputy for the Sheriff's Office. He was promoted in 2001 to head up the first full-time Narcotics Investigation Division. He was promoted to Captain and then Major to lead the entire Criminal Investigation Division and, later, the Administrative Division, before taking over the Operations Division of the department. O'Brien is a 2007 graduate of the FBI Academy in Quantico.
"We need someone who can maintain consistency in operations in my absence," Fleming said. "I believe Chief O'Brien brings that to this post. He has shown he can take on added responsibility and he has done an excellent job."
Fleming has been sheriff since 2005. He's in a tough re-election battle this year, facing two opponents in the Republican primary so far, and, if he survives that, a potential rematch with former Sheriff Jim Manfre, whom Fleming defeated in 2008. Fleming has needed a boost to his image recently: he's been on the receiving end of negative press because of his role in the Fischer affair—the half dozen calls he exchanged with John Fischer, the school board member, in the hours after Fischer's wife struck a 76-year-old woman (who subsequently died) in November. Fischer's wife, Jamesine, was charged by the State Attorney's office earlier this week with leaving the scene of an accident with a death involved.
O'Brien, for his part, is usually behind the scenes. Not lately: the revelation that he would be marrying Flagler County Commissioner Milissa Holland—whom he'd pulled over years ago, when he was a road deputy—generated its own headlines. The couple is marrying in April.
O'Brien isn't saying whether he has ambitions to be sheriff. But the chief's position, like the vice presidency, is a lead-in to a run for the top job.
"I look forward to working with each and every one of you because we don't operate independently of each other but we work collaboratively so that we can provide the necessary service to protect the citizens of Flagler County.," O'Brien said.