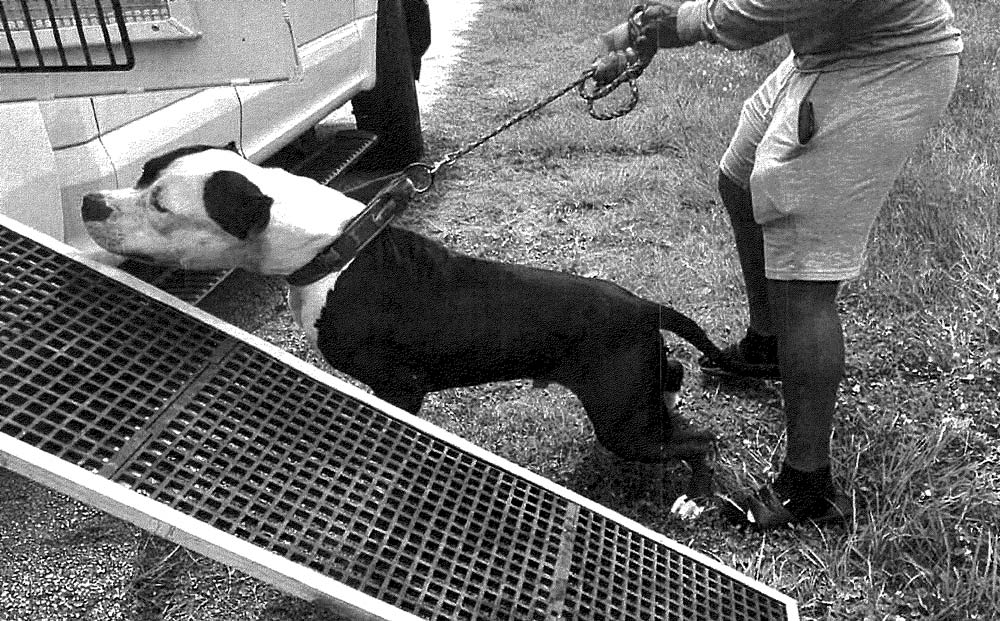 In a rare appeal, a special magistrate this morning affirmed Palm Coast Animal Control's decision to designate Ghost, a large pit bull mix, a dangerous dog following the dog's attack on the 13-year-old girl who was walking him on an R-Section street on June 5.
Dangerous dog designations are very costly and restrictive on dog owners, amounting to a form of permanent probation for the dog, with a Damocles sword set to cut the dog's life short should the dog reoffend. But the burden a local government must meet to impose the designation is high, and hinges on incontrovertible proof of severe injuries to victims (including animals) or unprovoked, wanton attacks. There was no doubt that the city met that burden in Ghost's case.




"The 13 year old was attacked, honestly, quite gruesomely, with many, many attacks, many, many sutures," Special Magistrate Stephen Mistoler told the dog's owners as he announced his ruling after a 70-minute hearing at City Hall, noting the presence of a 2-year-old child in the same household. "I really dread the idea of anything horrible happening to that really young, 2-year-old child."
Ghost is a roughly 2-year-old male pit bull his owners breed and take to dog shows–a practice that will have to end with the dangerous-dog designation. Any dog that has aggressively bitten, attacked or caused severe injury to a human being on public or private property may be deemed dangerous. A second offense would lead to the dog's destruction.
Ghost's owners and the girl's parents, Jimmie Robinson II and Tenille Payne, had appealed the city's decision, resulting in this morning's hearing before Stephen Mistoler, the magistrate. The hearing was similar to a trial, with the city's attorney, Jennifer Nix, making the city's case, and questioning witnesses.
Robinson and Payne represented themselves, with little familiarity with hearing procedures, putting them at a disadvantage from the outset. But the case did not appear to have ambiguities, the dog's owners did not contest the acts of the case, only some of their interpretation, and their legal case added up to contentions that could not stand up against the city's evidence: no one knows why the dog attacked, and it could have been much worse.




Remarkably, the couple downplayed the severity of the attack despite disturbing images that showed their daughter scarred, punctured, lacerated and scratched on her arms, her legs, her feet, her back and one of her hands, with eight to 10 of the spots requiring stitches.
"It wasn't an aggressive bite, he was just playing around," Robinson said, otherwise "she would have been more torn apart."
The incident took place outside of 8 Ryall lane in Palm Coast at 1 a.m. on June 5, when the couple's daughter, Danielle (the name has been changed), decided to walk Ghost, though she never has and never does, according to her parents. Payne was asleep on the couch at the time. "She decided to walk the dog on her own at 1 a.m., I didn't even know she went outside," she said.
Danielle, who was not in the hearing room, had never walked the dog before. Payne heard her daughter screams, as did neighbors. Neighbors called 911. Ghost had overpowered Danielle, throwing her to the ground and attacking her repeatedly.
There is no evidence that the attack was provoked, the Animal Control officer who investigated the case for the city, Heather Priestap, concluded, and said again at the hearing.
"I feel that Ghost attacked with no warning and kept attacking, and I know from my opinion it sounds like she was rolling around, trying to get away and she was screaming," Precept said. "There are other children in the house as well. With an unprovoked attack, it's hard to tell when they will attack."
Ghost was impounded at the Humane Society, as required by law when a dog has caused a severe injury, pending the outcome of the investigation. At the Humane Society, a kennel worker was again bitten by Ghost while walking him, causing a bleeding laceration. The city made much of that second bite in its case this morning, citing it as reason enough to have warranted a recommendation to euthanize the dog.
Mistoler, the magistrate didn't put as much weight on the second bite: he was concerned about the humane Society victim's affidavit, which described an understaffed operation. "'I wasn't supposed to be working this day, I was supposed to be off today,'" the magistrate read from the affidavit. "Maybe there's a little bit more going on at the shelter with staffing. So I'm not really going to consider this so heavily, the second bite that we have." Had he done so, Ghost's fate might have been spoken for.
So the magistrate focused on the facts and consequences of the June 5 attack, as presented by Jennifer Nix, the city's attorney on the case. The magistrate was perhaps startled by the dog owners' testimonies.




Robinson, when he appealed the case, argued in his appeal that Danielle does not feel that the dog harmed her and is not afraid of Ghost.
"You're aware he harmed her?" Nix asked him.
"Yes," he said.
"Did you see her injuries?"
"Yes," Robinson said. "She says she didn't feel he harmed her."
"You're aware there are stitches in multiple places."
"Yes." Robinson said the dog was biting her but in a playful rather than aggressive way.
"Do you consider this to be a serious injury?" Nix asked him, referring to the images.
"She's fine now," he said, downplaying the wounds, which he said did not go to the bone, for example.
"Do you feel that it would have to be that severe for you to think it's problematic?" Nix asked him.
"I don't feel like that," Robinson said, "but I feel like it was one incident that occurred, and I feel like, how can you just determine that he's dangerous on one incident? There's no one else in the public that he bit or anybody else walking down the street." Ghost has been to several dog shows without biting anyone, Robinson said. He did not see why that particular bite was singled out as warranting the dangerous dog designation, "just because of one incident."




Payne's testimony was not that much different, though she seemed a bit more concerned about the injuries. "We can't say what happened, we weren't there," Payne said.
"What do you think is going on here, that the dog preemptively acts like this?" Nix asked her.
"I don't know what happened I wasn't there," Payne said.
"So as far as you understand it wasn't though your daughter was tormenting or abusing or assaulting the dog," the attorney asked.
"I'm not sure what she was doing out there. She's not going to tell that if she was," Payne said.
But by then it was really a one-sided case, the magistrate's decision all but certain. Nix did not let up in her closing argument, portraying the city as merciful enough not to seek the death of the dog, though under the law it would have been entitled to do so. "That is an aggressive dog," she said, after again summarizing the extent of the injuries that morning. "There's no evidence that the victim provoked Ghost."
Robinson and Payne declined to put on witnesses of their own, or to present closing arguments. Perhaps they knew the battle lost, their body language–slumped, deflated soon after they sat down at the beginning of the hearing–suggesting that they knew it lost minutes into the appeal.
Clearly, however, the magistrate was not out for blood, seeking a tempered ruling that reflected the severity of the attack, afforded Ghost one more chance, and imposed the sort of restrictions that would, assuming they are complied with, ensure safety for the dog's entourage.
Ghost will have to be sterilized, it'll have to be kenneled or otherwise muzzled even in the house, if children under 18 are present, and will have to follow a series of other measures to comply with the dangerous-dog designation: it'll have to be tattooed with the designation, his owners' property will have to display signs at all points of entry indicating the presence of a dangerous dog, his owners will have to buy $100,000 worth of liability insurance if Ghost were to cause damage or injury again, and so on. They will also owe $300 to the Humane Society–and will not get Ghost back until he will have been sterilized.
Ghost's owners have the right of appeal–not to the Palm Coast City Council, which, like all local governments, dreads the no-win politics of these cases, but to circuit court.