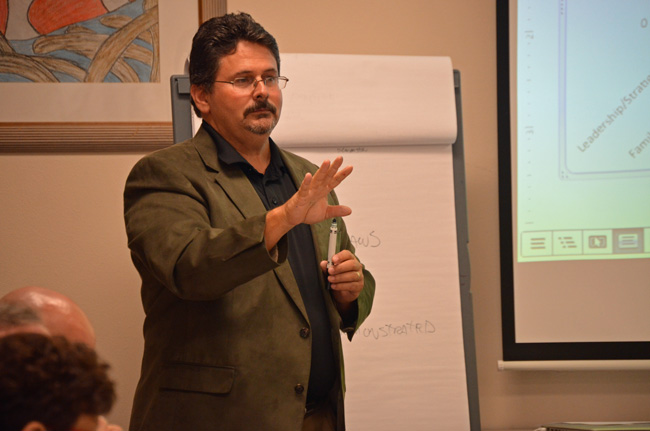 No matter how he explains it, Andy Dance, the chairman of the Flagler County School Board, acknowledges that the instances of plagiarism noted in his initial answers to written questions by the News-Journal add up to a black eye for what he terms "an otherwise spotless six years," and a black eye for the school district he represents.
"I was the one that just screwed up," Dance said Monday. "I'm extremely sorry for the black eye I put on the district. It's not just me but it's the district."
Maria Barbosa, Dance's opponent, was also found to have plagiarized her answers, even more so than Dance, just as she had plagiarized her answers in a FlaglerLive interview.
How Dance and Barbosa handled the plagiarism issue contrasted sharply. Dance took full responsibility and provided an explanation of how his lifted answers made it into text presented as his own, citing both sloppiness on his part and "frustration" with the News-Journal's format.
Barbosa has never taken responsibility for the plagiarism when asked about it by FlaglerLive, the News-Journal, and Jacksonville's Channel 4. She denied, against hard evidence to the contrary, that she plagiarized her answers in the FlaglerLive interview. She gave the News-Journal an incomprehensible answer when asked about her plagiarism in her newspaper answers:  "… About voter guide Q's, if you don't mind, I will pass the comments to the opponent. thank you for the opportunity."
Barbosa also has yet to authenticate her claim that she earned a master's and a doctorate.
The News-Journal revealed the plagiarism in its Sunday editions, six days after FlaglerLive revealed that Barbosa had extensively plagiarized her answers in her written FlaglerLive interview. Dance's FlaglerLive interview, which runs to nearly 5,000 words, was authenticated as entirely his. The interview was again processed through a plagiarism-checker Sunday, and again proved clean of any instance of plagiarism, or borrowed and unattributed text.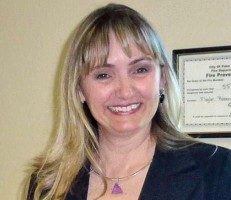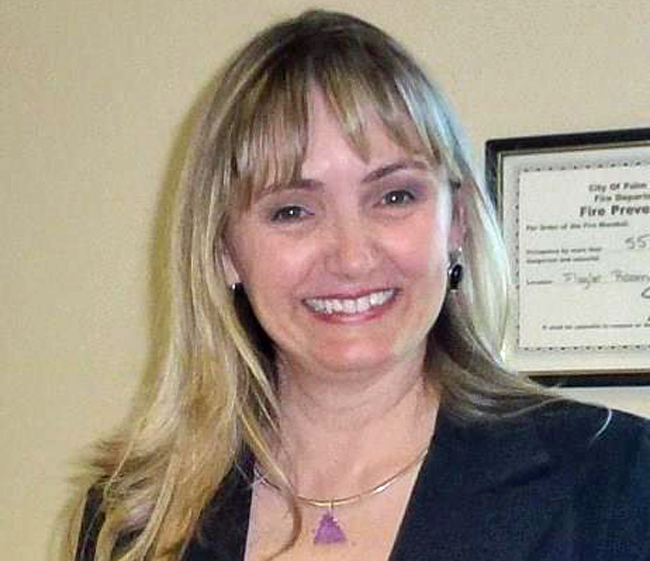 The News-Journal's Natalie Kornicks reported plagiarism "at least four times in Dance's replies and six times in Barbosa's responses." The News-Journal did not publish the plagiarized version of the interviews, rather giving Dance and Barbosa the opportunity to rewrite their answers first.
The paper required candidates to answer a set of questions in three sentences, regardless of the question. Dance found that too limiting, and his frustration tripped him. "I was not happy with their format and I submitted it too long on purpose," Dance said. "I just didn't like their format and I didn't like being limited." It was in those answers that he'd lifted passages from other texts, without attribution. He'd done that, he said, in a hurry, taking bullet points he'd gathered in his research and passing some off as his. The paper then asked for shorter answers. As he prepared the shorter version, he corrected his earlier transgression. In Dance's telling, he was the one to tell the reporter that he'd made mistakes initially.
"I submitted the redone one," Dance said, "and I think the way they got away with saying what they did is they sent an email to each of the board member that said I'm getting ready to make a final edit, and if there are changes you want to make, please make them in your own words." He added: "It was after I submitted my second version that they told me that there were mistakes," meaning in his first set of responses.
But whether the plagiarism had been in the first set or not, it had taken place, and the News-Journal was only reporting, correctly, that plagiarism had been detected: whether Dance eliminated it in his second version or not doesn't erase the fact that he had committed some plagiarism. After initially attempting to downplay the seriousness of the offense by explaining the timeline, he conceded, without qualifications and with remorse, that the mistake was his.
"In the end regardless of my issues with the News-Journal," he said, "I just have to acknowledge I made a mistake and I'll be stronger for it, I'll be better for it. I volunteered the information, I didn't hide anything."
The paper reported that Dance and the rest of the board will soon be considering the revisions to the plagiarism policy, which would call for a suspension for second-time offenders and expulsion from the course where the plagiarism took place for a third offense.
Currently at Matanzas High School, a first offense leads to a warning, a parent conference and a zero on the assignment. A second offense leads to parental contact and an out of school suspension, as well as a zero. A third offense is a loss of the course credit. Bob Sawyer, the dean of students at Matanzas, said the approach applies in all the schools.