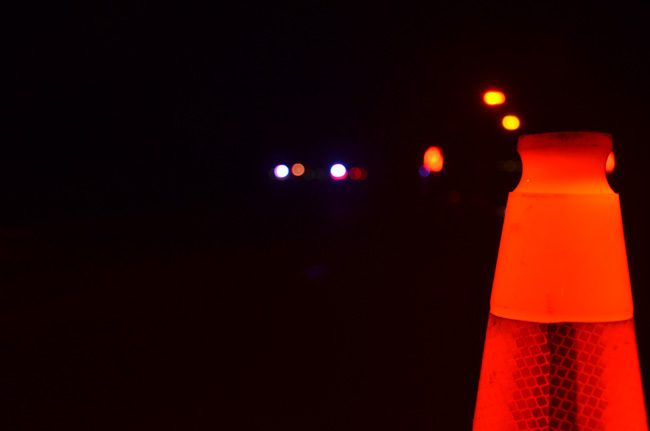 Kelvin Smith, 16, was killed this evening, New Year's Eve, in an apparent hit-and-run as he was cycling on Old Kings Road near Palm Coast's F-Section.
Smith was struck from behind and left on the road as the vehicle drove on at 7:20 p.m. The collision took place between Farnum Lane and Farmsworth Drive on Old Kings Road, just north of the Elks Lodge. An emergency helicopter was placed on alert but the boy was pronounced dead at the scene at 7:35 p.m.
Old Kings North was closed in both directions from Frontier Drive at the south end to Farmsworth Drive at the north end. The road was expected to remain closed for several hours as Florida Highway Patrol investigators conducted their investigation. The body of the victim could not be removed until the arrival of the medical examiner.
Authorities were listing the incident as a hit-and-run. Shortly after the collision, a sheriff's deputy located a pick-up truck, its engine still warm, with front-end damage, parked behind Kingdom Hall, the Jehovah's Witnesses building, at 1970 Old Kings Road. It's not clear if the vehicle is connected to the wreck.
The Florida Highway Patrol reports that the pick-up truck involved in the hit-and-run was last seen traveling northbound on Old Kings Road. Authorities are looking for what is possibly a Ford-model truck. Anyone with information regarding the identity of the pick-up truck and driver should notify FHP's Corporal J. Rountree by email at [email protected] or at 904/825-5080.
Smith's death was the second fatality on Flagler County roads in two days. Friday afternoon, a 63-year-old woman, Alyce Whitman of Crescent City, was killed in a crash at the intersection of County Roads 304 and 305 at the southwest end of the county.
Today's fatality took place during an evening when first responders were called out on numerous emergencies, including several minor wrecks, a brush fire at the intersection of Belle Terre Parkway and Rymfire Drive (it was controlled), and a house fire that turned out to be contained to a kitchen at 149 Brunswick Lane.