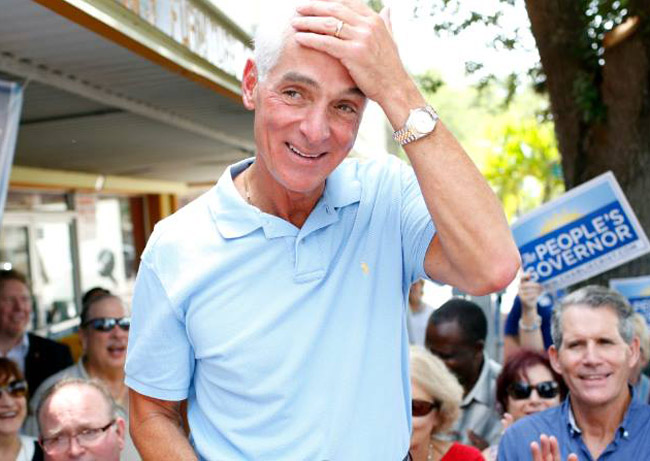 With education expected to be a key issue in this year's gubernatorial campaign, Democratic candidate Charlie Crist on Tuesday announced tuition-loan forgiveness and refinancing programs as part of a "middle class jobs and opportunity plan."
The plan, announced during a news conference in Fort Lauderdale, featured a number of education-related proposals as well as several previously discussed ideas, such as increasing the minimum wage and expanding access to health care.
"To ensure that everyone has a fair shot, Florida needs a governor who will invest in them, not just the big corporations," Crist, a former Republican governor, said in a prepared statement.
Crist, who attacked Republican Gov. Rick Scott over past education-funding cuts and for failing to expand health care, called the plan "Fair Shot Florida."
Even before it was released, the plan was panned by Sen. John Thrasher, a St. Augustine Republican who is Scott's campaign chairman.
"It's hard to take Charlie Crist seriously on 'jobs and opportunity' — because he hurt Florida's economy so much as governor, he didn't even want his own job," Thrasher said in a statement issued by the Scott campaign more than three hours before Crist's announcement. "Charlie Crist had his shot at being governor — but he failed, then ran away."
Thrasher was referring to Crist's decision to run unsuccessfully in 2010 for a U.S. Senate seat rather than seeking a second term as governor.
This year's campaign has been dominated by negative ads and attacks, but in recent weeks Crist and Scott have started offering some policy proposals. As an example, Scott on Monday released a plan dealing with environmental issues.
Education, ranging from public schools to colleges and universities, will be a closely watched issue throughout the campaign. Among other things, Scott has campaigned on his efforts to hold down tuition costs in the higher-education system.
Crist's new plan also touches on college-affordability issues. In part, it would:
— Create a loan-forgiveness program for students who graduate from state universities or colleges, study in science, technology, engineering and mathematics-related fields, stay in Florida at least five years and are employed in their fields of study.
— Expand to other schools the concept of the Machen Florida Opportunity Scholars Program. That University of Florida program provides financial assistance to low-income students who are the first in their families to attend college.
— Create a student-loan financing authority to help struggling graduates refinance debt.
–Jim Turner, News Service of Florida