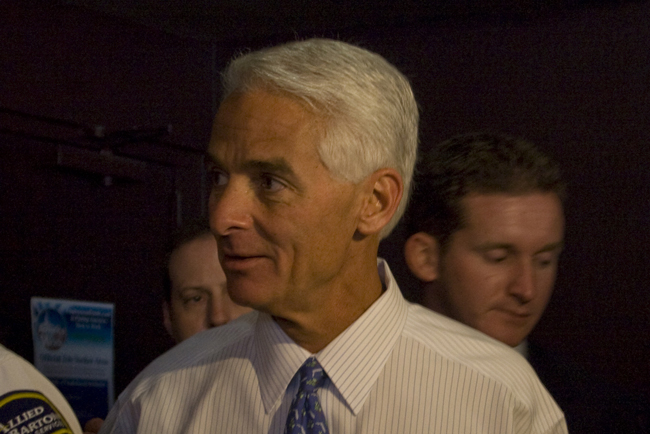 Former Gov. Charlie Crist made it official Friday: He will run for his old job again in 2014, setting up a potential battle with Republican Gov. Rick Scott for the state's highest office.
Crist, who is set to announce his candidacy Monday morning at Albert Whitted Park in St. Petersburg, quietly filed his paperwork Friday with state election officials. The move allows him to begin raising money immediately. He becomes an instant front-runner in a Democratic primary that also includes former state Senate Minority Leader Nan Rich of Weston.
But Crist, who was governor from 2007 to 2011, will have to prove himself to Democrats after being a Republican for most of his life and, beginning in 2010, becoming an independent. It was only in late 2012 that he joined the Democratic Party.
In an interview this week with The News Service of Florida, Crist said he is running because he genuinely cares about the state.
"I love Florida," he said. "I love her with all my heart. I'm someone who really cares. That's my core. I've been true to my principles and my core my whole life."
Running as a Democrat is the latest chapter in a long and sometimes improbable political career for Crist. In 2006, he won election in a cycle hostile to Republicans, with his sunny optimism and ability to win over voters from both parties. By 2008, he was reportedly on the vice-presidential shortlist for the party's presidential nominee, U.S. Sen. John McCain, R-Ariz.
In 2010, Crist decided to forego what was expected to be a relatively easy re-election bid to run for an open U.S. Senate seat. But the emerging tea party movement, scornful of moderates that it considered "Republicans in name only," rallied behind former Florida House Speaker Marco Rubio, eventually chasing Crist out of the party. Running as an independent, Crist lost to Rubio in a three-way election.
Republicans drew on that history Friday, continuing their attack on Crist as a political opportunist who cares primarily about himself.
"Charlie Crist has now officially filed to run for the position he once abandoned," said Republican Party of Florida Chairman Lenny Curry. "When Florida needed Charlie Crist the most during difficult economic times, he ran away. If he really wants to be Governor now, why did he quit the first time?"
–News Service of Florida