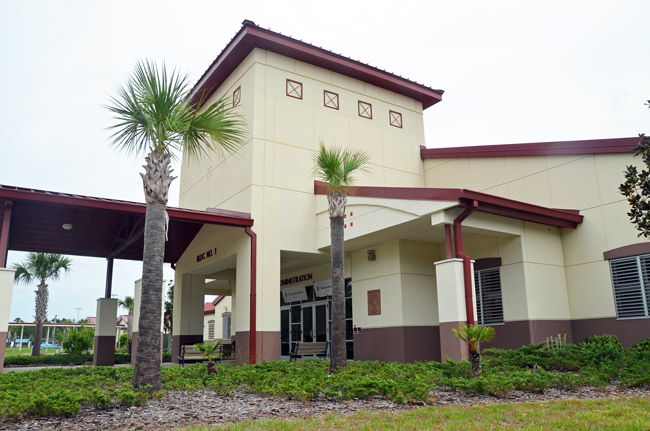 It's not the sort of court case you see every day. But it's on Flagler County Circuit Court Judge J. David Walsh's docket Thursday afternoon: State of Florida v. Andre Javan Darby.
It's a truancy case.
Darby is a 38-year-old resident of Wedge Lane in Palm Coast. The state—representing in this case the Flagler County school district—is taking him to court because he was not enrolling his three children in school.
It doesn't happen often—"a handful of times" each year, says Kristy Gavin, the Flagler school district's attorney. There is one other such pending case this year. What does happen often is chronic truancy that parents or guardians at times aren't even aware of, especially with students in middle or high school who pretend to go to school but play hooky instead. The district is quite patient, gradually going from notices that go home, to warnings that the situation may be handled more severely, to an outright notice that the parents may be taken to court if the truancy continues.
"Is it a frequent thing that students approach that level and letters are sent? Yes, absolutely," Gavin says. But that usually takes care of it.
In Darby's case, it didn't. The case is illustrative of the balance the district has to contend with routinely between routine truancy and outright law breaking that leads to actual charges. It is also illustrative of how parents can play the home-school card only so far, if their intention is merely to keep a child from attending school rather than educating a child by their own means.
Florida law is clear. All children who turn 6 by Feb. 1 of any school year, and who are younger than 16, must either be enrolled in school—public, charter, private—or be receiving instruction at home. Parents must register their homeschooled children as such. It doesn't stop there. Parents can't merely declare that they're home-schooling a child and expect the school district to nod and move on. All home-schooled children are expected to have portfolios documenting their work and progress in line with certain standards.
Periodically, parents or guardians of the child must meet with district officials so the portfolio can be reviewed. Some parents choose not to meet: The attitude of some home-schooled parents can become so defensive against the district, often for inexplicable reasons, that they consider such meetings an intrusion in their right to educate their child as they see fit, even though the district, reflecting Florida law, is extremely accommodating to home-schooled households. Verification that a child is getting instruction doesn't go much further than that. Parents are free to choose whatever curriculum they want. It doesn't have to be a Floridian curriculum. But they do have to show that a child is keeping pace, roughly, with academic expectations at given ages. The Flagler district is so accommodating that it has accepted documentation of home-schooling without actual meetings.
The Darby case goes all the way back to 2011. His son was to attend Rymfire Elementary. His daughters were to be enrolled at Flagler Palm Coast High School. There was no attendance with the boy. The girls' fitful or lack of attendance at FPC only started in the fall of 2012.
A habitual truant under the law is a student who has piled up more than 15 unexcused absences in a 90-day period—with or without the knowledge of parents. Excused absences due to illness, for example, must be documented by a doctor.
"The parents were indicating that he was being homeschooled, and there's no problem with that," Gavin said, referring to the elementary-age child. The district's parent liaison set up a meeting to go over the child's portfolio. "The parents missed the appointment. It was rescheduled and rescheduled, and so we said look, if you can get us the documentation, this will go away, and they didn't."
In October 2012, the case was referred to the district's truancy coordinator for review. And a second-degree misdemeanor charge was filed against Darby. (A second degree misdemeanor carries a maximum penalty of 60 days in jail.)
Sharon Feliciano, the Palatka attorney, was assigned to represent Darby in December 2012. (Feliciano did not respond to requests for interviews Tuesday and Wednesday. Darby said he was not at liberty to speak about the case, on advice of his attorney.) There were several delays. The case was to make its way to County Judge Melissa Moore-Stens. In February, Feliciano asked that Moore Stens  recuse herself, because Moore Stens and Feliciano had been opponents in last year's election to that judgeship. So the case was moved to Walsh's docket.
According to Gavin, Darby has since enrolled the younger boy at Palm Harbor Academy, the charter school, where the boy has reportedly been attending school. The older girls have been attending FPC. Nevertheless, because of the severity of the case, and the belated response by the family—and because the district and the state don't take egregious truancy cases lightly—the charge has not been dismissed.
"We're right now attempting to reach an agreement with the parents where we'd potentially enter into a deferred prosecution agreement with a year's probation," Gavin said. But it was not clear whether that settlement would stick.
Walsh's docket indicates that, after moving close to a trial, a "possible" plea is in the works.