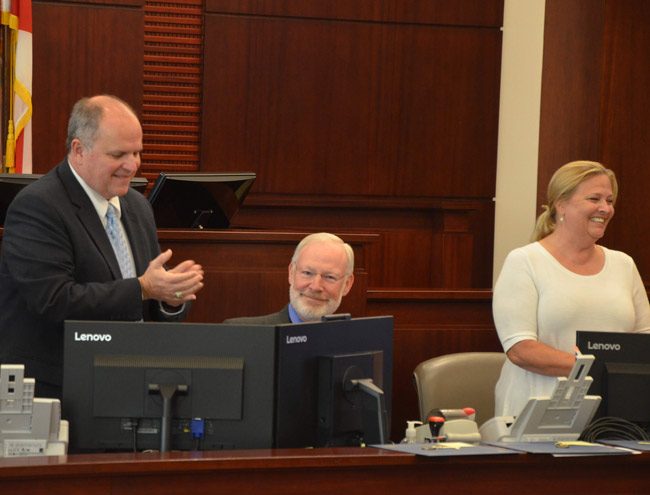 It would have normally been Circuit Judge Terence Perkins's court. But not this morning.
"I am very happy that Judge Perkins allowed me to come back and preside over drug court graduation today," Judge Dennis Craig, who was reassigned from Flagler's felony bench to Volusia last June, told the three graduates in what used to be his courtroom. "I think of you three as belonging to me as opposed to Judge Perkins."
The three–Carissa Pond, 21, of Flagler Beach, Lacie Marie Stowel, 26, of Bunnell, Connor Vincent Vondiezelski, 20, of Palm Coast–form the 32nd graduating class of drug court, the grueling prison-diversion program in place in Flagler since 2007 that gives participants a chance to prove they can remain drug-free while abiding by strict conditions. The goal is to have their felony charges dropped. The alternative is prison.
They made Drug Court Foundation Mike Feldbauer's point: "Drug addiction is not a Hollywood based thing," he said, nor is it the burden of big cities alone. "We're talking about every neighborhood of this community."
All three were placed in the program under the weight of severe charges. Stowel had been buying Oxycodone as a cashier at the Starbucks in the Target store in Town Center, using money from the cash register. She was facing a felony grand theft and drug possession charges. Pond faced forgery and counterfeiting charges. Vondiezelski was pulled over on a traffic stop near Metro Diner and eventually charged with possessing a large amount of pot, cocaine and a hallucinogen. Pond was in drug court since October 2016, Vondiezelski and Stowel since mid-and early 2017.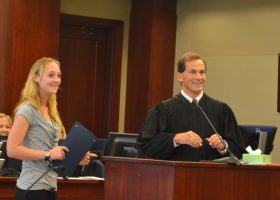 Today, all those charges were dropped in a ceremony attended by friends, family, many officials and the whole drug court team. (County Commissioners Charlie Ericksen and Dave Sullivan, Flagler Beach City Commissioner Jane Mealy, Sheriff Rick Staly, the assistant public defender, Bill Partington, and drug court's staff and volunteers, were among the 60-some people in the courtroom.)
The ceremony was no less a court session, with Craig presiding in Courtroom 401, usually the felony courtroom that sees the worst outcomes: orange jail jumpsuits, convictions, prison sentences, shackles. Today the graduates got their full freedom. They also got a recovery key and a certificate for making it through.
"You three were during my tenure here for the whole time," Craig told them. "I learned a lot in the time that I did drug court OK? I see things differently at the end of my drug court tenure from the way I saw things at the beginning of my drug court tenure. I learned things from you too." He spoke of seeing substance abuse differently because of his experience, and told the graduates that "that's the last lecture I hope you ever get from me."
It was also morning of farewell not just for the graduates: it was Craig's last official act in Flagler County's drug court, now that Perkins is handling it. And it was the last of the 32 graduation ceremonies for Mike Greenier, the drug court coordinator almost since its inception under Judge Kim Hammond in 2007. Greenier, who put in 30 years as a cop in Connecticut before retiring in Flagler, is retiring for good this time.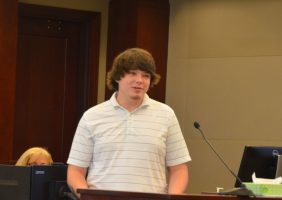 "He's kind of the trailblazer for drug court in Flagler," Craig said, tracing his years here under five judges– Hammond, Raul Zambrano (now the chief judge of the Seventh Judicial Circuit), J. David Walsh (still pulling senior judge duty), Craig (serving on Volusia's felony bench), and now Perkins. Greenier has a reputation for being a ballbuster to his wards, though judging from their reactions today they seemed to appreciate it: "My life was really bad before this," Pond said after receiving her certificate and key, pausing as the tears started to fall. "I want to thank Mike Greenier mostly for being heer and being like a dad to me." It was not lost on anyone that she had used the word dad rather than the more austere father, though Greenier sat austere, true to form, a few feet behind the podium.
"You get to see the tough Mike, he holds the line and he makes you toe the line," Craig said, describing how Greenier made sure drug court participants "get the sanctions even when we feel sorry for you." But his toughness, the judge said, is his armored in caring–and diplomacy: Greenier had a way of telegraphing his disagreements to Craig without being too direct. "He'd say, well, you're the judge," Craig said. "Then he would let me go on and make the mistake and learn from that and go from there. But he really is a good guy, he really cares about you, we're losing a lot here in drug court when Mike leaves."
The three young graduates sat off to the side in the portion of the courtroom where lawyers usually sit during massive pre-trial hearings, listening and waiting their turn to pick up their certificates.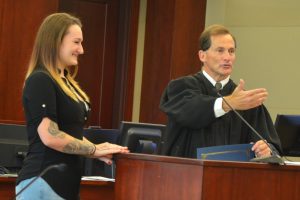 "Carissa," Craig said of Pond, "always scared me a little bit. But that's when she wasn't happy. More recently I've noticed a change, she seems much happier than she was and always made me happy when she was happy when she'd come in."
The judge described Vondiezelski as an overachiever who could put in 60-hour weeks at Outback and still make it through the rigors of drug court. "I did it, so everyone else can do it too," Vondiezelski said. But he defied the judge's order today: he had been required to speak for four minutes. Vondiezelski spoke for less than one. No longer on probation, he could not be charged with a violation. The judge gave him his key. So it goes at drug court graduation, when the trammels and agonies of drug abuse give way to humor and hope.
Then came Stowel, who seemed to have a more particular connection to the judge. "Probably one of the hardest things I had to do in drug court was when Lacey had a small slip-up," Craig said. She'd had many clean days, over 200, she was on the verge of graduating. Then she slipped, "which happens, and she lost all her clean days."
He even sent her back to jail.
"She was so upset that it broke my heart," Craig said, "but we took all those things away from her, she stayed with it, she started with zero after she had lost those 200-and some things, she was dying here, facing me, begging me not to lose those days, I was up there, and sometimes it's hard to be a judge. That was a day that it's hard to be a judge."
Craig thought maybe the slip-up was a subconscious way for Stowel to say that she wasn't quite ready to quit drug court. "Maybe that's the reason why the slip-up happened. That's the way I look at it," he said. Months later, "Lacy came to me and asked that I come to her graduation and told me how much she was going to miss me, that really meant something to me."
That's the kind of day when it's easier to be a judge: you could see it on Craig's face, brightened by the sort of morning-long smile that would never appear in any other criminal court proceeding.
Stowel thanked the court for giving her the opportunity to re-enter drug court, "which is rare," she said, acknowledging the support, and acknowledging her mother "for staying behind me after all these years of my crap."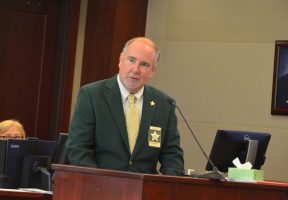 As at college and high school graduations, drug court graduations always feature a keynote speaker, often one who'll speak of personal struggles with substance abuse. Today's speaker was Sheriff Rick Staly, who had no such struggles to speak of, thought he revealed something not made public until now: You are among the lucky ones, he told the graduates. "It may not have felt it at the time you started the drug court program. But your addiction did not kill you like it did my step-brother's son" and many others in the community, the sheriff said. "You had the opportunity to attend this program. It may have felt like a challenge and a huge undertaking, but it was an opportunity to take an honest look at yourself and your behavior. Your hard work and perseverance allowed you to confront your addiction and reclaim your life."
The sheriff was aware that his men and women had put those same three individuals in jail and started the cycle he described as often cases of "arrest, trial, repeat, release," and he referred to his reputation as a "tough law-and-order sheriff." But he said he was just as committed to the rehabilitation of inmates, and described the "Stride" program he initiated at the jail, which gives participants tools to more effectively reintegrate their community.
"Keep fighting for your life because your life is worth it," the sheriff told the graduates.
The judge left the graduates with this last caution: "You're still going to have bad days. When you have bad days, your recovery is going to depend on what you do on your bad days. Everyone can make it through good days."