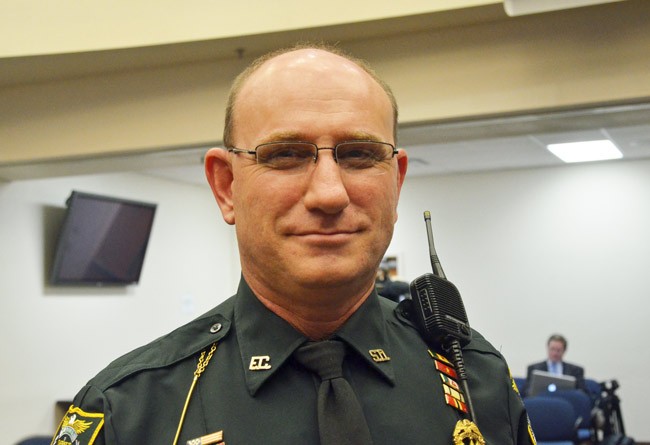 For 13 years until last fall Don Apperson was the face of school resource deputies in Flagler County, supervising the five or more deputies that have served in that capacity over the years and appearing before local government boards to advocate either for the SRD system or to press for stronger laws about such things as synthetic pot or to bring more awareness to the influence of gangs in schools.
Two years ago he took part in a forum on bullying at the Government Services Building, linking violence at school to its emergence and simmering first on social media.
He picked up his battle scars along the way, as when a 16-year-old Matanzas High School student brawling with another head-butted Apperson when the deputy tried to break-up the fight, back in 2011, when Apperson was assigned to that school. The incident played into the school board's decision to let deputies carry Tasers in schools. In 2008 he was involved in the sheriff's Leadership Training Camp, a summer camp for two dozen middle school students.
Last fall, Sheriff Jim Manfre reassigned Apperson to the Neighborhood Services Unit.
And today, Apperson retired.
---
The Head-Butting at Matanzas[media id=252 width=300 height=250]
"After 25 years, I have so many memories and have met a lot of great people along the way. I truly enjoyed the 13 years I spent working with the school district and coaching baseball," Apperson said in a release issued by the Flagler County Sheriff's Office this afternoon.
Last fall the school district recognized Apperson's service with an award, and earlier in the year, in March, he'd been chosen to throw the first pitch to start the new Palm Coast Little League season, an honor he cherished.
"I have known Donnie not only professionally, but personally as well," Sheriff Jim Manfre said, using Apperson's nickname. "I've had the honor of Donnie coaching my son Alec. Coaches are mentors and are a positive influence on today's youth. Donnie was a good coach and is an example of what a community police officer is."
Apperson began his law enforcement career in 1982, serving with the United States Army Military Police. Apperson earned an Associate of Arts degree from Hilbert College in New York. Over the past 25 years, Corporal Apperson has served the agency and community as a patrol deputy and school resource deputy supervisor. Throughout his employment with the Flagler County Sheriff's Office, Corporal Apperson worked directly with the Flagler County School District and Flagler Sheriff's Police Athletic League (P.A.L.).