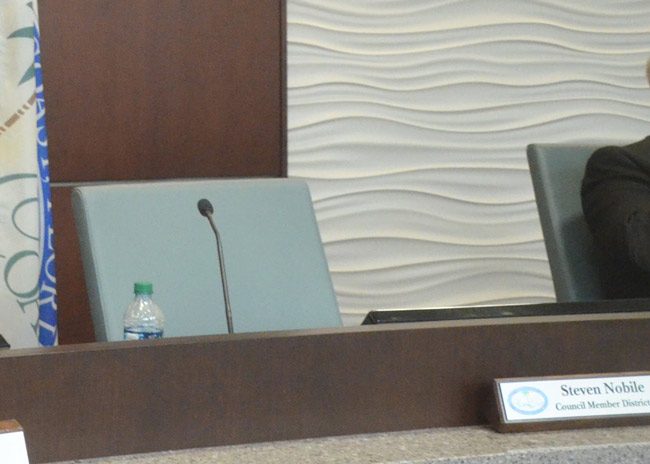 No short list necessary: The Palm Coast City Council on June 4 will interview all three applicants vying to fill out the six months remaining in Steven Nobile's term. Nobile just resigned his seat so he could move to Tampa with family.
The council agreed to Mayor Milissa Holland's proposal for open interviews of all three in a minute-long discussion–the entire content of a special meeting–on Tuesday. Swift, decisive, uncomplicated, the process differed sharply from the two previous such exercises, in 2012 and 2007, both of them prolonged and more secretive and one of them muddied by that secrecy as the council had to subsequently "cure" the way it had drawn up a shortlist behind closed doors.
City Manager Jim Landon's initial proposal for the Nobile replacement followed the same template as the 2008 and 2012 appointments, but Holland rejected the approach in favor of the open process. A resignation in 2016 triggered yet another appointment discussion, but it was made moot by Bob Cuff's outright win in that year's primary, enabling him to be appointed to the seat to fill out the three months remaining on Bill McGuire's term.
Cuff's aside, this appointment would be for the shortest term yet, with a candidate who knows he will not serve past November. That may have limited the number of applicants. The city received just four applications. One was disqualified. Here are brief profiles of the remaining three. The appointee will be chosen at the council's June 4 meeting and sworn in on June 19.
Charles Johnson, 66, of 26 Kathleen Trail, is a native of Trenton, N.J.. He's been living in Palm Coast since 1998. He sold real estate through the 1980s, bartended at the Iron Horse Saloon in Ormond Beach for six years, worked at different Sharp's Liquors stores for three, then worked for Sea Ray Boats for 26 years most of them with a focus on training and safety. He retired in 2017.
He ran for mayor of Palm Coast in 1999: he got 163 votes out of 9,537 cast, or 1.7 percent. Johnson noted the election run and the result in his application: "I will never forget, my dad who is gone now asked me how I did," he wrote, "I said dad, I came in sixth out of nine, he said no Chuck, you came in sixth out of Thirty Seven Thousand!! Pretty cool don;t you think?" (Jim Canfield was elected.)
He also noted: "I would have no problem being a decision maker."
Vincent T. Lyon, 46, of 27 Empress Lane, is an Oklahoma City native living in Palm Coast for almost six years. A graduate of Cornell and George Washington University Law School, he's an attorney at Chiumento Dwyer Hertel Grant and Kistemaker, the Palm Coast firm, with previous stints as a solo attorney in Maryland and Washington.
In his years in Palm Coast, he writes in his application, "I have worked hard to integrate
myself into the community here," including presiding over the Flagler County Bar and holding a directorship in the Flagler County Rotary. "I have been elected to various positions in business and trade groups and in charitable organizations. I do know what it means to work within a specific set of authorities and to try and steer a large group for the good of the whole."
He lists Bob Cuff, one of the council members, among his references, along with John Subers, who heads the Florida Hospital Flagler Foundation, and Memory Hopkins, the realtor.
Robert Thomasey, 68, of 69 Royal Oak Drive, is a native of Quueens, N.Y., who's lived in Palm Coast eight years. He's a retired electrician who also spent 28 years as a volunteer firefighter, serving six years as chief, a period when he answered to a city council. He's also worked in construction.
"I have a long history of volunteerism and have been in many positions of supervision and decision making," he wrote in his application. Alone among the three applicants, Thomasey included several letters of commendations he's received over the years, dating back to the early 1980s.