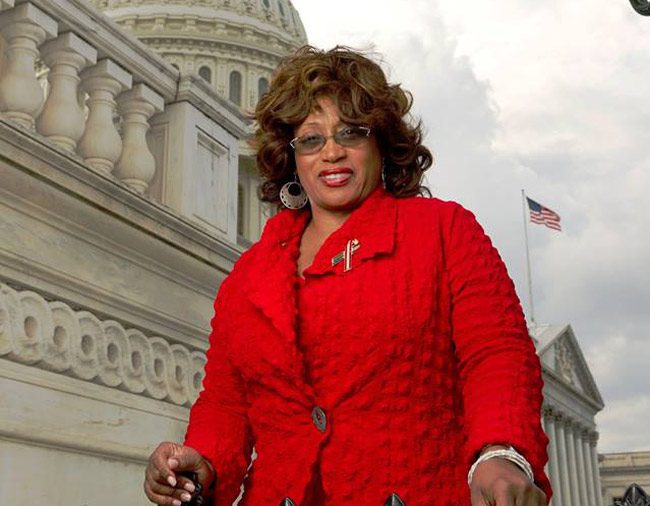 Former Democratic Congresswoman Corrine Brown was found guilty Thursday on 18 counts in a federal corruption trial, the latest chapter in a stunning fall for a longtime Jacksonville political institution. Brown's district had included portions of Florida and Volusia counties until redistricting in 2013.
Brown, who was defeated for re-election last year after 24 years in the U.S. House, was convicted on all but four counts for her part in a scheme that used a sham education charity to finance personal expenses and events. U.S. District Judge Timothy J. Corrigan could hold a sentencing hearing for Brown, 70, within 90 days.
"Former Congresswoman Corrine Brown violated the public trust, the honor of her position, and the integrity of the American system of government when she abused one of the most powerful positions in the nation for her own personal gain," Acting Assistant Attorney General Kenneth Blanco said in a statement issued after the ruling. "She shamefully deprived needy children of hundreds of thousands of dollars that could have helped with their education and improved their opportunities for advancement, and she lied to the IRS and the American public about secret cash deposits into her personal bank accounts."
Brown's attorney, James Smith, told reporters outside the Jacksonville courtroom that Brown would ask for a new trial, though Smith declined to say on what grounds.
"She wants to let her supporters know that she is still strong and resolute," Smith said. "She still maintains her innocence, and she thanks everyone for their prayers and their support."
Smith pointed to the case of former Virginia Gov. Bob McDonnell, whose conviction on corruption charges was later set aside by the U.S. Supreme Court because justices disagreed with the government's interpretation of an "official action."
"The American legal system has a number of levels, and this is just the first step," Smith said.
The case against Brown, though, had less to do with what she did as a congresswoman than what she did while she was in office. Brown was found guilty of counts charging her with conspiracy, concealing material facts on required financial disclosure forms, filing false tax returns and related charges.
According to the government, Brown — along with former chief of staff Ronnie Simmons and Carla Wiley, both of whom pleaded guilty — used One Door for Education-Amy Anderson Scholarship Fund at least in part to finance their own expenses while working with other people to solicit more than $800,000 for the charity.
Congressman Al Lawson, who defeated Brown in a Democratic primary last year, was circumspect in a statement issued by his office following the verdict.
"My thoughts and prayers are with Rep. Brown, her family, and all those affected," he said. "I believe Jacksonville is a better place, because of her three decades of public service."
Brown left the courtroom quietly, with her head hanging slightly, a contrast to the flamboyant and often bombastic style she used for years in confrontations with political opponents and the media.
She was a verbal pugilist, comparing an attempt to redraw her district to slavery and rhetorically asking reporters who inquired about the criminal charges whether they were pedophiles, as a way to point out that the allegations weren't yet proven.
But the 12-term, Jacksonville-based congresswoman was also a master of constituent services, using "Corrine Delivers" as a slogan to tout her ability to bring home projects and services to the voters who elected her. That ability helped her cultivate a political base that seemed unassailable.
She was also in many ways a historic figure, one of the first African-Americans elected to Congress from Florida since Reconstruction.
But ahead of the 2016 elections, her district was redrawn under a voter-approved ban on gerrymandering. The courts chose maps that swapped out one of her power bases in Orlando for parts of North Central and Northwest Florida, including a portion of Tallahassee, that barely knew her.
As Brown was fighting that change, the indictments were handed down, providing an even larger opening for Lawson, based in Tallahassee. She lost a three-way primary to Lawson by 8.6 points.
On Thursday, Smith said he was struck that some of the contributors to the charity would testify as part of the government's case, only to embrace Brown after leaving the stand.
"People cannot and will not forget all the good that she's done," Smith said. "Let's remember, no one's life is a snapshot. Our lives are films, and you have to look at each and every frame. And Corrine Brown is not going to be defined by what happened here today in this courtroom. She still has plenty of days left on this earth."
–Brandon Larrabee, News Service of Florida