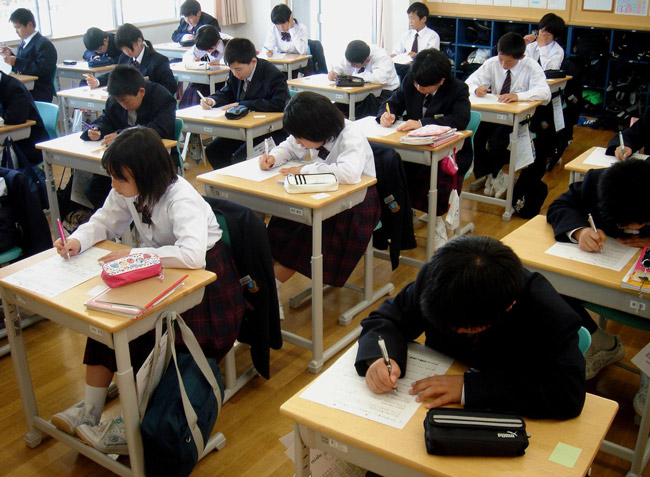 The decision by legislative leaders to call for Florida to withdraw from a group of states preparing new tests for student learning has set off a round of battles over the future of Florida's involvement in the "common core" standards project.
And it causes complications for Florida education officials, many of whom support common core. The Flagler County School Board is supportive of common core and working toward implementing it fully.
The Partnership for Assessment of Readiness for College and Careers, or PARCC, is a consortium aimed at coming up with tests that will measure students' achievements under common core. Common core, in turn, is a set of standards agreed to by the overwhelming majority of states. States that participate in the program, supporters stress, would still be free to come up with their own curricula within common core.
But House Speaker Will Weatherford, R-Wesley Chapel, and Senate President Don Gaetz, R-Niceville, raised several concerns about PARCC in a letter last week recommending that Education Commissioner Tony Bennett pull Florida out of the group and develop a "Florida Plan" for testing students.
"We cannot jeopardize 15 years of education accountability reform by relying on PARCC to define a fundamental component of our accountability system," Gaetz and Weatherford wrote. "Our schools, teachers, and families have worked too hard for too long for our system to collapse under the weight of an assessment system that is not yet developed, designed nor tested."
The two legislative leaders' list of concerns about PARCC included: the program's cost; a belief that it could require up to 20 days of testing for students (it would not); questions about the security of data gathered on students; how long it would take the state to receive the results; and whether the necessary technology will be in place.
Leaving PARCC would not necessarily mean leaving common core; PARCC is simply a set of tests that would measure how well students are learning the new standards.
Bennett was noncommittal in a statement last week about the letter from Gaetz and Weatherford.
"They are valued partners in our mission to help students and they raise critical issues that deserve serious consideration as I make a decision in the coming days," he said.
Some of the concerns in the legislative leaders' letter are inaccurate, according to Chad Colby, communications director for Achieve, which manages the PARCC project. For example, he said, students wouldn't be tested for 20 days; states would merely have a 20-day window to administer the tests, which would probably take about eight hours for third-graders and nine and a half hours for students in higher grades.
And while the state doesn't have the correct amount of equipment under some recommended standards for the tests, Colby said those recommendations are not universal, and some systems could potentially do the computer-based testing with less.
Colby also played down other concerns with the tests, saying any student data shared with the consortium would not include data that could be tied to individual students, and that Florida would get its results back before the end of the school year.
The consortium also put out estimates Monday saying the tests would likely cost an average of $29.50 a student, about a dollar less than the state pays per student for the Florida Comprehensive Assessment Test, according to the Department of Education's website.
That puts Florida in a different position than Georgia, which announced Monday that it would pull out of PARCC. That state spends around $12 on its current assessments, Colby said.
"That was going to be a more than doubling of their testing budget," he said.
State officials still largely back the wider common core project, which is strongly supported by former Gov. Jeb Bush, who remains influential on education policy in the state. However, even Bush signaled in a July 19 column for the Tampa Bay Times that he might not oppose the state reconsidering its role in PARCC.
"I do not know what path Bennett will recommend to the Board of Education," Bush wrote. "But I do know he is an expert on Common Core and PARCC. I am confident he will not rush into a decision and that what is best for students will be at the forefront of his decision-making."
Despite the far-reaching support for common core among state leaders, some conservatives oppose the standards, which they see as a precursor to a national curriculum dictated by federal officials.
Those groups are somewhat divided on the significance of the letter. Randy Osborne, who has lobbied against common core in the Legislature on behalf of the Florida Eagle Forum [the ultra-conservative group headed by Phyllis Schlafly], said he was pleased with the letter — though his organization would still work to get rid of the all of common core.
"Some of the most damaging things in common core directly relate to the PARCC issues," he said.
But John Hallman, who lobbies for conservative groups like the Florida Campaign for Liberty and Liberty First Network, said it was too early to be encouraged by the news.
"To me, I'm not going to get excited until I know what their plans are," Hallman said.
And at some point, if Florida were to decide to scrap PARCC but continue with common core, the state will have to develop its own test, both sides agree. Colby said that could actually end up costing Florida more, because it wouldn't be able to share the burden with other states. And it could raise concerns about quality.
"The real question is, when a state leaves and goes out on its own, what kind of a product do they get by working alone?" he said.
–Margie Menzel, News Service of Florida