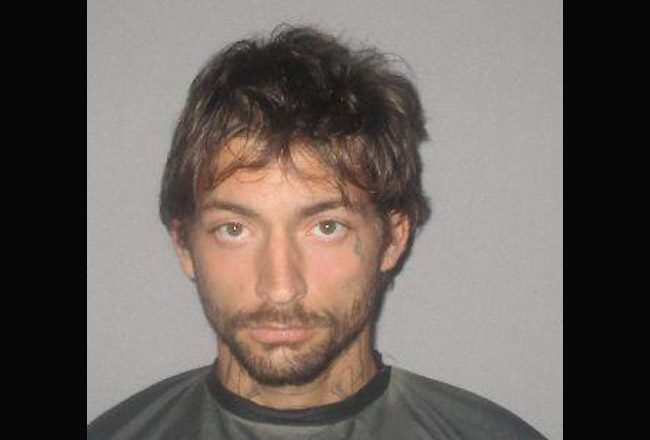 The victim of an alleged armed robbery was so upset at being robbed Tuesday evening that the following morning he went looking for his assailant–and found him. The alleged assailant, Cody Wilson, 26, of 6024 Oceanshore Boulevard in the Hammock, was charged with armed robbery and possession of a firearm by a convicted felon: he'd had two convictions in Mississippi, including for car theft.
According to Wilson's arrest report, Justin Dawson, 35, told Flagler County Sheriff's deputies he was sitting alone in his Dodge Dakota in the driveway of his house at 20 Armand Beach Drive in the Hammock the night of Nov. 21, smoking marijuana. He'd inhaled three hits from his orange and blue glass pipe, he told a deputy (an act that, when eyed by deputies, frequently leads to arrest in Flagler County) when he heard a noise in back of his truck. He thought his cat had jumped on. But when he stepped out to look, he saw a white man in his mid-30s and a goatee, tattooed on both arms, wearing a shiny silver necklace with a disco-ball-like pendant and a t-shirt imprinted with the words "I like to f++k." (The t-shirt had plus signs instead of letters.)
The man allegedly had a black gun and was approaching Wilson.
Dawson "and the suspect briefly struggled over the weapon," the arrest report states. "The suspect then manipulated the slide and a round was ejected from the firearm. The suspect asked for drugs or anything valuable. Justin gave the male his cell phone and his 'bowl' which the male put in his left pants pocket."
It was an odd encounter. The suspect asked Dawson to take him into his home. Dawson refused. The man then tried to return Dawson's cell phone, dropped it, picked it up, wiped it off and handed it back to Dawson, saying he'd been down on his luck. He then told Dawson to sit on his hands until he was gone. He then fled toward the road.
Dawson called 911. A deputy later found a 9mm Speed Luger bullet on the ground near Dawson's truck.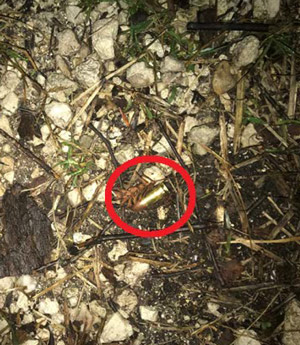 The encounter with the assailant had left Dawson frightened. By noon the next day, he was just angry and decided to do what law enforcement strongly advises victims of crime not to do: look for the assailant. He began asking neighboring residents if they'd seen someone fitting the description of the man he gave. A clerk at a local gas station had. She provided a description of the black Dodge the man was often seen driving. Driving around the Hammock, Dawson spotted the Dodge, followed it to a gas station, and confronted the man, who turned out to be Cody Wilson.
Wilson jumped in his truck and fled. Dawson, according to the report, "hung onto the truck for a short period of time and was drug by the truck."
Wilson was located, as was his 26-year-old girlfriend, who initially claimed Wilson had been with her the entire previous evening only to then concede that he left her at around 11 p.m. She said he wore a necklace similar to the one Dawson had described. She'd been present at the gas station when Dawson confronted Wilson, and said "it was unusual that Cody was no longer wearing his necklace." She initially claimed that she and Wilson lived in the truck and had no guns, but another resident of the property at 6024 North Oceanshore, essentially a trailer park and homeless camp, told deputies that the couple had a tent there. Wilson's girlfriend at that point conceded they had a 10-person tent and gave permission for it to be searched.
She also said she owned a Highpoint 9mm firearm and that the last time she'd seen it was the previous evening. The gun was located in the tent. So was Wilson's glass pipe. Wilson was booked at the county jail, where he remained today on $110,000 bond.
"The fact that the victim gave such a clear description of the suspect helped a lot in this case," Sheriff Rick Staly was quoted as saying in a release issued this morning. Referring to the county jail, he added of Wilson: "I hope he enjoys spending his Thanksgiving in the Green Roof Inn."