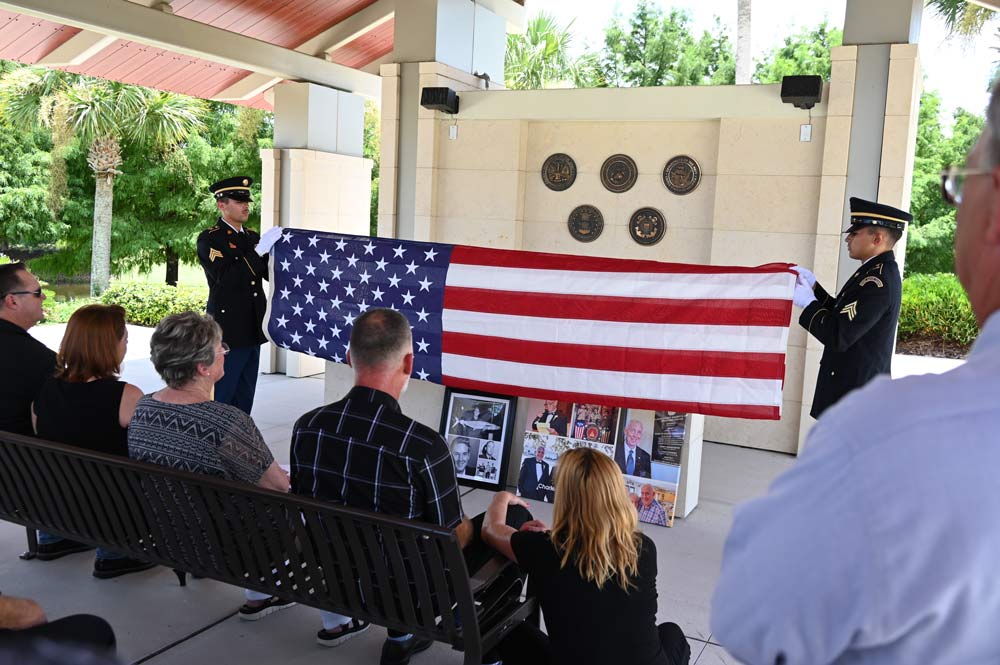 TITUSVILLE–It was only fitting that the cedar urn that bore Charlie Ericksen's ashes, its sandstone-like layering creating the semblance of momentum, was imprinted with a bicycle as if still pedaling through time, or what is now Charlie's timelessness.
Charlie Frederick Ericksen Jr., the former Flagler County commissioner, U.S. Army Lieutenant and father of three who died on July 31 in Celebration, was laid to rest at Cape Canaveral National cemetery with military honors this afternoon following a solemn ceremony attended by family, a few friends, and a few Flagler County officials past and present.




The ceremony was brief but solemn and heartwarming, as when George Hanns, the former county commissioner who had served with Ericksen, a fellow Army man and a famously not tall one, gently tapped the urn and said to the once-towering Ericksen: "Charlie, I'm taller than you. I hope you realize that."
As the procession of cars arrived at the shelter, Lt. Patrick Juliano of the Palm Coast Fire Department, in full kilt gear performed on his bagpipes, a gesture Ericksen was surely greatly appreciating: he had enjoyed watching Juliano perform on innumerable sober occasions, perhaps not thinking that the plaintive sound of the bagpipes this time would be for him: Ericksen was approaching 81 at the time of his death.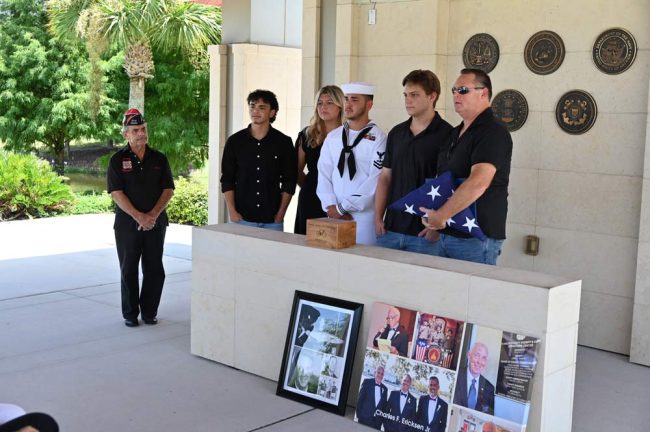 The shelter, as the cemetery refers to the small stone and marble pavilion, is a small enclosure to protect from the sun or the rain, with a couple of benches and a ledge, where Robert Ericksen, one of Charlie's son, had placed the urn. Two sets of photo collages were placed at the foot of the ledge, a color one of the more recent Charlie smiling at various official occasions or with close loved ones, and a black and white quartet of pictures showing the younger Ericksen, one of them in his Army days, one of them with a three-foot catch, and one of them in an Errol Flynn pose.
Sgt. Juan Brochero played Taps, then, with another soldier, carried out the flag-folding ceremony between where the urn had been placed and the family–a meticulous, symbolic ceremony of 13 folds of the flag, each its own symbol: life, the remembrance of veterans, the acknowledgement of the country, of eternity, of God, the tribute to the armed forces, the honor to womanhood, and so on. When the flag was again a triangle, only its stars showing against its night of blue, one of the soldiers knelt and presented it to Robert, the son Charlie spoke of most often and had moved to Celebration to be close to not that long ago, as his health was failing.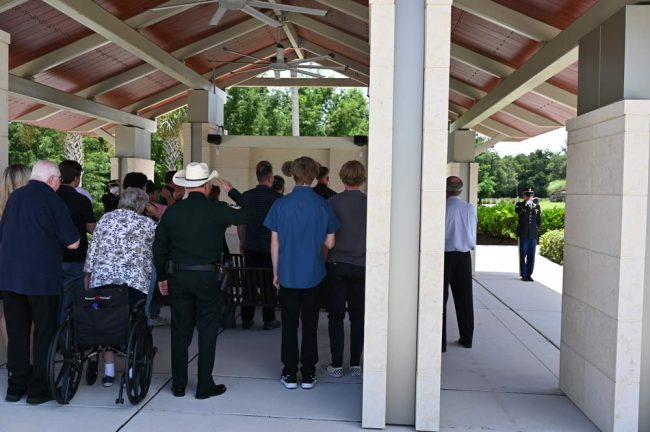 "On behalf of the Department of Veterans Affairs and a grateful nation," a cemetery representative then told Robert, handing him a folded document, "we present this presidential memorial certificate in honor of your father's service to our country." The military portion of the service closed, and the floor opened to anyone who wanted to speak.
popu



"It was such an honor to serve with him on the County Commission," Hanns said. "He was such a delightful person to be around. He was always in a good mood. He was an inspiration to so many, with his unbelievable bicycle riding all over the place, you know." At one point a few years ago Ericksen announced that since moving to Palm Coast and buying his bike at PC Bike in 2008, he'd logged enough miles to circle the globe. "Few people in life cross our paths that leave a lasting impression. And well," Hanns continued, choking up, "you can tell Charlie made an impression. He's quite a man. I definitely love crossing paths with him."
Hanns then turned from facing the family to facing Charlie, his hand on the urn, and said: Charlie, I love you, guy. Thank you for your service to our country. Thank you for the stories of multiple travels. He traveled all over the place and worked all over the place. And thank you especially for your service to Flagler County, Florida. You are an inspiration and you're a great man."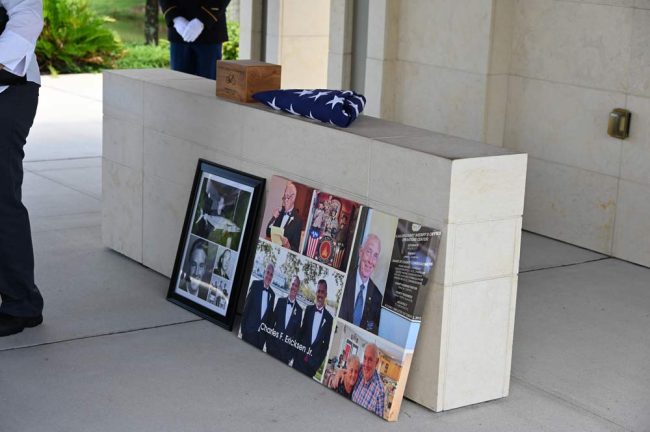 Hanns was the only person to speak. He was also the only person with any connection to the County Commission who had made the hour-long trip for the ceremony. (The county is hosting a celebration of life in Ericksen's memory on Aug. 29.) The only other Flagler officials who had traveled down were Sheriff Rick Staly, who had cleared his afternoon calendar for the occasion, and Flagler Beach Commissioner Rick Belhumeur, who shared with Ericksen a proclivity for being everywhere, interested in all things and curious for conversation with anyone: it's how they had conversed so often.




"Whenever I would see Charlie somewhere, he always had time for me," Belhumeur said. "He was very supportive of me as a City Commissioner and showed up at my campaign events during my first campaign for re-election in 2019 while he was still a County Commissioner. He respected everyone he met, no matter who they were. Those are the reasons I felt compelled to attend his internment today. To show my respect for him while also thanking him for being such a good friend and comrade."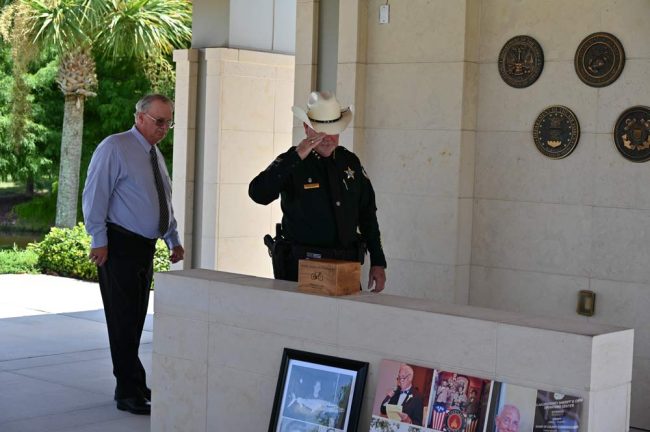 Staly had known Ericksen for over a decade–and recalled how Ericksen had been the lone dissenting vote in 2013 against buying what would turn out to be called Mold Ops–the mold-infested Sheriff's Operations center that became a political nightmare for commissioners, a health hazard for many sheriff's employees, and cause for four years' homelessness for the agency, until it repatriated into a new operations center last December.
"He was very supportive of the sheriff's office and the men and women that work there," Staly said. " He endorsed me when I ran and I've never forgotten that. He's an honorary deputy with us, which I rarely give out. But he was one of the ones that received it for that support. We pray for his family. I wish he would have been with us a little longer. But God had different plans." The sheriff said he made the trip down to honor Charlie as Charlie had honored the community. The two had a professional, working relationship, never quite personal: Charlie didn't get too personal with anyone, but he he had people's confidence, and the sheriff was one of those people.
Charlie's companion who had shared his last years was also there, her expression a broken hearty.
U.S. Army Lieutenant Charlie Frederick Ericksen is buried in Section 14, Site 73, his neighbors now servicemen and women who have been part of every war since Korea.