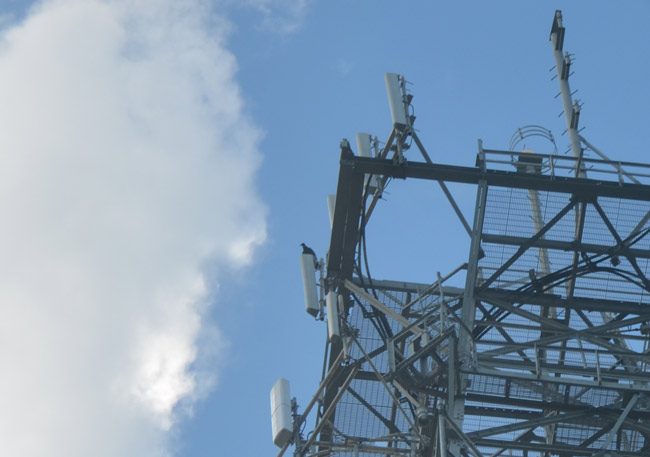 What a difference two years and a few feet make.
Two years ago Flagler County government rolled out a plan to contract with NexTower to put up three very tall cell towers–between 320 and 350 feet, far exceeding county regulations, or the height of the Statue of Liberty—in Espanola, at Cody's Corner off State Road 11, and along John Anderson Highway in Flagler Beach.
The project was to be a foundation for the county's upgrade of its telecommunication and emergency communication backbone, the network of towers that allow police, firefighters and government workers to communicate every day in real time. The current system is about 15 years old and approaching its useful end.
The megatower at John Anderson Highway drew loud opposition from Flagler Beach. Though county government approved one of the three towers, eventually all three towers were scrapped. So was the planned association with NexTower, a company that would have owned the towers and charged the county leasing fees for years. The one advantage at the time was that NexTower would have built the structures at its own expense.
On Monday, the County Commission unanimously approved the construction of five new towers, two of them rising 350 feet, one of them to be sited near the same location that was scrapped before (at Cody's Corner), the other near the intersection of State Road 100 and County Road 305, on land the county just bought, and where its west-side fire station will be located soon. The other towers will range from 190 feet (at Plantation Bay) to 250 feet (off Matanzas Woods Parkway, near I-95). The fifth tower will be at the county jail site off Justice Lane, an area no one sees but cops, inmates and jail visitors. All five towers will be on county-owned property. And the county will itself be able to lease space on the towers to private cell phone companies, presumably improving cell coverage in parts of the county, should the county find takers. The leasing would generate new revenue for county coffers.
The one big absence from Monday's discussion: costs. The county administration has spoken to commissioners privately about the cost of revamping the county's emergency communications system, but not publicly, ostensibly not to tip off bidders once the county seeks out contractors. What's known is that in 2004, the county financed its existing system with an $11.4 million bond levy. The new system is not going to be less expensive, but likely more expensive, particularly with the construction of five new towers.
The proposal drew not a single public comment at the meeting itself, and just two emailed comments, both focusing on the health hazards of cell towers.
Those health hazards are by no means non-existent: even the Federal Communications Commission, which regulates telecommunication towers, recognizes there is a hazard. But it's a qualified one.
"Studies have shown that environmental levels of RF energy routinely encountered by the general public are typically far below levels necessary to produce significant heating and increased body temperature," the FCC states, referring to radio frequency. "However, there may be situations, particularly in workplace environments near high-powered RF sources, where the recommended limits for safe exposure of human beings to RF energy could be exceeded. In such cases, restrictive measures or mitigation actions may be necessary to ensure the safe use of RF energy."
Jane Gentile-Youd, a resident of Plantation Bay who often sounds like Plantation Bay's commissioner emeritus—she is at most commission meetings and is fiercely protective of Plantation Bay's interests as she sees them, rallying her community to her causes when necessary—on Dec. 2 wrote Adam Mengel, the county's planning director, to object to all five towers as "insanity."
"What is the necessity for this?" she wrote. "County has no money for welcome signs or road landscaping maintenance but all of a sudden there is a need for 5 towers instead of one or at most 2?" Though an avowed avid reader of the local press, it does not appear that Gentile-Youd has been reading about the more-than-two-year discussions and debates over the county's need for a more reliable emergency communication system. (See the side box with a list of recent stories.) She then focused on the health effects of towers: "Cell towers, communication towers are necessary for emergencies – but not above our health," she wrote. "Were any medical personnel consulted regarding the location of these proposed chosen effect upon residents?"
The answer is no, because the county could not take medical issues into account, Mengel told county commissioners, essentially responding to Gentile-Youd.
"We're actually preempted in the consideration of any health effects in the sighting of any tower through the FCC regulations," Mengel said. "U.S. Code comes back and says, that's nice, but as a local government you cannot consider any specific tower location as it relates to health because basically what the feds say is that they retain the power so long as to consider health effects so long as a tower itself is within the limits of the FCC regulation. So the FCC determined overall those are safe, legal limits."
The odd sarcasm of that's nice aside, Mengel is right: the Telecommunications Act of 1996 addresses human exposure to radio frequency exposure explicitly: "No State or local government or instrumentality thereof may regulate the placement, construction, and modification of personal wireless service facilities on the basis of the environmental effects of radio frequency emissions to the extent that such facilities comply with the Commission's regulations concerning such emissions."
So the county was not so much denying the potential for health hazards as saying that it is powerless to take those concerns too much in consideration. And county commissioners raised no questions about it. That doesn't mean the concerns are not valid: numerous studies have shown a link between cell towers and a higher incidence of cancer in neighboring areas, but not alarmingly so, and not without contradictory evidence, as is often the case with such issues.
There was additional concern about the county's need to light some of the towers.
"The hope with all these is that we won't have to have them lit at all," Mengel said. "If we can avoid the lighting overall, I think that'll help us in the end."
But County Administrator Craig Coffey corrected him: "We will have to light them all except for the Plantation Bay one," which is under 200 feet, Coffey said.
What remains unquestioned is the towers' need. "These sites in concert are going to be part of that public safety agency telecommunication system that we have and that's coming on line," Mengel said, "that'll give us better signal strength, better penetration, critical communication for our public safety workers on a daily basis and also for us in a time of emergency."