Caren Umbarger's musical resume reads like a symphonic score for parts almost too numerous to mention: Artistic director and co-founder of the Artistic Youth Ensembles of Minnesota for the past five years; electric violinist in Blue Daddies, an eight-piece, rock, rhythm, blues and soul band for the past eight; forming half the eclectic Uptown Duet with husband Paul Umbarger — a guitarist, composer, photographer and painter — since 2001; performing in a professional classical trio for a quarter century; teaching ensembles at the International School of Minnesota and strings at St. Paul Academy and Summit School; freelancing for longer, and playing violin since the latter days of the Eisenhower Administration. There's even a connection with John Philip Sousa predating Umbarger's birth: her grandfather was a cornet soloist and assistant conductor with Sousa for seven years.
Those are the highlights, anyway.
Last month, Umbarger was named artistic director and lead conductor of the Flagler Youth Orchestra, the 250-student string education and performance program underwritten by the Flagler County school district. Umbarger replaces Jonathan May, who led the group for the past five years and died suddenly from a stroke on Feb. 28.
Umbarger studied with May when she was a student at Hamline University, from where, as a single mother with two children, she graduated cum laude in 1988 with a degree in music.
"The children of the Flagler Youth Orchestra and I have joined together to continue our musical journeys," Umbarger writes. "For all of us, we will turn the pain of losing Jonathan into the joy of growing together as musicians. We want to honor his spirit by becoming better musicians and sending beautiful music into the world, now and for as long as we all can." (Read Umbarger in her own words, "A Musical Journey in the Key of Kindness.")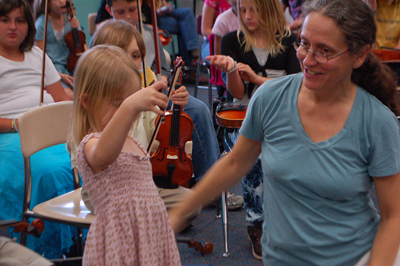 Umbarger's philosophy? "If a child wants to play better, that child can. I haven't seen a program doing what we're doing in Flagler County except for Shinichi Suzuki, Paul Rolland and a few others with an inclusive vision of how to teach string instruments. I hope to bring a clearer understanding to every student of how to play their own instrument and an awareness of and ability to create subtleties in music so that the music they play together has a focused and deliberate sound."
Umbarger, 56, relocated with her husband from Minnesota to St. Augustine in late March. The move to St. Augustine was planned before May's death, though Umbarger was in Flagler and led two classes in early March, becoming familiar with the program and opening the way to her subsequent appointment as artistic director. In January, Umbarger brought members of her Artistic Youth Ensembles of Minnesota to perform with members of the Flagler Youth Orchestra at the Palm Coast Methodist Church's annual Youth Music Festival. She'd traveled to Florida previously to play with May's other groups on occasion, just as May guest-conducted in Minnesota.
"Caren is often seen dancing about while she conducts her groups," says Cheryl Tristam, orchestra program director. "She engages her students with a level of kindness, humor and respect that is quite moving to see. I think if our students who formerly studied with Jonathan keep their hearts open to being led by someone else, they will see in Caren many of Jonathan's qualities and discover new ones. She champions her students as much as she does excellence."
Umbarger has three grown children who pre-dated her marriage to Paul. Her oldest daughter, who's 34 and a Californian, is in her mother's words, "an astounding visual artist." Her son Joe (the "soulful cook") is finishing a BA in digital animation, and her youngest son Jake, who's 21 ("superb cellist and varsity soccer player"), was just selected to a physics research program this summer at the University of South Florida in Tampa. Paul also has two almost-grown children. In addition to her music teaching (she maintains a private studio), Umbarger is also a novelist.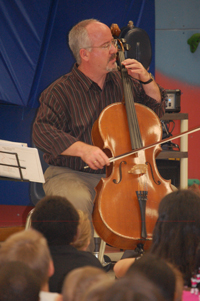 The Flagler Youth Orchestra was founded in 2005 as an after-school music-education program available free of charge to all Flagler County public, private and home-schooled students. May was its only previous artistic director before Umbarger. (The program succeeded the Flagler Symphonic Society's fee-based program, in which May had also taught.)
The program has a $66,000 budget, which covers the salaries of the artistic director, a program director and three music instructors — Jack Jeffe, Justin McCulloch and Deborah Lawrence. The school district underwrites the salaries of the two directors and two instructors. The Youth Orchestra's fund-raising underwrites the salary of the third music instructor and all other costs associated with the ensemble, including instrument scholarships for some 60 students, recruiting performances in the public schools and costs of three annual performances at the Flagler Auditorium.
The orchestra's various ensembles, which cover all skill levels — 12 classes in all — meet Mondays and Wednesdays for classes and rehearsals at Indian Trails Middle School, between 3:30 and 6:30 p.m. The Flagler Youth Orchestra's next public performance is scheduled for May 26 at 7 p.m. at the Flagler Auditorium.

Full disclosure: FlaglerLive editor Pierre Tristam is married to Cheryl Tristam, program director of the Flagler Youth Orchestra, and is a volunteer with the Orchestra.