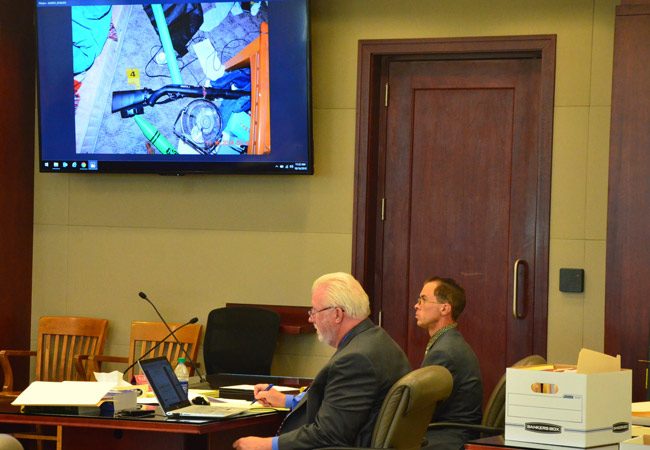 The trial of Jonathan Canales, the 31-year-old Mondex man accused of attempting to murder his girlfriend by shooting her in the neck four years ago, enters its fifth and likely final day today. It's been replete with strange revelations, but none as arresting as what Canales repeatedly and icily told a sheriff's detective during a long, recorded interrogation: if he wanted to shoot Tiffany Norman, he wouldn't have used a .22 rifle. He'd have used something more powerful. And if he wanted to kill her, she wouldn't be alive today.
The jury of five men and three women watched the exchange Thursday afternoon on video screens in the courtroom as Canales himself sat below one of the giant screens, watching himself speak to Flagler County Sheriff's detective Eric Glasgow as they spoke that morning of Nov. 16, 2014 in an interrogation room.
It had gone on for nearly 90 minutes, with Canales contradicting himself innumerable times, repeatedly pitying himself, blaming Norman (his ex), calling her names, pitying himself again and only once wondering about her well-being, when Glasgow finally asked Canales:
Glasgow: "Jon, Jon, did you shoot her?"
Canales: "If I was to shoot Tiffany, I mean, honestly, as an infantry soldier, do you think I would use a .22 Remington when I have an M-4 laying right next to her?"
Glasgow: "A lot of people will do a lot of different things for different reasons."
Canales: "No, no. I've got a .357 revolver. What the fuck would I be doing with a .22 trying to kill someone–if I was to kill somebody. Do you think I would use a .22 Remington? No." He says the .22 is "not my weapon of choice," and continues: "This is terrible: if I was to shoot her, she wouldn't be alive. Like, that's terrible to say, but no."
Glasgow: "There's a lot of this John that doesn't make sense."
Canales: "You know what, my whole life doesn't make sense half the time."
Glasgow: "Well this doesn't have to do with your life before now, we're not talking about that kind of stuff that doesn't make sense, we're talking about this." Glasgow lists the contradictions again. A long list.
Canales: "I'm not going to change my story."
Glasgow: "You already have."
Canales: "I didn't intentionally do anything to harm this lady, and, you know, I never would."
Moments later, when Glasgow asks him if he "inadvertently discharged the round," Canales says: "I really think that, you know, this was an accident. I'm not going to admit or deny any legal intent to incriminate myself." He adds: "I feel terrible about all this." "I'm not guilty of this." "If I was guilty of all this, I'm not one to lie."
"I can't believe or disbelieve you at this point," Glasgow says.
Canales describes himself as a former infantryman with the Third Division, and again says if he was going to kill Norman, "you think I would only fire it once? No."
"I have no idea what the heck happened here, it was weird," Canales insists. "If something went down that doesn't quite make sense, it went down. You don't hang out with me on a daily basis, but if you did, you would understand that things happen in my life that go way the fuck out of bounds, OK? Just all the time, negative things happen to me."
"This extreme?" the detective asks him.
"This extreme, almost every day," Canales says.
But when asked for an example, Canales gives this one: he says he rebuilt a Yamaha, "every single part," except for the transmission. The only part that failed was the transmission. "Bad shit happens to me all the time," he says. "I can't prove it. I can't tell you, I can't even tell you what actually happened tonight, I don't know, but what I'm saying is, I didn't have anything negative to do to this lady and if I did I would have choose a better weapon, and that's all I have to say about this. You know, Jesus, am I going to shoot somebody with a .22? No. No, I don't think so. In fact if I was to really want to kill someone I'd probably go with the .50 cal or my M-16."
Canales faces an attempted first-degree murder charge. If convicted, he could be sentenced to life in prison. Norman, now 29, had three young children with her in the Mondex trailer where the shooting took place, the youngest being hers and Canales's son. Canales claims she attempted to take her own life by placing a .22 rifle against her head. It "popped," he said, as he was walking into the living room, where he claims she was, though he contradicted himself on that account, also claiming he'd run up to her to move the rifle away from her head, when it popped.
Norman took the stand late Thursday afternoon and was still on the stand when Circuit Judge Terence Perkins called it a day around 5 p.m. She was to be cross-examined by defense attorney Garry Wood this morning. She had described to Assistant State Prosecutor Melissa Clark and the jury the moment of the shooting–never knowing right then that she'd been shot.
Canales, she said, had quietly walked up behind her as she ate left-over fried chicken for dinner, by herself, at the kitchen table. She hadn't realized he'd walked up to her until she heard him whisper in her ear. "What did he whisper?" Clark asked Norman.
"You make it so easy for me to kill you in so many ways. I can kill you and nobody would know about it, not even your mother," Norman replied.
The trial resumes with a brief conference between the lawyers and the judge at 8:30 this morning in Courtroom 401 at the Flagler County courthouse. The jury is due at 9 a.m., and closing arguments are likely to take place in early to mid-afternoon. Absent other delays, the jury would then deliberate and render a decision later today.