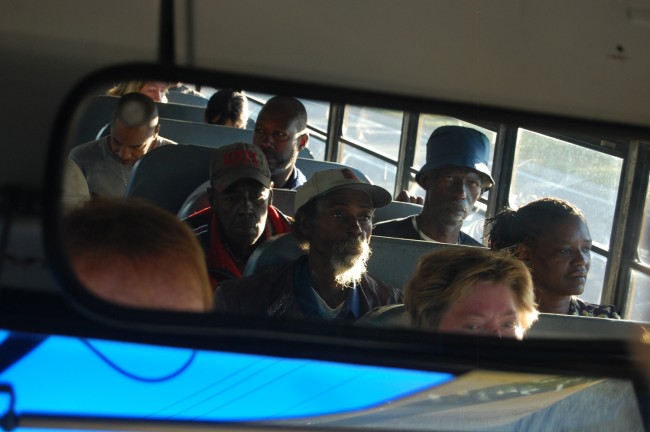 Every Sunday morning around 8 o'clock, you'll see two big school buses leave the campus of Calvary Christian Center in Ormond Beach, travel down Route 40, Clyde Morris Blvd. and down to Mason Avenue, and come back from there packed—not with Sunday school students, not with church-goers in their Sunday best, exactly, but with homeless men and women in what may well be their week's worst: after seven days away from what may well have been their last shower, their last shave, their last warm meal, after several nights of drinking, possibly of whoring, shooting up or zonking out, they're looking more haggard than haggard, they smell bad, and a smile to them is somewhere between suspect and alien.
But they pack those buses, about 120 of them on a good day—less, last Sunday, because many were doing day laboring during Biketoberfest—going to Calvary for what, to some, is a weekly ritual, something of a respite from the street. They'll get to Calvary around 8:30. They'll jam up the school's locker rooms and showers. They're shave. They'll clean up. Then they'll line up for free clothes. They get to pick one of each: a pair of socks, underwear, a shirt, pants, a pair of shoes or sneakers. Whatever they may need, they get to have one of each. More, if they have particularly acute needs. The socks and underwear are brand new. The church buys them new. The rest is donated by the church's enormous congregation—several thousands who make Calvary among the largest assemblies in Central Florida.
While they line up in a murmuring cue to get some clothes (and they can return the next week and do it all over again, no questions asked), others take to the breakfast spreads. Danishes, donuts, large slices of bread, heavily buttered. Coffee. Orange juice. Anything with sugar. Those sugar vats are full when they arrive. They're emptied a few times over while they're there. The men and women know how to fuel up. They need to, especially with temperatures beginning to dip. Then they sit around the large cafeteria, the same cafeteria used by Calvary Academy's K-12 students during the week.
Destitution Across All Lines
This isn't a social gathering. You don't quite see clusters of men and women joining up at the same table, palling around, catching up. This isn't what they do here. They spread around. They concentrate on the task at hand: eating, enjoying the sight of small skyscraping piles of donuts, free-flowing hot coffee. There's all kinds. Sunday morning, there were two families with young children, one with a child as young as six and his slightly older brother. Another with two young teen-age children. There are older men, older women with barely any teeth left.
The word "grizzled" is a cliché. It's also everywhere, even in the eyes of the younger ones. But many of these men and women wouldn't look the typical picture of homelessness if you were to see them at the grocery store. They can look as middle class as the next guy. One man in his 40s looked professorial. One woman couldn't pay much attention tom anything more than her ipod. An ipod, but no home.
They had to pay attention to the preaching. That's also what they're at Calvary for every Sunday. The church will wash, feed and clothe them. But in exchange, it'll ask that they listen. That they be ministered to. At breakfast on Sunday, it was John Rogers doing the ministering.
The Wrecker's Other Call
---
Bus Ministry: Image Gallery[nggallery id=34]
John Rogers: The same John Rogers who owns John's Towing in Bunnell, who spends his days between wrecks and tire piles and his auto sales, the same John Rogers who serves on a couple of Bunnell city boards and spends some of his Monday evenings controlling his blood pressure at Bunnell City Commission meetings he attends, and who decided several years ago to start spending every third Sunday in Calvary's "Bus Ministry." He's been doing it eight years. Why?
"I caught Pastor Raley's vision," he says of Jim Raley, Calvary's senior pastor, while driving the school bus  to the Mason Avenue pick-up location. "Take care of the least, lost and homeless. If you think about it, someone may be one mortgage away from being homeless. One payment away from being evicted. But besides that, when they get on the bus, you'll see why I do it. It's not because of the good pay and benefits."
It's not because of the cheer they bring, either. As they stream in, most of the men and women say nothing. Some of them recognize John as he recognizes them, they exchange greetings, some of them warm greetings, like real students getting on a real school bus, for some real schooling. Which, in a manner of speaking, this could well be. But surliness is more common. Surliness, and the stink of homelessness.
Carl
Take Carl. He's 46. He's been on the streets nine years, ever since he lost his Social Security disability check. He used to work excavation equipment in Connecticut until he rammed his motorcycle into five guard rails. Crippled his right arm and hand, which look mangled and distorted after all those years, clutching his white grocery bags—all he owns, a couple of shirts and other minor possessions. He says he's been in Daytona Beach 19 years. Sunday he wore a shirt with a whitish portrait of Jesus on the front, and a homeless shelter's signature, but not Calvary's. He had a few things to say about Calvary, too. He wasn't happy about it. "I went there, and all's he asks is money. Give me 10 percent of what you've got. I had nothing."
That's the tithing common at every service. "He came up to me one day I was sitting in the church, I was counting out a dollar in change to help a girl out so she could get something to eat, after, you know, he said: did you pay your tithe yet? Can I get 20 percent of that? So I gave it all to him, I said, now you help her out." He goes on: "You should have something, but not like he's got. Talking about $3.5 million building he wants to build, he's building this over here, this overseas, that overseas, what about the hungry over here?" But what about the very bus he was riding—what about the hunger he is feeding, every Sunday, and clothing, does that not count? "No. It's millions of dollars. Build a house where we can sleep. You understand? Just open a field. Buy the property and let us put up tents where we can come lay down. I'm not asking for a whole lot."
Carl says he was in the Air Force before he worked construction. He says he flew F-16s and F-14s, about 1,000 hours of flight time. Whether he did or not, who knows: he could be making it up. Or not. He was booted out of the military, he says, for slugging a superior officer. Less than an hour later, he's all clean, he's shaven, he's in the cafeteria, gathering up his things, putting them in two new grocery bags, and gathering up some food. He'll spend the rest of the morning sleeping in the sanctuary, even as the pastor he railed against filled the place with his voice and the choir's music. So it goes.
No Illusions, No Romanticism
Make of it what you will, though you can't blame Calvary for being stingy: Calvary has a place called the Love Center in Daytona Beach, which does what Calvary does on Sundays, but all week—feeding, clothing, helping many people making critical ends meet. But it's not about paying people's rent. "Wouldn't that be great if that would really solve of his problems? If all it took was buying a field, you'd see fields everywhere. That guy's problem is deeper than buying a field. We've got to help them as we can. That's why we put clothes out for them. We meet their tangible needs. To buy a field? Logically, give me somewhere to put my tent up? That guy needs to be thinking beyond that." It's patterns of behavior. Some can be helped. Some can't. None can where the willingness doesn't go both ways.
But the story is getting ahead of itself. We're still in the cafeteria. It's still breakfast. And John Rogers is about to preach. Her picks up—not his Bible, but his ipad. He has his chosen verses picked out. Something out of Exodus. Something out of Romans (mixing it up: a little Old, a little New Testament, broadening his message). He wants to speak about stealing. There's no sense romanticizing the day, or the experience. These men and women may be homeless. They're no angels, some of them. They do their own kind of insider trading: they steal purses. They pick pockets when they can, as one man did a couple of weeks back, and had to be told: behave, if you don't want the Ormond Beach Police Department picking you up. And you don't want the police department picking you up, they tell him. On goes Rogers.
"If you loved your neighbor as yourself, would you steal?" he says.
"Yeah, we do, sometimes." That, from a young man with a dog tag, sitting right in front of Rogers. That's the reality where no Bible verse can compete. It's not about loving one's neighbor as oneself. It's about survival.
He goes on for about half an hour. At about 10 o'clock, the group begins to stream off to the main sanctuary for the Main Event, the 10:30 service, one of those big, full-stage, full-throttle productions pulsing with the sort of energy once associated only with rock concerts, but that evangelical churches have co-opted with great success, replacing salacious and scabrous pixels on the gigantic overhead screens with Bible verses or sing-along lyrics. It's a Sunday karaoke for God's sake, and the atmosphere is—well, electric. Looking around, the homeless are spread out where they may choose to be. Some of them are watching. Some are standing. Carol is sleeping, as he will be for most of the service.
Homelessness Defeated
There's also Pamela White. She's decked out in handsomer clothes. She used to be homeless. She had a well-paying job as a dietary aid in a hospital for 16 years before that, but took to cocaine, then lost everything. On the streets she picked up an HIV infection. Then she started riding the bus to Calvary four years ago, "struggling off of drugs and homelessness, and coming here and hanging with good people. I found a better way." She's been off drugs for two years. She has her own place, a car, a job. And she keeps coming to Calvary.
The church's 3,000-some seats aren't all filled this Sunday: Biketoberfest drains those seats, too. But it's filling out quite a bit, a huge sanctuary opened in April after the assembly raised $13 million to build it, despite the housing crash. Before long Raley is in full form. Playtime is over: that's his themse that day. He comes at it from every direction, and by the time he delivers some of his well-worn phrases—"I don't want to be just a feel-good church. I want to be a do-good church"—there's enough evidence to make the statement quite a bit more than words.
After the service Raley emerges from his chambers behind the sanctuary to speak with whoever wants to speak with him. We'd heard the story of the origin of the Bus Ministry, going back to its origins in 1997. We wanted to hear it from him. Uncut. So he told it.
How the Bus Ministry Was Born
"We didn't hardly have anybody coming, it was me and them in the gym, everything was falling apart," Raley said, remembering days when the church was near bankruptcy. "I can't tell you how many times they told us we're going to turn off your lights, we're going to turn off your water, because we couldn't keep things running around here because the finances were so bad. We couldn't pay for our mortgage payments on the church, our school was losing six figures a year, just do the math. People think the school makes money? School is not a money-maker. Church pours money into the school, we love the school. But I felt like the Lord just dealt with me and said if you love the ones nobody wants, I'll give you the ones everybody wants. And so I took that and started bringing those who are struggling with addiction, single moms that are out there with nothing.
"We started bringing them in. Right now you go after this service and there'd be a group of single moms, they have a big fellowship. We take care of tons of single moms. So we started loving on the people that are struggling. Every year in December we'll have Jesus' birthday party. We'll provide Christmas for about 800 kids who wouldn't have Christmas if we didn't provide it for them. We'll bring them up here, give them gifts, we'll provide Thanksgiving the whole meal, turkey, I'm talking a turkey, dressing, all the fixin's, we did it for 363 families last year at Thanksgiving. These are the kinds of things that are important to us. So I started bringing in the ones nobody wanted. And as I did that, it's like God started paying attention to me. If you want God's attention, pay attention to what has his attention. God's not into egotistical people who think they're all that and a bag of chips, God's not into all the religions. God is into people. He's paying attention to people who are struggling. So we started feeding these homeless folks. You'd be surprised at the homeless folk that you'd encounter around town, even in our church, that came on our bus, now they're working jobs, now their lives are changed. And you say have all of them done it? Absolutely not. But that's not what I can do. I can just create a place for them to come and know they're loved unconditionally."
In the early days Raley took flack for it. People hadn't experienced anything out of their own world. They'd see a homeless person, "and just like in America there's a disconnect, we always disconnect from people when they're in pain, and there was a disconnect from their pain. But you know I brought the homeless in, started loving on them, and minister to them, and putting it out there. And it shifted in our church. Now our church people I think one of the thing they love the most here is our homeless ministry."
By then the 80 or so homeless men, women and children who'd come to the service have filed back to the cafeteria again for another meal. A hot lunch before they leave the building from a back door and sit around for a while, not quite as distant from each other as they were in the morning—they're more rested, they're not hungry, some of them sang during the service—waiting for the buses that will take them back. Not home, but back. Just back to where they came from.