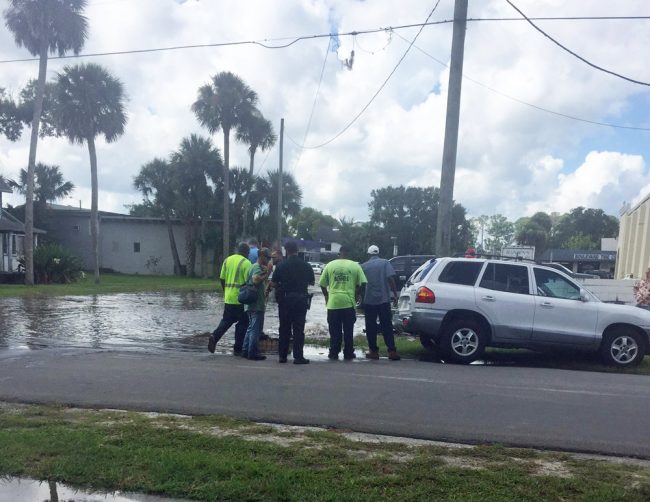 Last Updated: 9 p.m.
All Bunnell homes, businesses, government buildings, the county courthouse and schools lost water late this morning or in early afternoon and were not to see water service restored until mid-evening, if then. The Flagler County Courthouse was ordered closed at 2 p.m. by authority of the circuit's chief judge.
The water emergency was the result of a vehicle crash at 10:40 a.m. in Bunnell, involving two vehicles, a fire hydrant and a utility pole at the corner of Lambert and Church Street, behind Hansen's Furniture. The crash caused the hydrant to rupture, flooding the zone. Perry Mitrano, the city's utilities director, was not able to speak when reached this afternoon, describing himself "knee-deep" in the matter.
As of 1 p.m., a Bunnell release issued this afternoon stated, city crews estimated water service would be turned off for approximately four hours while all repairs were completed, with water to be restored at 5 p.m. But just before 5 p.m., the city said service would not be restored before 8 p.m.
Late this evening, the city said repairs were completed at 7:40 p.m. but that there would be intermittent water pressure as the system was booting itself back up. "Turning on a water faucet will aid in purging the air from the water lines," the city advised, "however, residents should avoid doing things such as filling a bath tub, washing laundry, running the dishwasher, or other high water use activities that will tax the water plant while it is restored to full pressure."
The city remains under a boil-water notice, necessary due to the pressure loss in the water lines. "The notice will remain in place for approximately three days until lab testing clears the system," the city cautioned.
"We have no water without a bottle," City Commissioner Elbert Tucker said, speaking by phone from his insurance office just a couple of blocks from the crash site.
"All sheriff's Office personnel assigned to the courthouse will finish their schedule[d] shift today," Undersheriff Jack Bisland told his staff in an agencywide email at 1:51 p.m. "Do not try to consume water or flush toilets."
The water emergency took place at an inopportune time for the Sheriff's Office, which evacuated from its own troubled Operations Center in June, in part to the courthouse and in part to its old administrative building near the jail. Though the water emergency would have affected it even if it had stayed at the Operations Center, it took place just as a team from the Centers for Disease Control was visiting the Operations Center and conducting some 30 interviews, individually, with sheriff's employees who have suffered health issues while working at the Operations Center. The interviews were being conducted at the county courthouse, and were still ongoing when the emergency was declared.
"We're almost done," Chief Mark Strobridge said at about 2:45 p.m., referring to the interviews.
Court activity was light after 2 p.m., with hearings scheduled before Denise Mensh and County Judge Melissa Moore-Stens. Those were postponed. Ludi Lelis, a spokesperson for Court Services, said when such emergencies take place, the judicial circuit requests from the Supreme Court that all court documents that would have been due this afternoon, or all court hearings scheduled for that period, be granted a one-day extension.
Court Services got the notice from Bunnell of the water issue at 1:15 p.m.
"There's no fire suppressant system when the water is out, so that would be a problem," Clerk of Court Tom Bexley said.
At the Government Services Building, which houses all county government offices, three constitutional officers' offices and the school district's central office, some employees in early afternoon were being told to use the bathrooms at Target, in Palm Coast, though the county was also bringing in portable toilets. But work was continuing there, and the County Commission had no plans to postpone its scheduled 5:30 p.m. hearing to adopt its 2018-19 budget and tax rates. It's the first of two such hearings this month.
"They're calling us to make sure we prepare before we come over tonight," County Commissioner Charlie Ericksen said in mid-afternoon.
Two large schools are affected in Bunnell: Bunnell Elementary and First Baptist Christian Academy, in the old county courthouse. At Bunnell Elementary, Principal Marcus Sanfilippo said the cut-off was noticed around 1:30 or 1:45 p.m. when a teacher reported there was no water in a classroom, and the administration soon realized it was school-wide. School was not to dismiss until 3:30 p.m., but Sanfilippo worked with maintenance and the district office to ensure that bottled water was available to anyone who'd need it, and for the short rest of the day students were still able tom use bathrooms, though the custodian staff is expected to have significant work to do when water is restored later today.
Sanfilippo sent an automated phone message to all parents about tomorrow's situation: "We are business as usual, we have bottled water available to the students," he said. Parents are welcome to bring additional bottled water if they wish, but the students' needs are being met. (The first automated call that went out to parents was actually in error: Sanfilippo sent out the "all-clear" message that had been recorded last year at the end of a minor gun incident outside the school's perimeter. The tapes had been mixed up. He quickly then sent out the correct message.