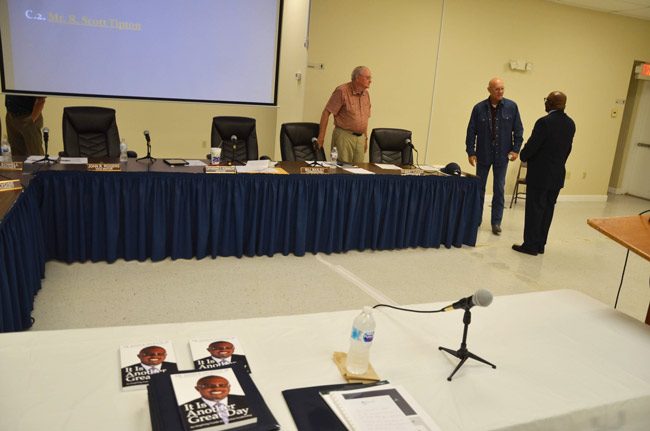 The Bunnell City Commission interviewed the first two of five candidates for city manager Tuesday evening, and for at least one commissioner, the rest of the interviews, scheduled for next Monday, are unnecessary: in a move that breaks with protocol, Commissioner John Rogers announced his choice to one of the candidates, during the interview.
"I'd hire you right now if it was up to me," Rogers told Alvin Jackson, the economic development director in Suwanee County who maintains a permanent home in Boynton Beach.
Earlier the commission had interviewed R. Scott Tipton, a retired Florida Highway Patrol traffic homicide investigator looking to redirect his career toward public administration. The only reason he'd been shortlisted was because Rogers had wanted him interviewed. But while one candidate dropped out ahead of Tuesday's interviews–John Klimm, who'd been picked by Mayor Catherine Robinson–there are still three more candidates slated for interviews next Monday, assuming Rogers's declaration hasn't muddied the way: Lyndon Bonner (a former Bunnell manager), Martin Murphy and Brian Watkins.
Tuesday's interviews were a study in contrasts.
Tipton has never held a job other than in law enforcement, and many of the questions commissioners posed required him to rifle through his notes, take long pauses, or simply say he knows what he doesn't know. That included questions about running a city budget or any official budget, impact fees and a possible increase in the homestead exemption, issues central to running a city. He was on stronger ground when discussing his master's thesis (about evaluating employees) or playing a key role in the implementation of video cams for troopers. "I never received one bit of recognition for it," he said, even though securing the cameras "was because of me."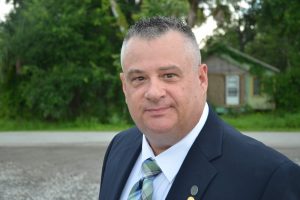 Tipton was clearly nervous and hesitant at various points. When faced with a difficult question on the job he said he'd research the issue, study peer-reviewed journal articles, and present his analysis to commissioners, letting them make decisions. "I'm here to make you happy, I'm here to give you what you want," Tipton said, "that's the way I conduct myself. I'm not here to be, to operate alone and do things I want to do when I want to do them. I'm keenly aware that this is a team effort and I'm part of a team."
Jackson in contrast sat back in his chair, his atms on the table or often gesturing, his demeanor even more relaxed than the commissioners', and his answers quickly taking the tone of an irresistible Disney Vacation Club salesman who makes everything sound not just achievable but exceedable. This from a candidate who's never actually managed a city, according to his resume, which lists a town manager job as his first job on the resume, but without a date. He was a deputy county manager in Lake County for five years and deputy executive director of the South Florida Water Management District for four, with consulting, "leadership" and economic development stints along the way. He's been the economic development director in Suwanee County since 2014, living out of the county even though his contract required him to live in county within six months of taking the job.
Jackson–who lists Flagler County's government's Sally Sherman as one of his three references–says he and his wife are relocating to Palm Coast regardless of his fortunes with Bunnell. By the end of his 90-minute interview, even Jackson spoke as if the hire was a formality: "I'm excited, I'm really excited about becoming a part of this community, becoming a part of this team."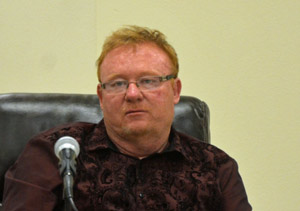 Other commissioners were more reserved: Commissioner John Sowell had read Jackson's self-published book previously and termed it "a great read" (Jackson distributed copies of his book to the commissioners just before the interview started), and Ebert Tucker told Jackson he was "impressed" with his performance.
But neither they nor their other colleagues–Robinson and Commissioner Bill Baxley–ventured further than just asking questions, at least when they could: Jackson managed to control the interview more than commissioners did, speaking in long, preachy blocks of time, one of them approaching 10 minutes, perhaps a reflection of other job as an active pastor in Tampa. (The Bunnell job requires a master's degree. Jackson has one, as well as a doctorate, but from an obscure bible college in Jacksonville, credentials that caused two Suwanee County commissioners to vote against his hire at his last job over doubts about the degrees' validity.)
Jackson projected command of various municipal issues, relying on personal experiences as examples and describing himself as an eternal optimist. To the frequent question about evaluating his own weakness, he answered: "managing my optimism."
"My whole objective is to make a difference in the community, help transform the community where individuals will begin to experience equal and higher quality of living," he said. To do so, he repeatedly invoked being "strategic" (""Is your pothole really that important compared to something else? Can you wait? Can you wait two years, and start compromising?"), being a "team player," showing "leadership" (a term he never quite defined beyond describing himself as a champion of retreats to build teamwork and loyalty).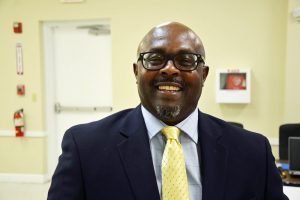 He was also unhesitant to speak of the political roles he'd urge his commissioners to play in certain circumstances, whether it's being visible in Tallahassee or pushing local landowners to sell parcels for an economic development project. He'd been asked what he'd do with Bunnell's 84 million acres. "Unless you want to sell the land, I can't move it," Jackson said, sounding like a real estate broker. That's where elected officials come in, he suggested: "You have the influence, you have the political influence, you have the individual influence with some of these landowners, and that's where we need you working to help us convince them to go to the next step on these lands."
Toward the end of the interview, Jackson asked commissioners questions, among them how they expected to measure his success.
"In 30 years this city has gone from one traffic light to two," Baxley said. 'It needs to be cleaned up, it needs to be some changes made, I'd like to drive through here in five years and say man, I don't recognize any of this."
Sowell said he was looking for a "wow" moment in Bunnell, one similar to what he'd previously experienced in parts of his native Alabama, which he;d found unrecognizable because of development. But that prompted the mayor to apply some brakes. "I don't want to lose the integrity of our city, I don't want to lose who we are and what we are about, to progress. Progress is a double-edged sword," Robinson said.
Commissioners are looking for a new manager following the April firing of Dan Davis. Tom Foster, the police chief, is the acting manager meanwhile. Commissioners will interview Watkins, Bonner and Murphy in scheduled one-hour increments starting at 6 p.m. at City Hall on June 18. The interviews are open to the public.

Commissioners' Short-List Choices For Bunnell City Manager
Click on each applicant's name to see the full application package. See all 18 application packages as provided by Bunnell administration in two files, here and here.