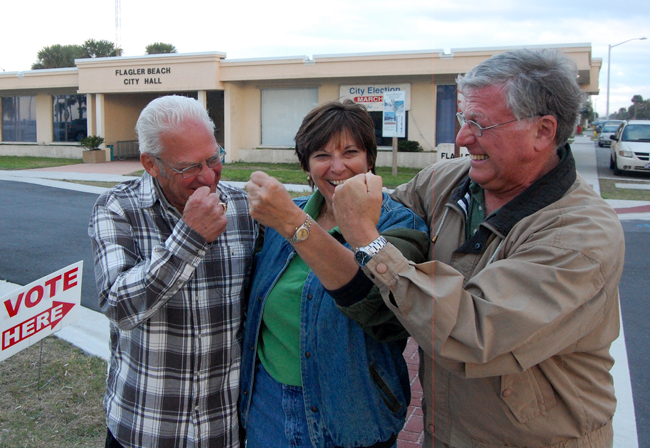 Kim Carney and Marshall Shupe will be Flagler Beach's new city commissioners, replacing Joy McGrew and Ron Vath, who chose not to run. Carney won with 41 percent of the vote (or 536 votes), Shupe was second with 37 percent (480 votes). They edged out Phil Busch, who got 22 percent (285 votes).
The election in Bunnell was closer. Incumbent Vice Mayor Jenny Crain-Brady was reelected and was the top vote-getter, with 28 percent of the vote (or 124 votes).
John Rogers came in a close second, with 24.4 percent of the vote. But his 108 votes are just three more than Bill Baxley, who polled 23.7 percent, with 105 votes. Koreen Kowalsky-Colpoys got 15 percent, or 68 votes.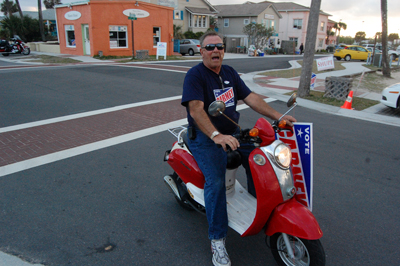 Nine-year incumbent Jimmy Flynt's tenure is over. He won less than 9 percent of the vote, finishing last in a field of five. He did not speak much when the results were in, describing it as "closure."
The election may not be over in Bunnell: on Friday, six provisional ballots will be counted by the canvassing board. Because the election is so close between Rogers and Baxley, it's possible, though not too likely, that those votes will change the result–but only if Baxley gets at least four votes, and Rogers gets none (or if Baxley gets five to Rogers's one). The chance is remote.
"I'm going to have a meeting Friday morning with the canvassing board to make sure this thing is sealed," Rogers said.
Touch-screen votes from Flagler Beach had not yet been uploaded, but those results are not going to change the tally: few, if any, touch-screen votes were cast.
Ron Vath, who'd been in office 10 years, and Joy McGrew, in office five, opted not to run again when the time came last December, citing their need to move on. Initially, Jamie NeJame was part of the field of contestants. He withdrew in late January. That race was relatively amiable, especially for Flagler Beach, where the line between the political and the personal can blur. While none of the candidates made civility an explicit part of their campaign (Busch came closest with his emphasis on wanting a "Happy City"), the three conducted their campaign as if they'd signed a pact to keep it so. Late today, as the sun was setting behind them, they were lined up on South Central Avenue, across from city hall–the only polling precinct in town–holding signs, doing the wave thing as cars passed by, and jousting as they had their pictures taken together.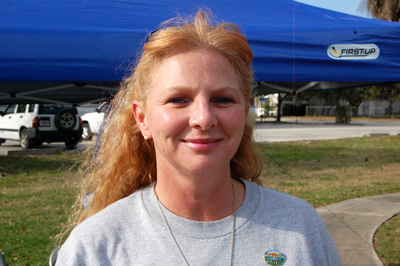 Busch recognized that he was going into the race with "baggage," a reference to his wife Randy, who had been commissioner in the previous decade, and during a tumultuous period for the commission as a whole.
In Bunnell, neither Crain-Brady's victory nor Flynt's loss were surprising: Crain-Brady leads with her heart and errs, the rare times she does, more out of inattention than malice. She's well liked and tends to be the liveliest commissioner on what, until now, has been the county's most sullen collection of elected officials (Flynt and Daisy Henry rarely smile or even talk much. Elbert Tucker gets dispirited from from being so often in dissent. And Mayor Catherine Robinson's business-like focus during meetings rarely wavers).
Flynt's chances of holding office diminished the moment a State Attorney investigation stemming from an abrasive encounter he had with a local businessman unraveled a pattern of lax and unprofessional conduct at the Bunnell Police Department–and, in some cases, criminal conduct, as two police officers were charged with felonies stemming from misconduct and other charges. Among other issues, the investigation revealed that officers favored Flynt's wrecker service over two others, one of which was John Rogers's, the candidate who defeated Flynt. (Flynt denied being aware of the favoritism.)
Rogers had run for the commission once before, unsuccessfully. The other candidates had never run.
Six amendments to the Flagler Beach city charter were also on the ballot there. They all passed. They were:
To amend the charter to clarify that the mayor must attend all meetings of the commission unless excused by the city commission, and that the mayor's veto may be applied for up to five working days after a resolution or ordinance is filed.
Commissioners or the mayor forfeit their seat if convicted of a felony or a first degree misdemeanor arising out of official conduct.
All ordinances must be posted electronically after approval by the commission.
Correct wording about state law in the charter, for clarity.
Require the city manager to submit a budget no later than 15 days after the property appraiser provides the last certified taxable values in the city (that would be a five-day extension from current requirements).
The charter review commission shall convene every 10 years, dating from the previous commission's last proposals to voters.
The provisional ballots will be counted at 10 a.m. at the Supervisor of Elections' office.