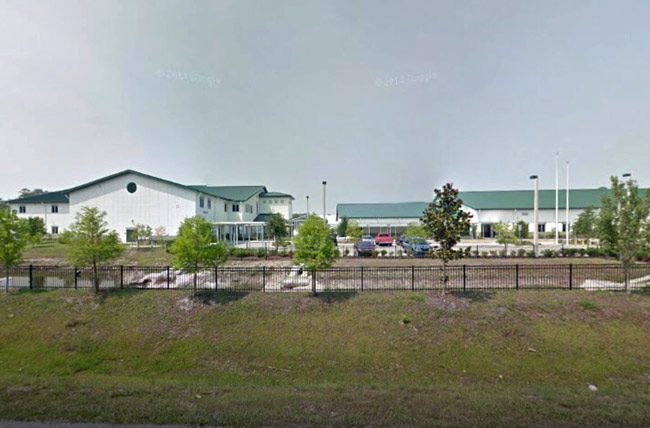 At 3:20 p.m., 10 minutes before dismissal this afternoon and as many parents had already lined up to pick-up students, Bunnell Elementary School went on a code-yellow alert, requiring all students to be moved indoors and delaying dismissal until 3:50 p.m.
"The Flagler County Sheriff's Office was called to investigate a suspicious person just off the Bunnell Elementary campus," a notice posted on the school district's website at 4:35 p.m. stated.
The incident was more serious than that.
A Bunnell Elementary student had been suspended earlier in the day and was required to leave school. He was spotted after 3 p.m. by students near a school fence (on the sidewalk outside campus) and students reported seeing something that may have been a weapon in his waistband.
That triggered a response by the Sheriff's Office and the Bunnell Police Department, and the subsequent detention and interview of the expelled student, who was found to have no weapon on him at that point.
There were many rumors and unconfirmed reports that the student had pointed a weapon through the fence—reports Jason Wheeler, the school district's chief spokesman, categorically denied.
But there's no question that dispatch reports to first responders were that a weapon may have been involved, and that the weapon, more likely a B.B. gun or an air gun, may have been pointed at children: "Kid is in custody being questioned," Dan Davis, Bunnell's city manager, texted city commissioners this evening. "He supposedly was on a bicycle on Magnolia and pointed a BB or pellet gun at another kid on the playground. Being charged with assault." (The actual charge, according to a release Bunnell police issued through Davis's office Thursday morning, would be aggravated assault.)
For law enforcement, it was a different case than the recent cases of students triggering investigations because of "jokes" about causing harm, as was the case Tuesday at Matanzas High School and last week at Imagine School at Town Center.
"I know it was a legitimate threat from what I know of the case," Sheriff Rick Staly said of the Bunnell case in an interview around 6 this evening. But Staly stressed that the Sheriff's Office was called in only to assist the Bunnell Police Department, and that it was the Bunnell PD's investigation.
"They had people that told them they had a weapon, but they don't have a weapon—they don't have it in custody, is my understanding," Staly said. "Our understanding is that a weapon was displayed. I have no information that a weapon was found."
Asked this evening to confirm whether the suspended student was being charged and whether whatever he displayed was recovered, Davis said: "I'm told he will be charged. Apparently, he said something to indicate he did have an air gun of some sort, but hasn't said where the gun is, and it has not been recovered yet." He noted that the 13 year old was still being questioned. That was around 8:15 p.m.
The Bunnell news release issued Thursday morning described the incident in further details regarding the suspected gun: "The victim advised he and other students were on the playground closest to E. Magnolia Street. The victim saw the suspect and another male, only known as Mike, riding their bikes up and down the roadway near the sidewalk. The suspect stopped, pulled a gun out of his pant pocket, and pointed it at him. The victim walked away, told other students, and then told the teachers. The gun was described as a 'long pistol.'"
As has been the case on at least some previous such alerts around schools, fire-rescue personnel was not dispatched to the scene or to stage near the scene when the alert went out, causing concern among fire-rescue personnel who worry that in case of an actual emergency, every minute's response time counts.
Tom Foster, the Bunnell police chief, did not return calls Wednesday evening, but Davis, who's been forthcoming with information, was relaying information from the police department if not Foster directly.
Dispatch notes indicate that in fact, the first call to 911 about the suspended student came in at 2:56 p.m., or 14 minutes before the Code Yellow was triggered, and that he was riding around the school on a bicycle, though that initial call gave no further description or information. At 3:15 p.m., another call came in to 911, and the caller said the student "may have a gun."
By then law enforcement was already en route. There was also a description of the boy: white, 75 to 90 pounds, 4'5" to 4'7". Then 911 started getting calls from others, including family members calling 911, concerned about a lockdown. At 3:31, 911 got information that the student may have gone back to his house. The dispatch center also got reports of a BB gun.
Earl Johnson, the district's executive director of leadership development and one of the senior administrators in the district who's also a point person on safety and security, was soon at the school after the Code Yellow was called. He described the incident in an interview this evening: "A male student was suspended from school, after he was suspended from school some of the kids saw him and another student, not a student of Bunnell Elementary, outside of the gate, and the students thought they saw something black in the student's pants. So that was reported to administration and the administration went to a code yellow." Law enforcement arrived after that.
The student was not around the campus by the time police arrived, "however they did find the student somewhere in the neighborhood," Johnson said. "He was detained and questioned. The student did not have anything on him at that time."
Dispatch notes indicate that a person was detained at 3:45 p.m., and was determined to be the boy in question at 3:48 p.m. Two minutes later, the school lifted the Code Yellow.
The student is well known among faculty and other students because of his lengthy disciplinary history: students who were told of his identity today were not surprised.
Staly said Wednesday's incident is the 22nd reported school threat that the Flagler County Sheriff's Office has investigated since Feb. 15, a day after the Parkland school massacre. He will be speaking about that in more detail Thursday.
Superintendent James Tager, School Board Chairman Trevor Tucker, Johnson and Staly, among others, are scheduled to appear in a joint news conference on school security at Buddy Taylor Middle School Thursday at 11 a.m. The news conference was scheduled well before today's incident and is intended to disclose some of the school board's aims following a closed-door school board meeting on school security Tuesday.