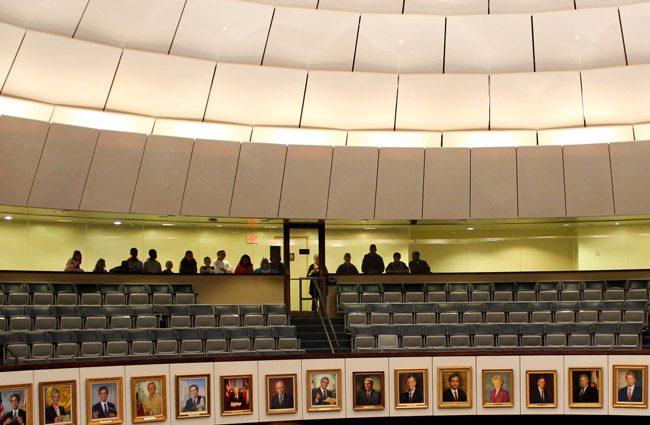 House and Senate leaders continued negotiating the state budget behind closed doors Wednesday, more than 24 hours after saying they had an early agreement on the overall size of the spending plan.
Generally, a deal on the broad contours of the budget — known as "allocations" — would lead in short order to meetings by joint House-Senate committees to hammer out details of state spending for the year that begins July 1.
But for a second day, optimism from legislative leaders that those conference meetings could begin produced no actual public negotiating sessions.
"I think that we've reached an agreement on the substance of the budget, and I think we also have reached agreement on a way that we can get to conference," Senate President Joe Negron, R-Stuart, said Wednesday morning.
But lawmakers pushed back against the idea that a deal that many believed had been sealed Tuesday had fallen apart.
"When we closed business yesterday, the major issues had been agreed on, at this point there is some tweaking going on what I call second- and third-tier issues," said Sen. Bill Galvano, a Bradenton Republican set to take Negron's place late next year.
The annual legislative session is scheduled to end May 5. But lawmakers face a Tuesday deadline to complete a full budget agreement or go into overtime, either through a special session or an extension of the regular session. That is because of a constitutionally required 72-hour "cooling off" period before lawmakers can vote on the budget.
Negron confirmed some of the broad strokes of the agreement Wednesday morning. The Senate would get wins on higher-education funding and policy, as well as Negron's plan to build a reservoir south of Lake Okeechobee.
In return, House leaders would largely get their way on public education. Local education property tax bills would not rise with property values; as a result, the increase in money for schools distributed through the state's main funding formula would rise by a relatively modest amount per student.
However, the House would also get $200 million for teacher bonuses tied to teachers' performances on certain tests, and $200 million for its proposed "schools of hope" program, meant to encourage qualified charter schools to set up near academically troubled traditional schools.
Those would be outside the Florida Education Finance Program, or FEFP, a formula usually used to calculate per-student increases in school spending.
"It would be a mistake to only count in the education budget what comes directly through the FEFP," Negron said. "I think there are other educational opportunities that we'll give to our constituents, and I think that improves the overall quality of our system."
The Florida Education Association, the state's main teachers union, lambasted the "schools of hope" legislation and similar ideas that have circulated in the Senate.
"Legislation like this makes it clear that the real goal of some of our political leaders is not to provide a high quality education to our children, it's to dismantle public schools and profit off our students," FEA President Joanne McCall said in a statement issued Wednesday.
Negron's comments to reporters Wednesday also raised the prospect that he and House Speaker Richard Corcoran, R-Land O' Lakes, were delving deeper into the budget than leaders have done while discussing allocations in recent years.
For example, Negron said leaders were talking about "issues related to whether language is included in a bill, whether it's included in a conforming bill." But legislators have recently touted swapping language on conforming bills — which brings state law into line with the budget — and fine-print known as proviso during the public conference process.
Gov. Rick Scott was in Argentina on a trade mission most of the day, but his office continued pressing for more funding for Visit Florida — the state's tourism marketer, which is expected to get far less in the budget deal than the $100 million Scott requested.
The governor is scheduled to meet with 10 senators Thursday after his return to Tallahassee.
Meanwhile, House leaders will be able to boast they moved forward Wednesday with a potential $2.2 billion in tax cuts, but it remains unknown what breaks Floridians will get from the legislative session.
The House unanimously backed a nearly $300 million tax-cut package (HB 7109), while being more divided on a proposal that would ask voters to expand the homestead property-tax exemption.
Senate committees have advanced a number of individual bills that match key items in the House package, including sales-tax "holidays" for back-to-school and hurricane-preparation items, along with eliminating taxes on diapers and feminine hygiene products.
But the final details of tax cuts likely will emerge from budget negotiations between the House and Senate.
The House's property-tax proposal would ask voters in November 2018 to expand by $25,000 the non-school homestead exemption. A similar Senate measure (SJR 1774) has been approved by one committee.
Rep. Mike La Rosa, a St. Cloud Republican who is sponsoring the House version, said it could boost real-estate sales. The proposal passed in an 81-35 vote.
"Home ownership across our state is getting lower and lower and lower," La Rosa said. "This tax cut gives them an option to make that reality a possibility."
According to the University of Florida's Bureau of Economic and Business Research, "A recently released report from the U.S. Census Bureau shows that as of 2016, the Florida homeownership rate has dropped 8 percentage points to 64.4, the lowest since the government started tracking in 1984. The Florida homeownership rate is still higher than the U.S. rate, but the drop since the pre-recession high was greater in Florida than nationwide. The U.S. homeownership rate had peaked at 69.0 percent in 2004, then fell 5.6 percentage points to 63.4 percent in 2016."
House members have estimated the savings for homeowners to be an average of about $170 a year. For local governments, the revenue reduction could collectively top $750 million in its first year and grow to almost $850 million a year within five years.
Rep. Matt Willhite, D-Wellington, said the proposal would take money away from essential services that local communities provide, such as fire protection and law enforcement.
"It sounds great to give our residents a tax break," Willhite said. "But I also understand that myself and constituents want services and those services don't come free."
For Palm Beach County, the impact could be $29 million a year, Willhite said.
The savings for homeowners would cut Seminole County revenue by more than $16.5 million, Orange County would see a revenue reduction of $35.3 million, and Leon County about $9 million, according to local officials.
Rep. Wengay Newton, D-St. Petersburg, said the proposal is effectively an unfunded mandate that would result in the need for local governments to raise tax rates to maintain services.
But Rep. Joseph Abruzzo, D-Boynton Beach, said the proposal should be left for voters to decide.
"How do I go back to the district and tell people I could have given you the chance to have an additional homestead exemption, but I took that away, I voted against it?" Abruzzo said. "That's not going to happen."
Similarly, Rep. Al Jacquet, D-Lantana, said lawmakers should trust their constituents.
"I'm not saying cut the taxes," Jaquet said. "What I'm saying is, I trust the people that sent me up here to make that decision themselves."
Rep. Carlos Guillermo Smith, D-Orlando, warned that the proposal could get lost on a ballot in 2018 when there may be a lengthy list of constitutional amendments proposed by the Constitution Revision Commission.
"I do not want to be complicit in making the ballot any longer than it needs to be," Smith said. "Not because of the underlying issue, but because of the reality that it will have the unintended consequence of disenfranchising voters."
While the proposed constitutional amendment was contentious Wednesday, the House's tax-cut package enjoyed unanimous support.
The package is highlighted by a 1.5 percentage-point drop in a 6 percent tax on commercial rent. The rate would increase to 5.5 percent in two years.
The reduction is projected to save business owners $190.7 million next fiscal year.
The Senate has proposed a single percentage point reduction in the commercial-rent tax.
House Ways & Means Chairman Jim Boyd, a Bradenton Republican who is sponsoring the tax-cut package, said after the House session that he expects some progress on tax cuts as House and Senate leaders continue to work on the budget.
"I think some of our issues are certainly consistent, our initiatives and theirs," Boyd said.
The House proposal also would eliminate sales taxes on diapers, feminine hygiene products and college textbooks and offer tax-free holidays for purchasing school and hurricane supplies.
–News Service of Florida and FlaglerLive