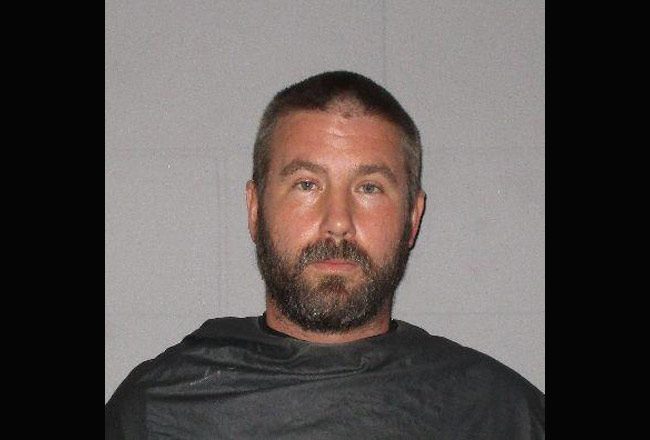 Travis Holloway, a 37-year-old Palm Coast resident currently teaching at Buddy Taylor Middle School, was arrested for domestic violence battery Thursday following an incident at an Ormond Beach Walmart involving his ex-girlfriend and his 3-year-old child.
It is Holloway's third arrest in the past eight years, the second involving domestic violence, a period through which he's been employed by the Flagler school district. The arrests don't include an injunction for protection against violence his ex-girlfriend–involved in the incident Thursday–filed for in 2015.
He is still employed as a physical education teacher at Buddy Taylor. He's been employed in the Flagler school district since 2003. "This is a pending investigation and as soon as we receive information from law enforcement, we will follow our procedures and protocols," a spokesperson said Friday. There was no indication the Ormond Beach police, which secured the warrant for Holloway's arrest, was aware of his status as a teacher, though the Flagler County Sheriff's which served the warrant, was, and included the information as part of its procedures.
In 2009 Holloway had been arrested on an aggravated assault with a deadly weapon felony charge involving a previous girlfriend, when he had "grabbed her by the arms and pulled her out of bed," then "slammed" her against the wall and to the floor, struck her twice in the face, grabbed his 9mm gun and pointed it at her, then intimated either he or she could cut themselves "and do it right," according to his arrest report at the time. The charge was reduced to the improper exhibition of a firearm and simple battery, thus reducing the offenses to misdemeanors, enabling him to keep his job. He was sentenced to two years' probation.
He tried to terminate his probation early, as certain defendants are allowed to do when they meet certain criteria. "I have learned a valuable lesson," he wrote the judge, describing himself as responsible and knowing how much he had to lose–his teaching and coaching career. "Through all of this my principles [sic.] and co-workers have stood by me and I was blessed enough to keep my job, which proves that I am good at what I do," he wrote. (The downgrading of his offense to a misdemeanor had more likely enabled him to keep his job as he would not have had he been a felon.) "I am a responsible person of the community," he continued. "I have a house, a nice car, and a career that I love and I know that I could lose everything if I continue to make mistakes. I have learned my lesson and know what can happen if you don't think before you act."
In fact, he had had not entirely learned the lesson: he violated his probation by smoking pot. "There is no excuse for what I did and I again take full responsibility for my actions," he wrote, attributing the violation to "stresses at work" and breaking up with his girlfriend. "I was upfront with my probation officer and they knew that it was a onetime stupid mistake that would never happen again, and chose not to violate my probation so it was put in as a technicality."
The judge denied early termination of probation.
Holloway tried again in February 2011, and again pleaded that he understood "the severity of my actions," and how sorry he was. Again he wrote of learning from his mistake. "I know how much I have to lose if I get into any more trouble whether it's now, six months from now, or a year from now," he wrote the judge, acknowledging that if he did so, he would not only go to jail "but would also lose my career as an educator/coach, my home, my car, and everything I have worked so hard for. I just want to put this behind me and move on with my life." (Three weeks after he wrote the letter, Wells Fargo filed for foreclosure on Holloway's house on Palm Coast's Seaside Court, which he'd bought in 2006. He currently lives on Eric drive.)
He was again denied early termination of probation–at the time by Judge Raul Zambrano. That was in March 2011. Holloway's probation ended in September 2011.
Barely two months later, he was again arrested on a drug offense.
The arrest for marijuana and drug paraphernalia possession, a first-degree misdemeanor, was in Volusia County. (Volusia has since decriminalized the possession of small amounts of marijuana, but only for individuals with no prior convictions, so the dispensation would not have applied to Holloway even if the decriminalization measure had been in place then.) It's not clear whether the school district in Flagler was aware of that charge. That December, Holloway agreed to a first-offender drug-intervention program, part of a deferred prosecution agreement, which he successfully completed at Stewart-Marchmann Behavioral Healthcare in March 2012. So the charge was subsequently dropped.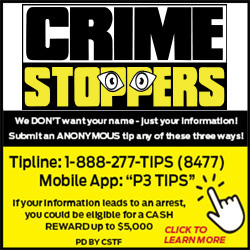 Around 2014, he became a father. The following year, the mother of his child, the same alleged victim in the incident that led to Holloway's arrest Thursday, filed for an injunction for protection against Holloway.
He and his child's mother have been split, but by court order, they are to carry out exchanges of the child at the Walmart in Ormond Beach on set dates. That's what was taking place on Aug. 16, when Holloway was handing the child over to the child's mother, a 25-year-old resident of Ormond Beach. According to the arrest report, Holloway "got upset at the way" the child's mother was taking the child from him "and aggressively shoved her backward causing her to lose balance and use the car for stability. While in the commission of the battery, the [child] was still in the hands of" Holloway, who then, according to the report, used the child instead of his hands to push his ex-girlfriend. The child became upset, and "possibly obtained mental injury after the fact of watching" Holloway allegedly "batter" the mother.
The alleged victim told police that there had been "similar cases of domestic battery or disturbance when conducting the child exchange." The arrest report lists four other Ormond Beach Police cases.
Holloway was charged with felony child abuse without great harm, and domestic violence battery. A warrant was issued for his arrest and served on Thursday, when he was booked at the Flagler County jail early that morning. As of Friday evening, the jail site indicated he was still being held there on no bond on Ormond Beach's warrant.
"I know that what I did was wrong, but as you know there are usually three sides to the story (their side, your side, and the truth)," he'd written Judge Zambrano in 2011, putting the last clause in parentheses, before again excusing himself even as he asserted that he was not making excuses: "[T]he point is that there was more to the story than what was said. I am not for a second excusing what I did, I know what I did was wrong, and I have learned my lesson and I just want to move on with my life."