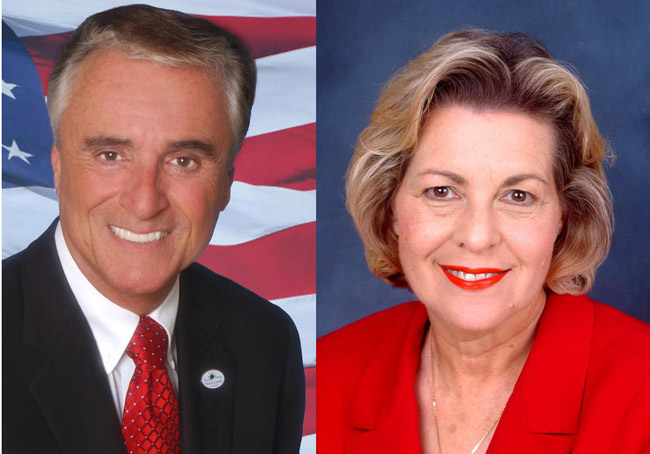 As they battle in perhaps the state's top legislative race this fall, Democrat Frank Bruno and Republican Dorothy Hukill disagree about plenty of issues.
But the Senate District 8 race also carries a pair of more-intangible questions: Would voters be better off again electing a Republican to the GOP-dominated Senate? Or is it time for Democrats to claw back a seat in the newly-drawn, swing district?
Bruno, the chairman of the Volusia County Council, repeatedly told a local Tiger Bay political club Tuesday that he would bring "balance" to Tallahassee if he gets elected.
"I believe I will be able to work across party lines," Bruno said.
But Hukill, a House member since 2004 and a lieutenant to outgoing Speaker Dean Cannon, said it is critical that the district be represented by someone with ties to Republican leaders who will control the Senate for the next two years — and likely for the foreseeable future.
"It's absolutely critical," Hukill said after debating Bruno at a luncheon meeting of the club. "It's a giveaway seat if you're not in leadership."
District 8, which includes most of Volusia County, much of the eastern half of Marion County and a corner of Lake County, is widely viewed as one of the two most-competitive Senate races in November. The other is a race between Sen. Ellyn Bogdanoff, R-Fort Lauderdale, and Sen. Maria Sachs, D-Boca Raton, after they were drawn together in District 34.
Both parties are focused on the Bruno-Hukill race, with Bruno saying he expects each side to pour $2 million into the contest. Part of that high cost stems from the relatively expensive Orlando television market, but it also reflects the importance that party leaders have put on the race.
"It is a district where you have to have a better candidate, you have to have a better message and you have to have a better campaign," incoming Senate President Don Gaetz, R-Niceville, said this week. "It is not a gimme district for either Democrats or Republicans."
While redistricting has changed the boundaries, District 8 effectively is an open seat because Sen. Evelyn Lynn, R-Ormond Beach, faces term limits this fall. Republican representation of much of the area stretches back two decades, with former Sen. Locke Burt, R-Ormond Beach, holding office before Lynn.
But as an indication of how the newly drawn district swings, Democratic presidential candidate Barack Obama beat Republican John McCain in the area in 2008, while Republican gubernatorial candidate Rick Scott beat Democrat Alex Sink in 2010.
The debate Tuesday showed Hukill and Bruno taking widely differing positions.
For example, Hukill expressed support for a 2011 law that required government workers to begin paying 3 percent of their salaries into the Florida Retirement System, saying changes had to be made to "maintain the long-term integrity of the system."
Bruno said he did not think it was fair to require already-employed workers to pay into the pension system, though he said it was acceptable for new hires. The Florida Supreme Court heard arguments this month in a constitutional challenge about requiring already-employed workers to pay into the system.
Lynn, who was at the Tiger Bay luncheon and supports Hukill, said she thinks voters in the district are most interested in economic issues.
"I think the big thing is going to be jobs," she said. "Jobs and economic development, no doubt about it."
The debate included flashes of testiness between the candidates. Hukill, for instance, criticized Bruno and the county council for not doing more to use incentives to attract jobs to Volusia County, which drew a retort from Bruno.
"I've never seen her come to a county council meeting or even discuss job creation with the county of Volusia," said Bruno, who as chairman is akin to a county mayor.
Hukill then fired back: "Perhaps Mr. Bruno doesn't know I serve in Tallahassee a good portion of the year," she said, also adding that she had attended a recent county meeting.
Bruno also called for ending the use of the Florida Comprehensive Assessment Test, which has long been criticized by many Democrats and teachers.
"Our kids are not failing FCAT," he said. "FCAT is failing our kids."
Hukill replied by pointing out that the state is already phasing out the FCAT and replacing it with what are known as end-of-course exams.
"You (the public) spoke, and we have listened," she said.
Bruno also told the audience that he has received campaign money primarily from local contributors, including Republicans and independents. That came after the moderator of the debate, Daytona Beach News-Journal editor Pat Rice, questioned Hukill about receiving contributions from Tallahassee groups.
"The majority of my money has been raised in Volusia County, not in Tallahassee, and I think that's a statement in itself," Bruno said.
But Hukill said she has been repeatedly elected in a closely divided House district that includes most of the southern part of Volusia County.
"Unless I had support from Republicans, Democrats (and) independents, I would not have been able to win four elections in District 28," she said.
Hukill and Bruno are well known in Volusia County, which includes more than 70 percent of the population in the Senate district. But both agree the Marion County portion of the district, where about a quarter of the voters live, could prove crucial.
Hukill described Marion as "very conservative" and said she has the backing of such Ocala Republicans as former House Speaker Larry Cretul, Rep. Dennis Baxley and former Rep. Kurt Kelly.
But Bruno said he is working hard in Marion County. "The battle is going to be taken to Ocala," he said.
–Jim Saunders, News Service of Florida