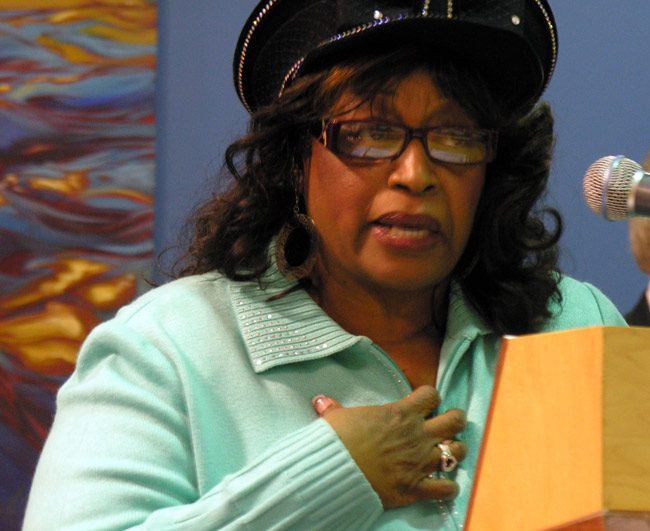 A federal judge Wednesday rejected a request by former Congresswoman Corrine Brown, who once represented parts of Flagler County, to stay out of prison while she appeals a conviction for her role in a charity scam.
U.S. District Judge Timothy Corrigan ordered Brown, who received a five-year sentence this month, to report to prison Jan. 29 unless she can convince the 11th U.S. District Court of Appeals to allow her to remain free during the appeal.
"Ms. Brown has been accorded all the consideration she is due, she has not met the standard to remain on release pending appeal, and it is in the interest of justice that she begin serving her sentence," Corrigan wrote in the four-page order.
Brown, a former 12-term Democratic congresswoman, was convicted in May on 18 felony counts related to her role in using contributions to the One Door for Education charity for personal expenses and events. Corrigan on Dec. 4 issued the five-year sentence, describing the fraud as "shameless" and rejecting Brown's request for probation instead of prison time.
Brown, 71, filed a notice of appeal Dec. 11 to the Atlanta-based appeals court, with her arguments expected to focus on Corrigan's decision during the trial to dismiss a juror.
"Corrine Brown's primary issue on appeal is the denial of her motion for a new trial, which asserted that she should have received a new trial because the court committed reversible error when it dismissed a juror during deliberations without cause," said her motion to remain free on bond during the appeal.
The motion asked Corrigan to allow her to remain out of prison "because she is not a flight risk and because her appeal will present a substantial question of law where there is a substantial likelihood of success."
But prosecutors filed a document last Thursday saying the motion "is without merit and should be denied." Prosecutors said the judge made the proper decision in dismissing the disputed juror.
"Having failed to meet her burden to demonstrate that her appeal raises a substantial question of law or fact, the defendant should be denied bond and ordered into the custody of the Bureau of Prisons during the pendency of her appeal," prosecutors argued in the document.
In sentencing Brown on Dec. 4, Corrigan issued a 25-page order that said the One Door for Education charity, which was originally established to help children, was "operated as a criminal enterprise" by Brown, her longtime chief of staff, Ronnie Simmons, and the charity's founder, Carla Wiley. Corrigan detailed how the charity raised hundreds of thousands of dollars, which forensic accountants said was siphoned off in cash withdrawals and used for such things as sky box seats at an NFL game and a luxury box at a Beyonce concert.
Brown, long an influential figure in Jacksonville, represented a congressional district that stretched from Jacksonville to Orlando. She lost a re-election bid in 2016 after the district's boundaries had been substantially redrawn and as she faced the criminal charges.
–Jim Saunders, News Service of Florida