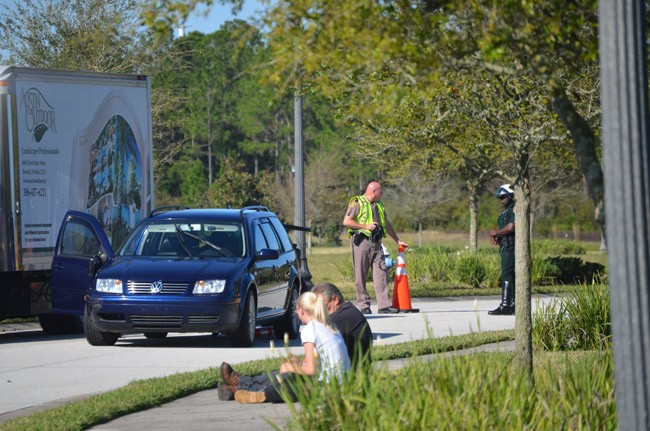 Last Updated: March 10, 5:18 p.m.
Two lawn maintenance workers–Juan Escobedo-Gonzales, 46, of Crescent City, and Jose Antonio Lira, 36, of Pierson–were critically injured Monday morning when a vehicle struck them while they were working in Palm Coast's Town Center.
One of the workers was in "life-threatening condition," according to Sgt. Dylan Bryan, spokesman for the Florida Highway Patrol. Another worker was "in critical condition," Bryan said. Initially, one or both were taken to nearby Florida Hospital Flagler because an immediate flight to Halifax could not be secured. One of the patients was to be flown from FHF's helipad, but due to his condition the flight was scrubbed. Eventually, both individuals were taken to Halifax by ground.
Maintenance at Town Center is contracted to Austin Outdoors, several of whose officials were at the scene Monday morning.
The wreck took place on Brookhaven Drive, just off of Town Center Boulevard, around 9 a.m. Brian W. Earle, 23, of Brookhaven Court in Palm Coast, was driving a dark-blue Wolkswagen, heading east on Brookhaven. Maintenance workers had reduced the road to one lane with orange cones as they were doing their work. Escobedo-Gonzales and Lira were standing inside the protective area marked out by the cones, Bryan said, when Earle "violated the enclosure" and struck both workers.
"The driver did stop and is cooperating with investigators," Bryan said.
The Palm Coast Fire Department, including Chief Mike Beadle, were at the scene of the wreck, along with Flagler County Fire Rescue, the Palm Coast Fire Police and at one point, a unit of the Flagler County Sheriff's Office. The ongoing investigation sealed off Brookhaven Drive and reduced the southbound lanes of Town Center Boulevard to one, but traffic was light and not impeded.
The identities of the workers or the drivers were not known until Tuesday. Earle was driving with a 20-year-old woman. Neither was injured. The crash report FHP released late Tuesday afternoon indicates that the Volkswagen struck the lawnmower that the two maintenance workers were working on–changing its blades–forcing the lawnmower onto the two workers.
In the call to 911 immediately after the crash, placed by Earle at 8:49 a.m., Earle was described as "hysterical" and wouldn't answer further questions after indicating that he'd struck the workers with his car, and that one of the workers was under a truck. (An Austin Outdoors truck was parked on the road, just ahead of the mower, with the truck's ramp down.) One of the victims was described as "barely breathing," and both victims were described as having "a lot of blood coming from their heads." The 911 transcript also confirms that an airway was not secured for the helicopter, requiring both men to be transported by ground, first to Florida Hospital Flagler, then to Halifax.
The investigation was ongoing at mid-morning Monday, and took place as emergency personnel was quickly called to different emergencies. Two Flagler County Fire Rescue units left the wreck scene at around 9:30 when smoke was reported at a Hair Cuttery salon in Palm Coast. The emergency turned out to be minor: an air conditioning unit had malfunctioned on the roof and sent smoke downstairs. An almost exactly similar situation then happened at Matanzas High School, again with an AC unit on the roof malfunctioning, sending smoke below, and calling out emergency personnel. Both issues were resolved.
The road in Town Center was reopened at