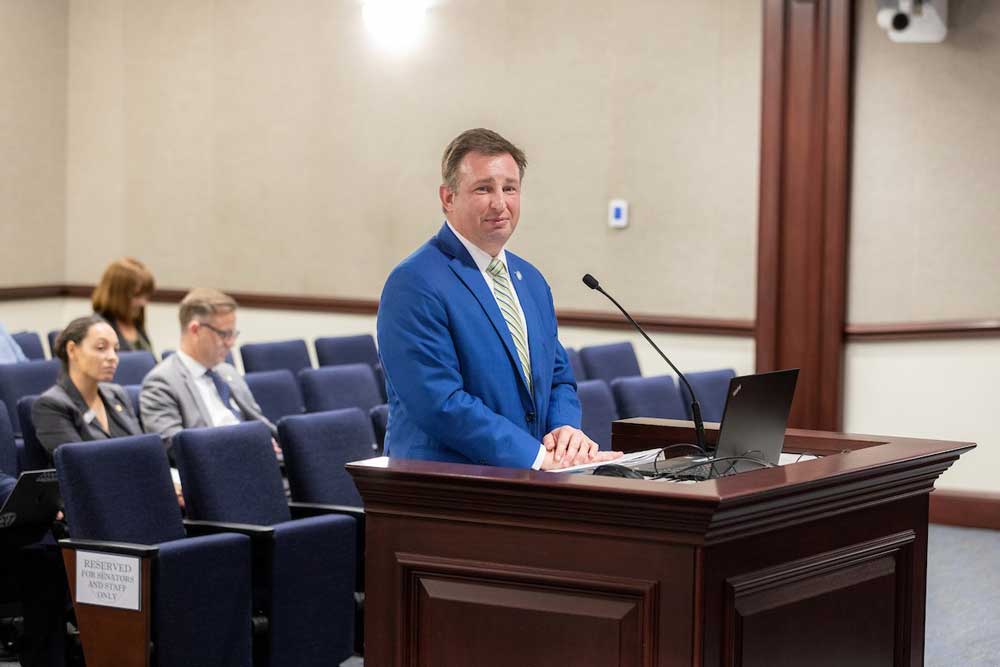 It looked like an April Fool's joke inspired by the onion domes of the Kremlin. But Florida Sen. Jason Brodeur filed the bill on Tuesday (Feb. 2), and it is no joke, at least not to him, though National Review today called him a "moron" for filing it.
The bill, which has no chance of becoming law, would require bloggers who write about Gov. Ron DeSantis, the lieutenant governor, members of the cabinet and members of the Legislature to register with the government of Florida. It would also require the bloggers to file laborious monthly reports with the government, tallying how much money they were paid for every blog post about any of the government officials in the affected categories, and who paid the bloggers' fees.
Violators would be fined $25 per post or article per day that it isn't accounted for in reports to the government, for up to $2,500 fines per post or article.
The accounts, to be filed by the 10th of every month, would have to be turned in to the Office of Legislative Services or to the Commission on Ethics, depending on the subject of the article. No reports are due if the blogger hasn't written about any of the given government officials during the previous 30 days.
Brodeur, a native of Daytona Beach and a resident of Sanford, has worked in health care and still works as president of a chamber of commerce in Seminole County, serving in the Florida House for eight years before his election to the Senate in 2020. He has had an unremarkable career in the Legislature, serving as a loyal foot soldier for the Rick Scott and DeSantis agendas.




The bill is unlikely to hurdle its way through three committees and make it to a floor vote in the legislative session, which begins Monday. It does not have a House companion. But the ground has shifted considerably under Tallahassee norms.
On the almost inconceivable possibility that it would become law, the bill would not easily survive a legal challenge on several constitutional grounds, among them the First, Fifth and 14th Amendments. It is also in violation of the Florida Constitution, which holds that "no law shall be passed to restrain or abridge the liberty of speech or of the press."
But the filing–rather than the bill itself–is not without telling significance. That a Republican member of a Florida Legislature bullish on its GOP supermajority found it appropriate to file, whether as a taunt of civil libertarians and the media–both are reflexive targets of reigning Republicans in the state–or in defiance of constitutional norms, is a ready echo of the ACLU's warning this week that the legislative session is shaping into an unprecedented assault on civil liberties. (See: "On Eve of Legislative Session, ACLU Warns of Brazen Attacks on Floridians' Civil Liberties.")
The conservative National Review today called Brodeur a "Moron" in a headline over an article by Charles Cooke that starts with him calling Brodeur an "idiot."




"The bill is an unconstitutional, moronic disgrace, and the guy who wrote it," Cooke wrote, "is an embarrassment to the GOP. Thankfully, though, the number of people in Florida's legislature who are interested in this bill is . . . well, is Senator Jason Brodeur of Seminole County. Brodeur wrote the bill. Brodeur sponsored the bill. And that's as far as it's got. It's not going to pass. It's not going to be signed. It's not even going to be considered. It is, as the kids say, not really 'a thing.'"
Brodeur's bill defines  a "Blog" as "a website or webpage that hosts any blogger and is frequently updated with opinion, commentary, or business content. The term does not include the website of a newspaper or other similar publication."

brodeur-moronic-bill

Reader Interactions