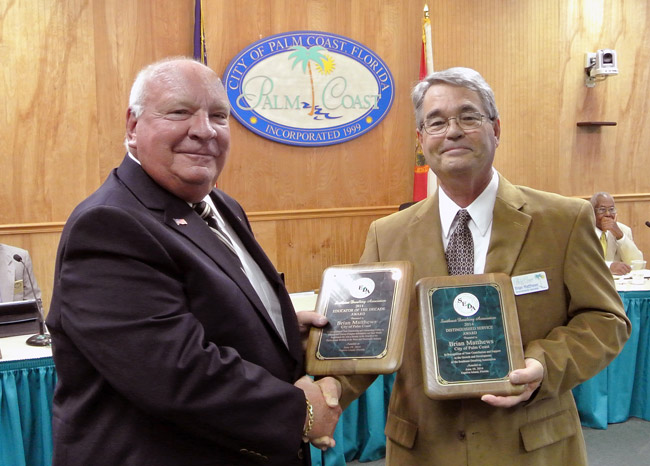 The Southeast Desalting Association has named City of Palm Coast Environmental Specialist Brian Matthews, a longtime employee of Palm Coast's Utility Division, as its Educator of the Decade for his work to educate water treatment facility operators about membrane technologies.
The Southeast Desalting Association also honored Matthews with its Distinguished Service Award for his 14 years of service on the SEDA Board of Directors. His term ends this year. The two awards were presented by SEDA President Amanda Barnes in June at SEDA's Spring Symposium on Captiva Island. Matthews was recognized Tuesday by the Palm Coast City Council meeting.
"Brian has been instrumental in the success of SEDA's operator certification program for over 14 years, he has provided insightful and productive discussions at the Board meetings," said Barnes, assistant director of Utilities for the Town of Jupiter. "He is able to think outside of the box to promote SEDA's training programs. His devotion to operator training is exceptional, and Palm Coast is very fortunate to have such a dedicated and fine leader on its staff."
Matthews served as chief operator of Palm Coast's Water Treatment Plant 1 and helped design and startup of the City's Water Treatment Plant 2 as an employee of ITT Corp. from 1979 to 1999. After four years with Florida Water Services, he became an employee of the City of Palm Coast in 2003. As Environmental Specialist, Matthews coordinates regulatory compliance, laboratory services contract, conservation, capacity, growth, public records and permitting activities for the Utility Division, which is part of the Public Works Department. He is licensed as a Class "A" Water Operator and is a certified Reverse Osmosis Water Treatment Specialist.
Two of Palm Coast's three water treatment plants use nano-filtration, which is a low-pressure, reverse osmosis system that filters water using membrane technology.
Matthews has been on SEDA's Board since 2000, serving as chairman of the Membrane Operators Certification Committee. Since 1997, the committee has provided education about membrane technologies to some 800 students – plant technicians, operators, lab analysts, regulators, utility managers and professional engineers from around the world. The committee is currently finalizing SEDA's seventh edition of the textbook, which is broken into two components: Introduction to Membrane Systems and Advanced Training of Reverse Osmosis Systems.
SEDA honored Matthews as Educator of the Decade for his facilitation of the courses and locations for training, development of instructors (including Matthews himself), editing and contributions to the materials, and establishment of agreements with other desalting associations in the United States.
"I am honored to have had the opportunity to participate in the SEDA organization to provide an educational resource for members of the membrane treatment community," Matthews said. "I would like to thank my mentor, Stuart McClellan, one of the pioneers in the membrane industry, for the training he provided to me and then asking me to run for the SEDA Board of Directors to become the Membrane Operators Certification Committee Chair. He has had a great influence on my career."