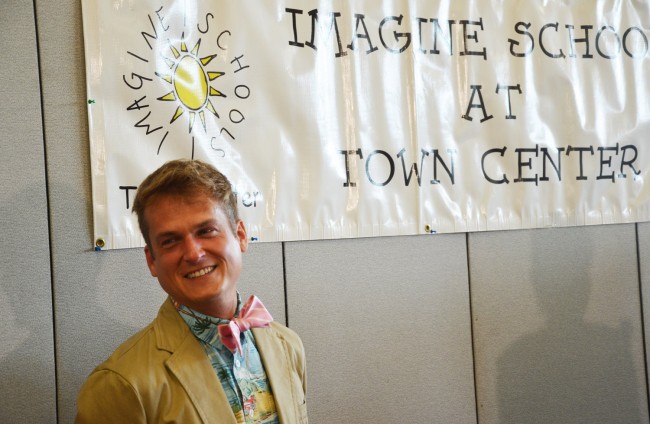 Luckily for Brett Cunningham, a custodian had left a well-stocked supply tray outside the cafeteria. Cunningham needed the paper towels. In bulk. He took a few, and wiped the latest tears. There would be many more, as there had been for 20 minutes or so.
Cunningham, 33, had just learned, during an unusually scheduled assembly at Palm Coast's Imagine School at Town Center this morning, that he is the 2013 national Teacher of the Year in the Imagine charter school system. He was chosen from more than 2,000 teachers in 72 schools across 12 states, a yet unparalleled distinction for any teacher in any type of school system—traditional, charter or private—in Flagler County.
Diane Beatty, the Imagine network's executive vice president, had made the announcement in a cafeteria filled with grades four through seven, and in the presence of Superintendent Janet Valentine and School Board member Colleen Conklin. Cunningham had taught a majority of the students, who erupted in sustained cheers and applause.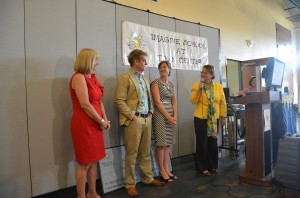 For several minutes while Principal Lisa O'Grady and Beatty had gone through a few formalities and shown a video featuring Cunningham, who'd been the school's Teacher of the Year, he stood toward the back of the cafeteria alongside other teachers, leaning against a metal cooler in his Doc Severinsen-type blue shirt, tan jacket and white-striped pink bowtie. He suspected that something was up, but he wasn't quite sure that it was him: O'Grady had told him earlier this week that she didn't think he'd won the national honor, otherwise the school would have been told by now.
But it was him.
As he heard the announcement, Cunningham smiled, scrunched his face, lifted his right hand to his eyes, which immediately began to water, he tried to compose himself, not quite yet able to wrest himself from the cooler, finally he walked through the assembly to the front of the cafeteria to accept a glass trophy and an oversize check for $1,000. He could only say a few words. "I want to just say that if the right students didn't come to this school, and stay at this school, we couldn't do what we do at this school, so it's really about you," Cunningham told the assembly. "So thank you."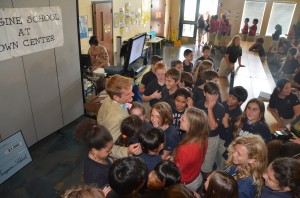 It's not that Cunningham isn't used to the limelight. He's made for it. Thousands of people beyond Imagine have seen his performances: he's an actor and singer, and a member of the board of directors of Palm Coast's City Repertory Theatre, alongside John Sbordone, under whose direction he's appeared in "Hairspray" and "Jesus Christ Superstar" at the Flagler Playhouse, and in "Jacques Brel Is Alive and Well and Living in Paris," "Pygmalion" and "The Lion in Winter" at City Rep, with a hand in most of those shows selling out.
"He's extraordinarily enthusiastic and dedicated to not only the entire CRT, he's our vice president, but to any show that he's involved in," Sbordone said, describing Cunningham's style in words that paralleled the description of Cunningham's students speaking of his teaching style. "He brings such joy, such a world view, he's very intelligent, very literate individual, and is always looking to learn more. I think that's what makes him such a great teacher, his love of the kids, his desire to always learn more."
His most centered stage is his classroom, and he knows it. "I've had a lot of autonomy over the years to just kind of do whatever I saw fit to do, working without curriculum. It's a creative job." He pauses, overcome again. "I've always been an artist without an art, and this is a very creative job if you make it."
He's actually an artist with two arts, teaching being, for those who do it best, as much an art as performing, "if you make it that way," Cunningham says, "if you make it an artistic job or a creative job, or a performer's job. Especially at this age level. That really gets the job done, I think. Especially when you don't have that—I don't work well with deadlines, I never had anybody telling me what I had to teach, when I had to teach it."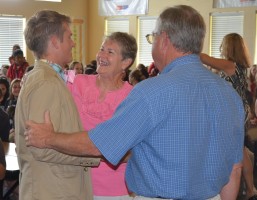 Cunningham was born in Maryland, growing up in Elicott City west of Baltimore (aside from brief stints in Boca Raton and Pennsylvania). "He would throw himself into any kind of creative endeavor at school," his mother, Elena Cunningham, said. (A journalist and writer by training, she is a substitute teacher in the Flagler school system.) "He didn't care for all the reading, writing, that arithmetic—well, the writing he did. He would write poetry and make big productions of any kind of project that he had to do. It just had to be creative and big." He went to acting school, immersed himself in movies, hung out with friends, graduated. But then things seem to stall somewhat until his decision, several years later, to be a teacher.
He'd moved to Salt Lake City, where he lived for six years, working in jobs as varied as a hotel and a call center. "Then Ryan, his older brother died very unexpectedly," his mother continued. Ryan was 26. Brett was 24. "Brett decided to move here and go to school and become a teacher, so it was his brother's death really that prompted him to just completely change his life."
Both Brett's parents were at Imagine this morning. "He puts a lot of effort and work into what he does," his father Michael, who works for a Fort Lauderdale-based nursing home company, said, "and he's in a great spot where he can use his creativity. My feeling is that if he was in a traditional school setting, I'm not sure he'd be able to be as creative as he is. So this is the perfect spot for him. He's just a wonderful kid. I'm very proud of him, obviously."
To Brett Cunningham, the path to Florida and teaching "was really random," he said. "Florida had a critical teacher shortage, and my parents lived here, and I really wasn't in a place to do anything where I was living, and so I moved here to be closer to them, to support them, and I went to college. It all just kind of worked like clockwork after that." District schools weren't hiring when he graduated. He got his first job at Imagine. He has no intention of being anywhere else for now.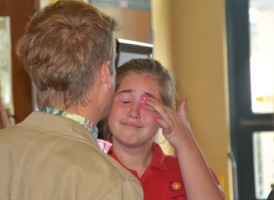 He was among the founding teachers of Imagine School, which held its first two months of the 2008-09 school year in a church before moving to its Town Center location. Then as since Cunningham has been part of each year's hiring process, but more importantly for students, he's been "one of the most inspirational teachers that the students can't wait to have, as they're coming up through the ranks," O'Grady, the principal throughout Cunningham's tenure there, said.
You can hear it in the students' voices, even those who'd had him three or four years ago but still remember him today. One in particular, who remembers his experience several years ago and relates it in the video about Cunningham (see below): "Mr. Cunningham influenced me in many different ways but I'm going to start at the very beginning," one student says in a video prepared  as part of Cunningham's nomination. "I first came to this school when it started out in a church on the very first day and Mr. Cunningham was my first teacher I ever had here. I was really nervous because I'd just moved from [another] school and I didn't really fit in at all, I was sick a lot. Soon Mr. Cunningham sat me down and he told me, like, I can make friends easily, because of my personality. He really helped me through the years and now I'm here and I have countless friends. Nothing really bad happens anymore. I'm pretty sure if I'd never met Mr. Cunningham I'd probably be in juvenile detention right now, or something like that."
The testimony lends credence to why Cunningham said he chooses to teach: "Out of a deep concern for the future, and putting my money where my mouth is."
He's hands-on, and he likes to make things harder for himself: he's just begun a compressed, one-year Master's program at Stetson—he had two papers due this week—which will require him to take a year's leave from the theater. "The first Sbordone production I was in, they didn't have a Rocky character," as in Rocky Horror of the "Rocky Horror Picture Show," played by Peter Hinwood in the original production. "It was like, I can do that, so I should do it. So I adopted this ethic of utility is happiness, where it's like, just be thankful that you have stuff to do."
But he knows a thing or two about the long view. A sign by the door to his classroom reads "Class of 2024." It's his students' graduation year—not from high school, but from college. And yet, when asked to sum up his reaction to the day's honor, he said:  "What can you say but honored? I don't know." He was in his fifth-grade class, his students looking on, their teacher's words again tripped by emotion. "Undeserved, it feels very like—why me?"