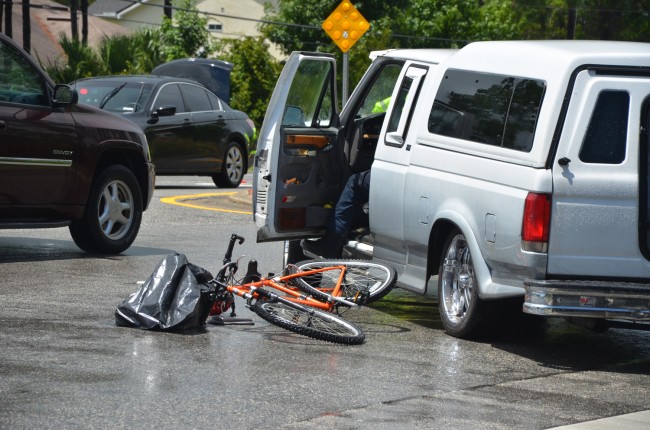 A boy of about 13 riding his bike south along the northbound lanes of Belle Terre Parkway was struck by a pick-up truck as the boy was crossing Ponce de Leon at 1:38 this afternoon.
The boy had hurt his leg but was walking alongside a paramedic. The orange bicycle was somewhat twisted and appeared to have been struck on its rear wheel as the boy was riding south on the bike and foot trail that parallels Belle Terre. The white SUV was trailing lawn mowing equipment and was occupied by several men. It was pulling out of Ponce de Leon, making a turn to go north on Belle Terre, when the collision took place.
Buddy Taylor Middle School, a little bit to the north, had let out a few minutes earlier, at 1:25 p.m. (15 minutes earlier than last year) on what happens to be the first day of school, though it's not confirmed whether the boy was returning from school.
Rain had been falling heavily moments before the collision. It's not known if the rain had stopped just then. It is the latest in a rash of accidents involving bicyclists and motorists on Palm Coast and Flagler County roads this year. Two of those collisions resulted in the death of the cyclists–one on State Road 100, just east of Old Kings Road, where the cyclists was riding in a bike lane, and one on U.S. 1, near Seminole Woods, where a motorist swerved off the road and back on, slamming into a bicycle ridden by a woman.
In Monday afternoon's collision, one of Belle Terre's two northbound lanes was briefly shut down. Traffic attempting to make a turn onto Belle Terre from Ponce de Leon was turned away. The Flagler County Sheriff's Office was at the scene, along with Flagler County Fire Rescue and Palm Coast Fire Department responders.
The wreck was cleared at 2:08 p.m.