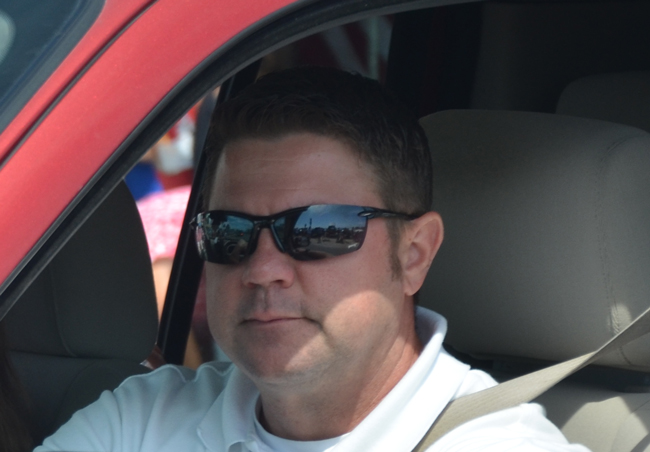 Bobby Pace, the 41-year-old Flagler Beach acting fire chief until late July, has pleaded not guilty to an obstruction charge the State Attorney filed against him on July 25. Pace waived an appearance before County Court Judge Melissa Moore-Stens at an arraignment on Tuesday and submitted the not-guilty plea in writing through his attorney, Aaron Delgado of the Daytona Beach firm Damore, Delgado, Romanik and Rawlins.
Pace is currently on suspension, with pay, from the Flagler Beach Fire Department, which is being administratively run by City Manager Bruce Campbell, with a handful of paid firefighters on staff, and help from Flagler County Fire Rescue when paid firefighters aren't on the clock.
Pace was charged with the first-degree misdemeanor obstruction charge following an investigation by the Flagler Beach Police Department that concluded he had prevented police from obtaining information relevant to an inquiry into the falsified records of a felon carrying out community hours at the fire department. The investigation had found that Pace had on at least five occasions falsified the records of probationer Vitaly Tsabak, signing off on logged hours that were "falsely documented."
The police department charged Pace with a felony charge of tampering with evidence and an obstruction of justice charge. The state attorney threw out the felony charge, but filed the obstruction charge on July 25.
If convicted, Pace faces up to a year in jail and (or) up to $1,000 fine, and up to a year's probation.
Pace's is one of two active–and related–court cases on the city's docket, though the city is not on the hook for Pace's defense. The city is, however, named in a wrongful-termination lawsuit by two former firefighters, Jake Bissonnette and Shane Wood, who claim Pace was retaliating against them when he fingered them for storing home-made alcohol at the fire station, which is against city policy.