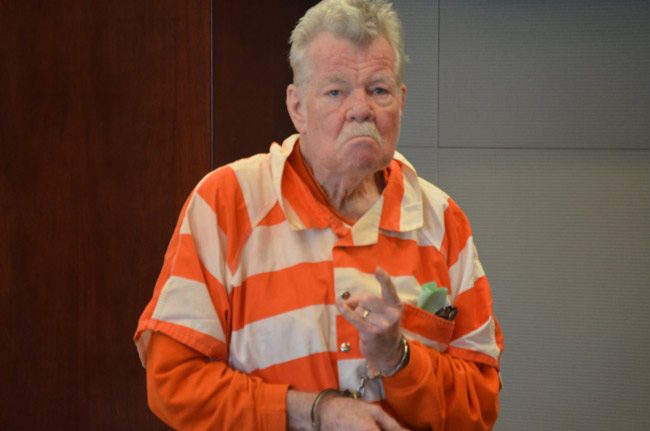 "We've had to call the police because he just gets belligerent. He just gets belligerent," Bonnie Jean Gore said, speaking of her son Lucas in the present tense, though he's been dead nine months. His father, Bobby Gore, 74, shot him at their home in Flagler Beach last April, in front of Bonnie Jean.
Bonnie Jean was in the witness box in a Flagler County courtroom this afternoon, testifying in her husband's sentencing. Bobby sat a few feet from her, at the defendant's table. Their children and family friends made up the audience, along with a detective and a county commissioner.
"Belligerent" was an understatement. Lucas, who was 31, had been drinking since his teen years and had often terrorized his family–attacking his brother Jonathan in his bed, in Jonathan's home, to the point that Jonathan had to pull a gun on Lucas to defend himself.
There'd been other instances where Lucas–usually called Luke by his family–had "no regard for safety or other people," as Jonathan recalled in testimony this afternoon, once purposefully yanking Jonathan's steering wheel as the two drove at 80 mph on I-95, crashing the car against a guard rail and requiring a trip to the ER. (Neither was hurt.) Or the way Luke himself pulled guns, shot up the family house in Flagler Beach, shot at cars, taunted others, and most of all, the way he "stalked" his father Bobby, in his mother's words, harassing him, belittling him, humiliating him, threatening him, especially after Bobby's stroke in 2016. When Bobby was in the ICU after that stroke, Luke went out drinking, his step-sister said.
He was "unbearable," Bobby Jean said of the way her son behaved toward her husband, "calling him names, calling him stupid, telling him he could take him out at anytime, telling him he was the man of the house now, that Bob was of no authority to him anymore."
"Did he ever tell Bobby his father that he was going to take him out?" Bobby Gore's defense lawyer asked her.
"Yes," Gore replied.
"How many times?"
"That day, at least three," she said.
That day was April 29, 2017. Luke Gore, 31, had been "stalking" his father to the point that Bonnie Jean had to tell Bobby to lock himself up in his bedroom, rest on the bed and watch TV. It didn't work. Luke "pounded on the door and said, dad, if you don't open this door, I'm going to kick it in." Evidence of broken doors around the house, like the bullet holes in walls, spoke of Luke's violent temper, fueled as it was by heavy drinking.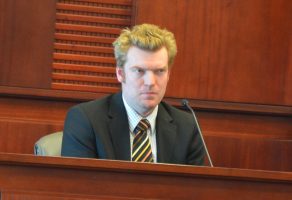 Lucas's blood-alcohol level would later be determined to have been .38 at the time of his death. "You have to be practiced to be able to get it that high, don't you?" Circuit Judge Dennis Craig said. The legal limit to drive is 0.08. For most people, 0.38 is alcohol poisoning territory.
Bobby Jean and Bobby finally decided to go to Poor Walt's, the bar down the street from their home at 1002 South Daytona Avenue, just to get away from him. He followed them there. Followed them home. Then found himself sitting with his mother on the back porch around midnight as she was telling him: enough. You have to move out.
Bobby Jean doesn't know where Bobby was at that point, only that Luke was refusing to accept his mother's terms, as he had refused before.
"When I saw Bob next," Bobby Jean said, "I heard a loud band, Luke and I both turned our head, then I saw a flash and heard another bang, and Luke slumped over. And it was Bob hanging at the door." With a gun. He had shot his son twice.
This afternoon, and for the first time since that shooting around midnight last April, Bobby Gore was, in a manner of speaking, reunited with his family for the first time, minus Luke, and with the barrier of a wood-paneled divider between the audience portion of the courtroom, where his family sat, and the defendant's table, where he sat in white and orange striped overalls, hands and feet shackled, holding a hearing device to better hear the proceedings of his own sentencing hearing.
Bobby Gore had pleaded guilty to manslaughter with a firearm, exposing him to eight to 15 years in prison. The question was what sentence Circuit Judge Dennis Craig would impose. He could go hard. He could go lenient.
Assistant State Prosecutor Mark Johnson was not making the sort of serrated arguments prosecutors make when they want a punishment harshed up. Rather, he was more or less going through the motions of asking witnesses–members of Gore's family–a few questions, more it seemed for formality's sake than because he was forging a strategy. Even after a psychologist's testimony for the defense, Johnson only sought to re-establish the succession of events that had led to the shooting, rather than question anything the psychologist had concluded. While he did briefly question the consistency of Bobby Jean's testimony today, Johnson seemed willing to give the defense leeway.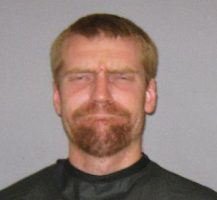 The defense attorney was Ray Warren, the public defender's most seasoned, most creative lawyer on homicide cases. Warren's aim was to show that after a heart attack and two strokes, particularly the 2016 stroke, Bobby Earl Gore was no longer the intelligent, balanced man he'd been, that the last stroke had had a "severe impact upon his ability to reason," a point he pressed and developed through a long testimony by Jacqueline Olander, the psychologist and expert witness he brought on. That, combined with the way Luke was "stalking" him and threatening him had exacerbated his disability to see what he used to see, to perceive information as he had before–to the point that, when he pointed that gun at his son, he had not intended to shoot him as much as scare him by firing at something else, supposedly a tree. That's what Gore himself told a deputy soon after the shooting.
The facts undermine the theory: two shots, not one, at point-blank range, both bullets striking Lucas near the ear within inches of each other, as his son was sitting with his back to him when the first shot was fired.
But the facts also don't alter the days, weeks and months of being terrorized by his son.
"It's not a difficult case, factually, but it is a difficult case as we look at all the circumstances involved," Johnson told the court in his closing argument. That's why the prosecution extended the offer of manslaughter, he said. He did not question Lucas's aggressive character nor the many events the family had described. Nevertheless, Johnson said, what's also clear is that regardless of what had taken place in the time leading up to the shooting, at the time of the shooting "there as no immediate danger to him or to Mrs. Gore or anyone else in the house," him being Bobby Gore. And he said that had this taken place when Bobby was 20 years younger, the prosecution would have asked for a trial and pressed the case of a first-degree murder.
The prosecutor asked for 15 years in prison.
Warren said that the prosecution conceded that it would not object to eight years, ether–and that the evidence he had submitted means "this really fits the classic definition of a manslaughter," with Bobby Gore truly intending to shoot at a tree, not at Lucas.
He asked for eight years.
Before Craig pronounced sentence, he asked if anyone else in the family wanted to speak to the specifics of the sentence.
Normally at sentencing hearings, the family of the victim sits on one side of the courtroom, the family of the defendant sits on the other, and both sides do their best to either harsh up the sentence or diminish it. In this case, there was only one family, and it all sat together, a half dozen men and women, unusually sitting in the bench right behind the detective–Jorge Fuentes of the Flagler County Sheriff's Office–who worked the case, and in front of the victim's advocate. The family members were all were of one mind and told the judge, one after the other: they wanted mercy and understanding for Bobby Gore, whose family has forgiven him. They asked for eight years.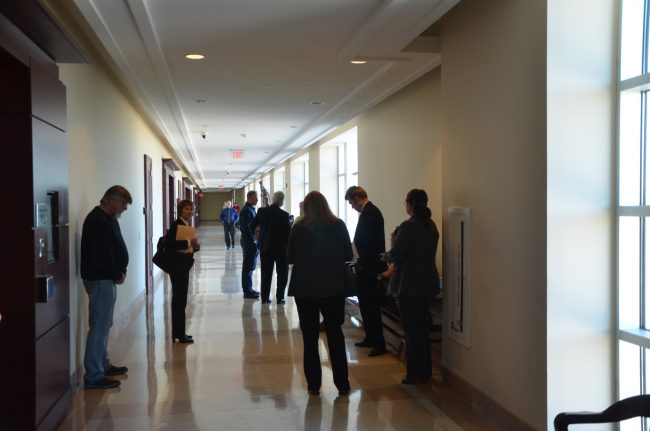 "A tragic, tragic thing that a very good man did. He loved his son also. He loves his son today," Bobby Jean said of her husband in a second appearance before the judge, pleading for the lesser sentence. "We want him home as soon as we can have him home. We feel that Bob perceived an imminent danger at the time of this because he had been badgered all day." Lucas's brothers also spoke, Jonathan describing him as "his best friend in the world" but also as a troubled soul, and describing his father as a changed man since the stroke–a man who would not have committed the act had he been healthier.
That left Craig, who takes victims' and families' statements to heart, having to balance the demands of the law with the pleas of the defense and of Gore's family–both Lucas Gore and Bobby Gore. The judge had to rule in a way that also spoke for Luke, and reflected all he'd heard this afternoon.
And it was precisely what the various family members had said that shaped his verdict, which he framed, in part, in an admonition against the family, delivering a remarkable, 13-minute preamble to the sentence, and describing a dysfunctional family too ready to resolve its issues with firearms, a victim–Lucas–whose alcoholism had been evident but seemingly never addressed by the family, and facts that belied the claim that Gore had taken out the gun just to scare his son.
"Luke had a very serious substance abuse issue," Craig said, "And I didn't hear anything about how it was addressed in any form or fashion throughout his entire life. I heard that he started drinking when he was a teenager. He was 31 at the time of his death. I heard about all kinds of violent acts that Luke engaged in. Every violent act was an opportunity to seek some kind of redress to the substance abuse issue that Luke had."
The judge continued: "And apparently the way things were addressed in the family, and the picture that was painted that was almost a family culture, that we addressed our issues with firearms. Luke wasn't the only one. Mr. Gore, the defendant here wasn't the only one. A brother mentioned a couple of different events where a firearm was used, and apparently that's how issues were resolved in the Gore family. Certainly, alcohol and guns don't mix. You know, the seeds to something like this happening were sown long before Mr. Gore had any issues with his health, had any issues with his brain functioning. These seeds were sown a long time ago."
Gore, he said, was seeking to convince himself rather than the court that he had not intended to shoot at his son. "And one last point that I wanted to make," Craig said. "I know the family wants their husband, their father, their father-in-law, stepfather, that they would like to have him out as soon as possible. But there's also consideration that we need to consider and that is,. There needs to be, for purposes of the community, for purposes of the law, there needs to be consequences to your actions."
Gore himself did not react to the sentence, except to sincerely thank the judge (there was no hint of sarcasm in his voice), and shake hands with Warren, his attorney, asking him if they would speak again soon. Absent a n unlikely reversal of the sentence should an appeal be filed, he is not likely to see freedom again: even if he serves only 80 percent of his sentence, as is customary on non-mandatory sentences., it would be 12 years before his release, when he would be 86.