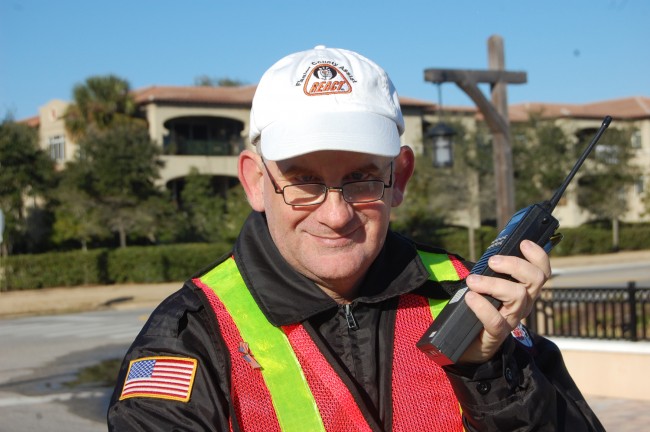 It was immediate. It was natural–Bob Pickering's interest, that is. His nickname in school was Weatherman Bob, back when he was in middle and high school. He graduated from Flagler Palm Coast in 1986, but back when he was in elementary school in Massachusetts, there was radio station on his native South Shore called WATD (there still is) that visited his school, going to each class to have students do something–news, sports, weather–on the air. "Well, my class got to do the weather, and guess who got to do the weather forecast that day? It was Bob Pickering. I was probably 9 or 10 years old, somewhere around there. I was in the 5th grade."
Pickering is now 44, and that stint on the radio was the start of something rather big for him. With dividends.
Hollywood has the Academy of Motion Picture Arts and Sciences (the gang that does the Oscars). Weather forecasters have the National Weather Association, a 36-year-old organization that promotes excellence in meteorology and climate-related safety. Once a year the association presents awards in about a dozen categories to nominees from across the country.
And the association's 2010 The Walter J. Bennett Public Service Award went to Pickering, a technician in Flagler County's Emergency Management division, for "over 20 years of dedicated and selfless passion in promoting weather safety and providing critical weather information in his community." Pickering was nominated by the Jacksonville office of the National Weather Service, where Walter Bennett was a meteorologist in the 1940s and 50s, in the Jacksonville office's infancy. The Flagler County Commission recognized Pickering's award last week when he accepted it from Angie Enyedi, an assistant warning coordination meteorologist at the National Oceanic and Atmospheric Administration/National Weather Service Forecast Office in Jacksonville.
"We wish we had a Bob Pickering in every county," Enyedi told county commissioners.
No one familiar with Pickering's work, which often goes beyond the call of 40-hour duty, would be surprised: his voice is ubiquitous on local airwaves, his face often appears on local television, his words, in weather emergencies, are the first sought-after quotes of local reporters seeking a quick, clear, unvarnished explanation of whatever storms or tides or cataclysms might be lurking in Flagler County's atmospheric zones. Pickering lives for the stuff. Weather is his muse.
"To me," Pickering said, "all the stuff that I do, whether I'm working for the county or on my own, I don't do it for awards, I do it because I love to do it and I like to help people, and I have a big passion for helping people prepare and understand what to do if threatened by hazardous weather. I always tell people don't be fearful. Be prepared."
Pickering has been working in Flagler's emergency services 17 years. Weather is only one of his interests. Trains and photography, often combining the two, are big passions that have taken him to Canada, England and elsewhere to do train photography. He's also a big science fiction bug. "I'm know for Dr. Who," he says. "I always tell people I'm a big Star Wars fan but I don't own my own storm trooper outfit." You'll also see him kayaking on the Intracoastal or on the ocean, at least in the daytime. Evenings you're likelier to see him dancing (but not drinking) at Finn's or McCharacters and Black Cloud Saloon. "Even then when I'm out socially I'll still get people asking me questions"–and not metaphorical questions, like: "What do I do if a tornado comes, can you program my weather radio for me, stuff like that, which I'll gladly do."