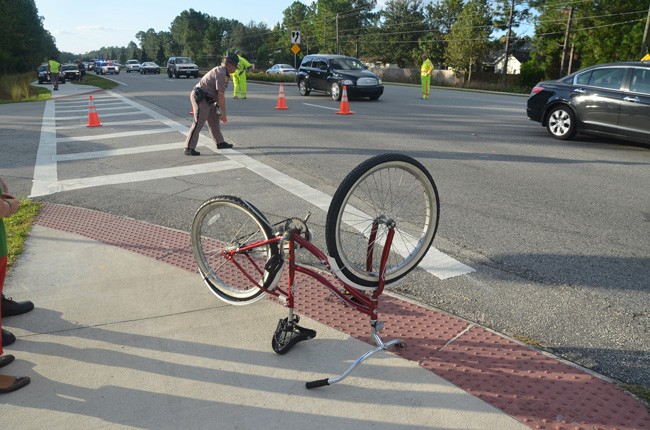 Last week, an elderly woman driver struck Jordan Tyler, a 22-year-old cyclist, as Tyler was crossing Farrington Lane on Florida Park Drive. Tyler was sent careening over the hood of the car. The woman stopped, asked him if he was OK, then drove on.
Last August, Tom Gargiulo, the artist and head of Palm Coast's Tom Gargiulo Foundation, the most generous local philanthropic arts organization, was severely injured when a car struck his bike as he rode on Pine Lakes Parkway and crossed Wynnfield Drive. Gargiulo, who's largely recovered since, did not have reflective clothing or the required lights on his bike.
Two years ago on State Road 100, 51-year-old Frederick J. Martinez was riding his bike in the bike lane, heading toward Flagler Beach, when van driver Robert Carlton Little says he sneezed, sending his vehicle into the bike lane, striking Martinez and killing him. Later that same year, 63-year-old Deborah Dunn was killed as she roide her bike up U.S. 1, respecting all rules of the road, only to be struck from behind by Leila Gould, a 30-year-old at the wheel of an SUV.
Cyclists have long complained that drivers show them little respect, while drivers—and police—often say that cyclists at times are their own worst enemies, because they don't respect rules of the road as they are supposed to. Especially in Florida, the most dangerous state for pedestrians in the country, and among the most dangerous for cyclists. "In 2012 some 120 cyclists were killed in traffic accidents across Florida," The Economist reported last fall. That is as many as were killed in Britain in the same year–a country with three times as many people as Florida and a lot more cyclists. Florida's death rate for cyclists is three times higher than the national rate. The rate for pedestrians is twice the national rate: 476 pedestrians were also killed in 2012. According to the Dangerous By Design survey, an annual report produced by the National Complete Streets Coalition, a lobby group, the state's four biggest cities–Miami, Jacksonville, Tampa-St Petersburg and Orlando–are the four most dangerous places to be a pedestrian in America."
---
An endemic lack of respect for cyclists, but also many cyclists' lack of respect for rules of the road.
---
Last week, a South Florida senator filed a bill that would strengthen protections for cyclists, pedestrians and other so-called "vulnerable persons" on roadways while making it a first-degree misdemeanor to "harass, taunt, or maliciously throw an object at or in the direction of a person riding a bicycle."
The proposed law strengthens the requirement that vehicles maintain a 3-foot distance between themselves and any cyclist or "vulnerable person", applying that requirement to "anything extending from the motor vehicle, and any trailer or other item being towed by the motor vehicle." The proposal also shifts the burden of safety further onto drivers at intersection (the scene of most vehicle-versus-bicycle wrecks) by forbidding drivers to make right turns "unless the turn can be made at a safe distance from the vulnerable user with reasonable safety and will not impede the travel of the vulnerable user."
That provision appears to possibly clash with existing law, which requires cyclists to respect traffic laws and, for example, stop at all intersections, giving vehicles the right of way.
The proposal was filed by Sen. Thad Altman, a Mebourne Republican. It drew mixed reactions from a Flagler County commissioner used to riding about 15 miles a day on local roads and paths, and from a Florida Highway Patrol homicide investigator who's investigated countless crashes involving cyclists and pedestrians.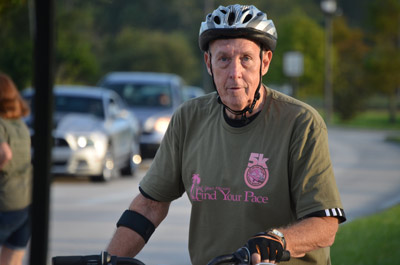 "They already do have a 3-foot rule for bicyclists in bike lanes on the road, and I don't see that working too well," County Commissioner Charlie Ericksen said Monday. "The tough part is the enforcement of it. The tough thing is like that poor guy on route 100 going to Flagler Beach, he didn't know what was coming and the guy who hit him says he sneezed and hit him and ran over him." Ericksen said as he sees it, the responsibility for crashes between vehicles and bicyclists is about evenly divided. Cyclists, for example, don't have the right lights, and "just assume that just because the law is what it is, everybody is going to give the right of way to the bicycle, and that's just not happening." He said he's routinely seen cyclists blow through intersections without regard for signs, assuming (wrongly) that they have the right of way.
But insurers at times contribute to the problem, FHP homicide investigator Pete Young, who's based in Flagler County but covers several counties in Northeast Florida, said.
"I had a case where a pedestrian was at fault, he ran across the road in front of an elderly couple, this is down in Edgewater," Young said, with an older person at the wheel of a vehicle. "He ended up with a broken leg. They sued the older couple. They weren't speeding or anything, they were abiding by the law, and he was crossing at a no-cross place. And he ended up with $30,000, $40,000 for a broken leg." Not only that: the plaintiff was in jail when he sued, having been incarcerated for thefts. "Here he is in jail, suing these people and he got 30, $40,000 for a broken leg from the insurance company."
Young says any additional awareness to add protections for cyclists and pedestrians is welcome, but it shouldn't stop there. He says cyclists should always wear helmets and reflective gear. Right now, they don't have to: under Florida law, helmets (but not reflective gear) are required only for children. And, Young says, certain roads should be off-limits to cyclists. "A perfect example is the loop in Ormond Beach, on Old Dixie," Young says, referring to a very popular biking road, because of its rusticity. "Those lanes are not really built for bicycles, the lanes are only 10 feet wide, if that and there's no bike lane, there's no shoulder. Places like that, I don't think bikes belong, with the flow of traffic."
As for the 3-foot rule, "it's kind of hard to enforce," Young said. "I wish we could get them to move over for emergency vehicles, let alone 3 feet for bicycles."
"If there's a state trooper or even a local cop going down the road the last thing they look at is the safety of the bicyclists because of other tasks they've got to get done," Ericksen, the county commissioner, said. "But all you got to do is have that little accident and you have a lot of notice to it."
Ericksen, 72, last fall completed a nearly 25,000-mile bike trek began in 2008, almost all on local roads. He's seen his share of drivers disrespecting bikers. "They treat them the same as motorcyclists, they don't give them sufficient room, they don't like them having to share the road with them and some make it as difficult as possible to ride your bike," Ericksen says. "Until people realize that cars and bikes share the road, they're not going to understand. All you've got to do is hit and kill somebody and then you'll understand it. But it's probably true, especially in Palm Coast and Flagler County, there are so many bicyclists, you'd think that mentality would start to grow on people. But it doesn't seem to. The more people use the bike paths as opposed to the road the safer it's going to be for everybody, but there are bicyclists who say if the bike lane is there, the bike lane is mine."
He adds: "My rule is that you never argue with a 3,000-pound object. If anybody is going to give the right of way, it's going to be me, and I can usually tell which cars are going to give you the right of way and which ones aren't. I don't mind waiting an extra 10, 15 seconds."