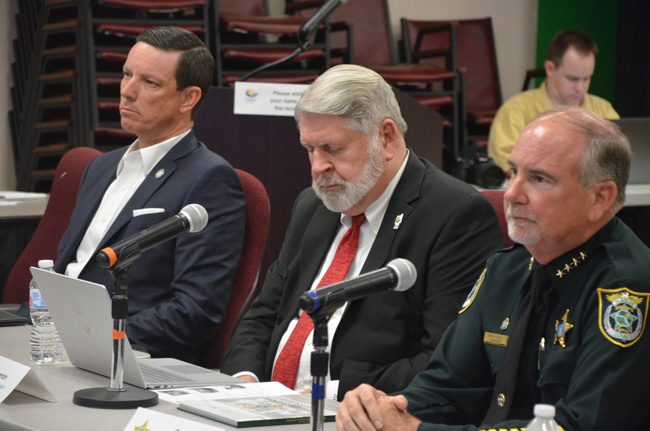 Clerk of Court Tom Bexley was angry as he's never been angry at a public meeting since his election in 2016.
"Using the courthouse and taking the first floor away from me and my staff is unacceptable," Bexley told the Flagler County Commission this afternoon as he sat alongside Sheriff Rick Staly and Jerry Cameron, the new interim county administrator. "I am not in favor of this and you do not have my support in any way." His voice was not soft.
He was rejecting the proposal to boot his staff off the first floor of the courthouse to make room for sheriff's operations.
It was one of three proposals to fix the Flagler County Sheriff's space needs for the foreseeable future. The proposals were presented to the County Commission at a special meeting Thursday. Commissioners are trying to find a solution to the sheriff's current space dilemma, resulting from evacuating the troubled Sheriff's Operations Center in Bunnell last June. The sheriff's administration is currently split between the courthouse and the sheriff's old administration building near the county jail.
The courthouse proposal was the least expensive: about $10,000. But it would entail shifting clerk's staff and operations for two to three years, in Commissioner Dave Sullivan's estimation.
Another option was to put up modular building on the grounds of the Government Services Building, an option that drew no support both for its costs (almost $4 million over five years), its clunky logistics and its limited uses: it would not be a secure facility, would not solve the sheriff's evidence-storage requirements, nor would it be a permissible firearm storage facility.
Another option was to rent out a 20,000 square foot building on U.S. 1 in Bunnell, at $240,000 a year for five years, not including an $800,000 "buildout" charge the county would have to assume. But that structure was built by a private developer with a county subsidy to attract potential employers. It's part of the county's economic development plans. The sheriff was reluctant to jeopardize that plan, and he liked the lowest-cost approach.
That lowest cost means remaining in the courthouse, an option that could be implemented in a couple of weeks as opposed to six months for the two other options.
Bexley said the crimping has already caused his office to move wedding ceremonies to the hallway instead of the chapel designed for the purpose, and to delay the implementation of such planned services as fingerprinting and passport applications. (The only passport facility the last several years in the county has been the county public library, which just expanded the service to its Bunnell Branch, and relies on the service to generate much-needed revenue for the library. The clerk's plan will likely cut into that revenue.)
Bexley was angry for another reason. "The heartburn I have is that I'm not involved in this, I haven't been involved, haven't been consulted," Bexley told the commissioners. "I take great offense to this, you're extending courtesy to one constitutional officer and not to another one."
The sheriff at the meeting said he has spoken with Bexley, as has Chief Mark Strobridge, who was sitting alongside the constitutional officers, though they both knew going in, as did some commissioners, that Bexley was resistant to ceding more room at the courthouse. The current arrangement has caused some friction between clerk's and sheriff's staffs.
Staly at the beginning of the meeting summarized current conditions, outlining the various ways the exile from the Operations Center has affected law enforcement with "a negative impact" (though he noted a significant drop in crime last year). "What was once very difficult is now a crisis and cannot continue," he said. "The current temporary makeshift arrangement is no longer workable or sustainable." Nor "defensible," he added.
Bexley's flare-up was unexpected and sharp enough to push commissioners back from the direction they were headed: Commissioner Joe Mullins was looking to spend less now and plan for spending more once a permanent fix is devised.
Cameron, taking on one of many crises, described the current situation as "untenable," and while cleverly staying away from recommending any one of the options, said "nobody is going to come out of this with an ideal situation," which at least implied some continued discomfort for those involved, including the clerk. The clerk, he said, needs to know what the timeline would be.
And Commission Chairman Don O'Brien had spoken of the courthouse option as the most attractive and most responsible, money-wise, as it would only cost $10,000. "What I can't do is look you in the eye and tell you how long that's going to be because we still don't know," O'Brien said. "For the time being it takes care of the immediate concerns that we have with the sheriff's operations."
Seeing the votes lining up for the courthouse option, Bexley counterattacked. He spoke of his heartburn and of having been marginalized in the discussions, but he also cited state law referring to county commissions having to ensure adequate space for constitutional offices. "I'm not going to say you're in violation of statute, but you're in violation of statute," Bexley told the commissioners. (Staly moments later said the law applies just as much to his office, but also noted that "adequate space" has never been defined.)
Once Bexley was done, Sullivan returned to the economic-development building and all that entailed. That immediately signaled that Bexley's move had had its intended effect–for now.
'I don't disagree with anything the clerk has said," Staly said, referring to space needs. His concern, however, was to get something done. "It's been nine months since we've evacuated that building and there's been no movement," he said, describing his disagreement with Bexley as "a difference of opinion" on the best short-term solution. Moving into the economic-development building would still leave the sheriff significantly short of needed space, he said, and at great cost.
"I think there needs to be an end game, and that's what has been missing on this for 15 months, and nine months since we've been out of the building," Staly said. He proposed a two-week deadline, giving him, the county administrator and Bexley time to meet and discuss a solution.
That's just the motion Mullins put forward, essentially saving the commission from another do-nothing stalemate. The motion includes room for the constitutional officers and the interim administrator to come up with additional options.
"I don't know that you can compel two constitutional officers to come to a meeting," O'Brien worried.
"I'm a nice guy, I'll be happy to meet," Bexley said. "I'm just very passionate as to my current situation, as is the sheriff."