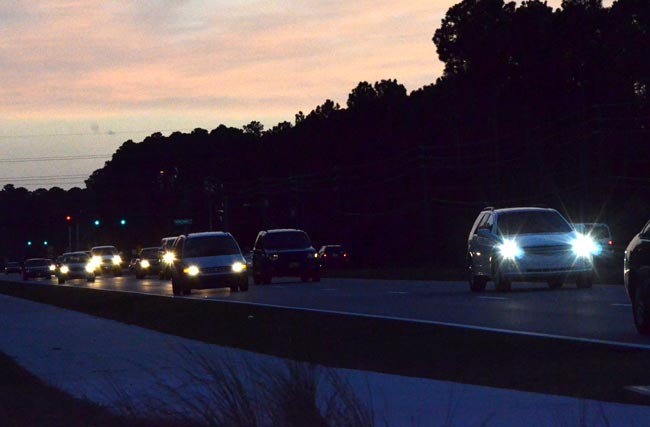 Shaquille Neal, a 19-year-old resident of Brushwood Lane in Palm Coast, was driving his Chevrolet Caprice south on Belle Terre Parkway near Royal Palms Parkway just after midnight with his 14-year-old cousin on Saturday. The pair had earlier been to a movie at the Epic Theater, then to the McDonald's at the Target shopping center before taking two female friends home on Pine Hill Lane.
Near Point Pleasant Drive, just before Royal Palms Parkway, an older model white car, possibly a Lincoln, pulled up next to his and started to pace as though to street-race. The car was filled with about five or six white males. (Neal is black.) But then Neal, who ignored the apparent taunt, heard what he described as several popping noises–and his cousin told him they were being shot at. Seven rounds, according to Neal, five according to his cousin.
Neal sped away. The 14-year-old was shot in the hand. The white car sped off, going west on Royal Palms. Neal immediately took him to Florida Hospital Flagler.
A Flagler County Sheriff's examination of the car revealed one bullet hole in the passenger side rear panel, three bullet holes in the passenger side back door panel, and a shattered window on the passenger side. "The front windshield," a sheriff's report states, "also had a hole in it from what appeared to have been a bullet that entered in the center of the dashboard and then traveled through the dashboard, exiting the windshield from the driver's side of the vehicle striking the end of the windshield wiper blade."
The report continues: "There was blood inside the vehicle from [the 14 year old] being shot, in his left hand and there was also a bloody cell phone which [the boy] stated he was holding in his left hand when he was shot. The cell phone was also struck by the bullet and may contain a bullet head or fragment."
Five empty 9 mm bullet casings were recovered in the southbound lanes of Belle Terre, and were determined to have been fired from a Luger.
When Neal spoke with police, he said he could not identify any of the assailants in the other car, but that the car itself looked familiar. It sat low in the rear, and looked damaged.
"Our investigation so far is indicating that this was not a random shooting. We are continuing to look into the Friday evening activities of both the victim and his cousin," said Flagler County Sheriff Donald W. Fleming.
Detectives are trying to determine if the two teenagers were involved in a disturbance that took place at the Epic Theater in the Town Center late Friday.
Anyone with information on the incident is asked to contact the Sheriff's Office at (386) 313-4911.