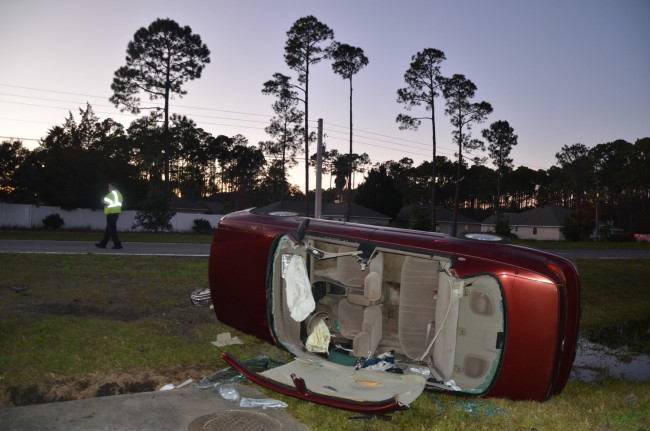 Victor Jesus Ortiz, 70, of Palm Coast, was in critical condition Monday evening after he lost control of his car, swerved, and overturned in shallow ditch on Belle Terre Parkway, just south of the Palm Coast Fire Department's Station 25.
Ortiz was taken to Florida Hospital Flagler with a weak pulse. Critical patients are usually flown or driven to Halifax hospital in Daytona Beach. A Florida Highway Patrol investigator at the scene had not yet determined why the victim was taken to Florida Hospital as he awaited further word on the man's fate.
Belle Terre Parkway northbound was shut down from Central Avenue (at the Palm Coast shopping center) to Royal Palms Parkway soon after the 5 p.m. crash,. and remained closed for the next 90 minutes.
Conditions at the time of the crash were dry and daylight still prevailed. A witness told the FHP investigator that she saw the driver swerve before the crash. "He was all over the road, then he left the road and overturned," the investigator said. Rescue units from the Palm Coast Fire Department and Flagler County Fire Rescue cut the car's roof to get to the driver as the vehicle stood on its left (driver's side) flank in the wet ditch, between the road and the sidewalk.
The witness, Diane Schofield, later wrote in a Facebook post: "I witnessed the car directly in front of me crash and flip[] in the culvert. He had a pulse when I got to him and his eyes were fixed. [T]he paramedics got to him after they used the jaws of life to cut off the roof he was strapped in and not a scrap or scratch on him. Once the[y] got him out they were doing chest compressions  but were unable to revive him. Sad to see the ambulance pull away and not have sirens on. The firefighters said he coded. Very hard thing to go through."
The car, a 2003 Chevrolet sedan that was traveling north, ended up facing southwest. No one else was involved or hurt in the crash.
The Palm Coast Fire Police was controlling traffic in the area. Firefighter-paramedics from nearby Station 25 were in command of the scene. "The engine from that station was returning from a medical call when the accident was paged out," Palm Coast Fire Chief Mike Beadle said. The Station 25 personnel was returning from a call in the Whiteview area, giving the impression that the station itself, a few feet from the crash, had not responded. Flagler County's Station 92 was also on scene. Station 21 was called, then cancelled on the way as Station 25 responded.