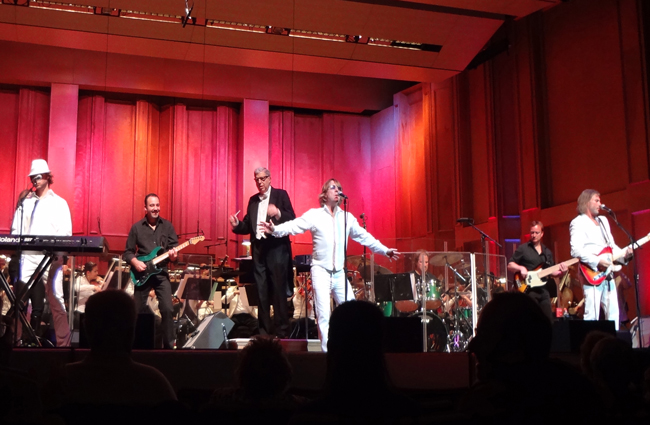 To say that the Bee Gees have stayed alive, a variation of the title of their hit 70s song "Stayin' Alive," is a bit of an overstatement. Maurice Gibb died of a heart attack in 2003. Robin Gibb died of cancer in 2012. Only Barry remains.
The Bee Gees remain one of those iconic bands whose brand of music is inimitable. In their 40 years as performing and recording artists, they did disco, soft rock, psychedelic rock, psychedelic pop, baroque pop, blue-eyed soul, rhythm and blues, and probably blues. So, now, with two of the founding brothers gone, where are addicted fans to turn?
The answer, at least for Flagler audiences tonight, is the Canadian Bee Gees tribute group, Stayin' Alive, starring Todd Sharman as Robin, Tony Mattina—who's portrayed Barry for more than twelve years now—and Joseph Janisse as Maurice.
The auditorium audience will relive "a little trip back," Sharman said in an interview, as they perform Bee Gees hits from the 70s, through the disco era, as well as a few tunes from the 80s.
"The great thing about the Bee Gees music," Sharman said, "it transcends a lot of generations— they're just great song writers. When I grew up, I grew up with some music that I thought was awesome and now I go back and take a listen, and I go 'Yeah, maybe not.' But then you go back and listen to the Bee Gees stuff, even if you grew up and you weren't really a fan of the music, you can't deny the fact that it has staying power."
This in effect was Sharman's own experience. "I grew up listening to more rock than I did the Bee Gees," he says. "I wouldn't say I was a huge fan growing up. As a teenager, I grew up in a time period when disco came out. You either were a fan of disco or you were a fan of rock. So you kind of had to draw a line in the sand there. You either liked this or you liked that."
After high school those walls were broken down, and he remembers he started thinking the Bee Gees were pretty cool. "I remember being in the clubs when I was younger, on the floor, and you couldn't deny it. I was like, 'I really like rock music, but this stuff is great. And then when 'Saturday Night Fever came out,' even if you were a rock fan, you still went out and saw that movie—because it was a huge movie. And the Bee Gees are the sound track."
"Everyone deep down is a Bee Gees fan," says Chris Mullin, who plays bass for the group. For as much love as they have for the group, they're not directly trying to be the guys, he says. "To be honest, we don't really try to channel or imitate the characters at all. Many tribute bands try to imitate the real characters, which always comes off as 'cheesy.'"
Still, they do try to stay true to the style and era. "All of the characters have the trademark Bee Gees look.," Mullin says. "Anthony Mattina has the Barry Gibb beard and hair, Todd Sharman has Robin Gibb's flowing blond mane, and Joseph Janisse has Maurice Gibb's trademark hat and glasses."
It's not hard to see the Bee Gees' influence on the newer bands, with the resurgence of a dance vibe that seems to tap into that 70s feel, Sharman says.
One example would be the Robin Thicke's single, "Blurred Lines," which was nominated for Best Pop duo group at Sunday's Grammy Awards.
Sharman continually stresses how well written the group's sounds are, but how does he account for the band's popularity in places where people don't even speak English? (The group has taken the act as far as India, Russia, and Sweden.)
"They may not understand the words. It's the vibe and the feeling of the songs, the melody," he says.  "It's catchy regardless of whether you understand English or not. It's not so much a lyric thing, as it is melody and chord structure, more so than just lyrics. I don't know that there's any one lyric that'd stand out as earth-shattering or mind-blowing. It's just the way that the songs are put together. Musically, it's really just well written songs."
So iconic were the Bee Gees in their heyday that NBC's Saturday Night Live ran recurring sketches, playing on the Australian accents and falsetto signature, to create a  political satire called "The Barry Gibb Talk Show." Justin Timberlake, who played Robin, and Jimmy Fallon, who imitated Barry, channeled the brothers, demonstrating that those octaves could transcend music itself.
As for the song "Stayin' Alive," originally written for "Saturday Night Fever," it is surprisingly palliative. Because of its 104 beats per minute, the song has been used to help train medical professionals and has even been endorsed by the American Heart Association in a "hands-only" CPR method.

"Stayin Alive" comes to the Flagler Auditorium January 31 at 7:30 p.m. Tickets are $29 for adults and $18 for youths. For ticket information, call (386) 437-7547 or visit the Auditorium website.