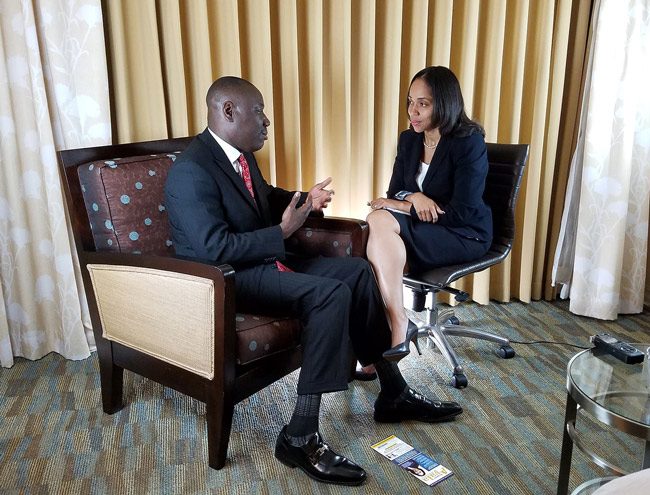 A Central Florida state attorney who created a firestorm by deciding not to seek the death penalty for alleged cop-killer Markeith Loyd — or in any other capital case — is accusing Gov. Rick Scott of abusing his authority by ousting her as prosecutor in the Loyd case.
Aramis Ayala, state attorney for the 9th Judicial Circuit in Orange and Osceola counties, asked a judge Monday to put a hold on proceedings in the case of Loyd, accused of killing his pregnant ex-girlfriend, Sade Dixon, and the execution-style killing of Orlando Police Lt. Debra Clayton.
The legal action from Ayala, who infuriated Scott and other Republican elected officials by announcing last week she would not seek the death penalty in Loyd's case or any others, came after Scott reassigned the case to Brad King, an Ocala-area state attorney who is an outspoken proponent of the death penalty.
Ayala's action came the same day more than 100 former prosecutors, judges and law professors sent a letter to Scott challenging his authority to remove the prosecutor — who, like other state attorneys, enjoys broad discretion in seeking the death penalty — from pursuing the case as she sees fit.
In a five-page filing, Ayala argued that Scott lacks the power to strip her of her role as prosecutor.
The Florida Constitution gives Ayala "complete authority over charging and prosecuting decisions," she wrote.
State law only gives the governor the authority to remove a prosecutor if he determines for "good and sufficient reasons" that "the ends of justice would be served," Ayala went on, citing state statutes.
"A 'good and sufficient reason,' therefore, must be something other than a disagreement over how I should exercise my discretion in a particular case," Ayala wrote.
If a court interpreted the state law in the same manner as Scott, Ayala wrote, the governor could supersede a prosecutor in any given case.
"Giving the governor the tremendous and unfettered discretion to interfere in that decision making, would be unprecedented and could undermine the entire justice system in Florida," she wrote.
Ayala asked a judge to set a schedule allowing motions from both sides to be heard, and also indicated she would be willing to share her investigative files with King, the special prosecutor in the Loyd case, to avoid delays.
In the filing, Ayala noted that Scott called her Thursday and asked if she would recuse herself from the case. When she refused, he reassigned the case to King without giving her the opportunity to explain her decision.
After learning of Scott's action Thursday, Ayala said in a statement that she would follow any "lawful order" and "fully cooperate to ensure the successful prosecution of Markeith Loyd," for whom she had intended to seek life in prison.
In Monday's filing, Ayala said she had not yet received an order from Scott indicating he had yanked her from the case.
Scott defended his decision to appoint a different prosecutor.
"When I first heard that the State Attorney Ayala had decided not to fully prosecute the accused murderer of his pregnant girlfriend, Sade Dixon, and officer Debra Clayton, I personally was shocked," Scott told reporters Monday afternoon.
Scott said he attended the funeral of Clayton, whom Loyd is accused of killing execution-style, and Norm Lewis, an Orange County deputy who died in a traffic crash during a nine-day hunt for Loyd.
"So the first thing I did was I asked her to recuse herself, she said she wasn't going to so I moved the case to Brad King. Last week, she said she was fine with that. Today she's changed her position. So the case has been assigned to Brad King, and that was the right decision," the governor said.
Late Monday, Rep. Bob Cortes, R-Altamonte Springs, asked Scott to suspend Ayala from office, saying "it is obvious" cases in her circuit "will not be handled in the manner they should by the current state attorney."
Scott said earlier in the day he is "going to continue to look at our options" regarding removing Ayala from her post.
"Right now, I'm focused on Markeith Loyd," he said.
Ayala, who defeated incumbent Democrat Jeff Ashton in an August primary, told reporters last week she arrived at her decision not to seek the death penalty in any cases because "doing so is not in the best interest of this community or the best interest of justice."
Her objection to being taken off the Loyd case came the same day more than 100 legal experts also accused Scott of overstepping his authority.
Former state Supreme Court justices Gerald Kogan and Harry Lee Anstead, both outspoken critics of Florida's death penalty system, and Talbot "Sandy" D'Alemberte, a former American Bar Association president who also served as president of Florida State University, were among those who signed the missive to Scott, warning that his involvement in the case "sets a dangerous precedent."
"Your executive order that seeks to remove State Attorney Ayala from this position in the Loyd case — absent any showing that her decision is violative of the state or federal Constitution — compromises the prosecutorial independence upon which the criminal justice system depends," they wrote. "The governor picking and choosing how criminal cases are prosecuted, charged or handled in local matters is troubling as a matter of policy and practice. Indeed, there seems to be no precedent in Florida for this type of use of power."
Harry Shorstein, a former Jacksonville-area state attorney who signed the letter, told The News Service of Florida on Monday that it was wrong for the governor to remove an elected officer "who was fulfilling her duties but not in the manner in which the governor wanted them to be fulfilled."
Ayala told reporters her rationale for not pursuing the death penalty was because she believed it is not a deterrent to crime, is costly and can drag on for years, adding to victims' anguish — reasons Shorstein says have been well-documented.
Shorstein, who served as a state attorney in the 4th Judicial Circuit for nearly two decades and successfully sought the death penalty in dozens of cases, also said it is appropriate to let the courts decide whether Scott usurped his authority.
"It's a very important question," he said.
–Dara Kam, News Service of Florida