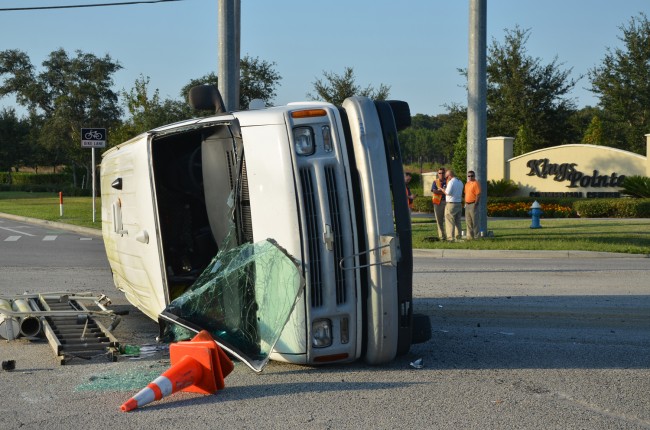 The intersection of Old Kings Road and State Road 100 in Palm Coast was the scene of a spectacular two-vehicle crash that left an AT&T work van on its side in the middle of the intersection after a car that ran a red light struck it. But both drivers somehow escaped injuries and were walking around at the scene.
The wreck closed a lane on each side of State Road 100, however, slowing rush hour traffic to a crawl for an hour.
It happened a few minutes after 5 p.m. Victor Piankov was at the wheel of his two-year-old Ford Focus, heading east on SR100. Jeremy Hoekstra, the AT&T driver, was at the wheel of his van, heading north on Old Kings. Piankov, a Florida Highway Patrol investigator at the scene said, "ran a red light," and struck the van broadside.
The front-left side of the Focus was demolished. The van ended up straddling State Road 100, facing soputh, before wreckers removed it.
"I don't remember," Piankov said when asked how the incident had unfolded. Hoekstra meanwhile was with colleagues at one corner of the intersection, recounting the incident and finding his laptop in good health, too. There are no red light cameras at that intersection, but investigators had witnesses.
Flagler County Fire Rescue, the Palm Coast Fire Department and the Flagler Beach Fire Department responded. The Palm Coast Fire Police regulated traffic. The Sheriff's Office was first on scene, before turning it over to the highway patrol. Both Roger's Towing and Saxon's Towing responded, each taking one piece of wreckage. The intersection was cleared by 5:50 p.m. and all traffic returned to normal shortly after that.
Piankov, the FHP investigator said, was to be cited for a red-light violation.