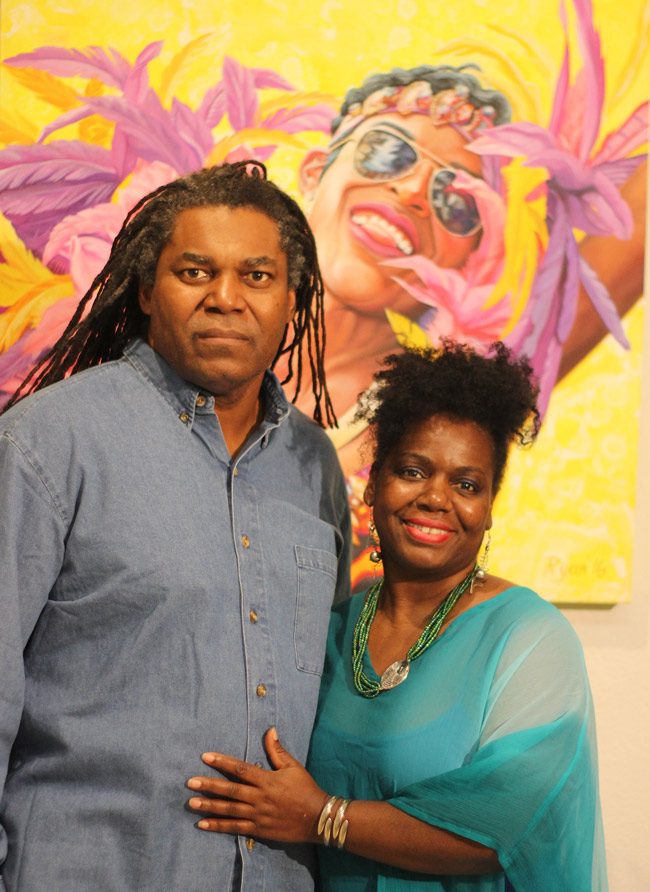 Artist Weldon Ryan is bringing the First Annual Art of Carnival Exhibit to Flagler County.
Ryan first debuted his series of carnival paintings at the Peabody's Rose Room Gallery in Daytona Beach in 2015. Now, he' s in the planning stage for the Second Annual Art of Carnival to coincide with the West Indian American Day Carnival on Labor Day in New York.
The first leg of the journey starts here in Flagler, at Calypso Fine Art Galley, on Saturday (Feb. 18) from 6 to 8 p.m. This exhibit will feature some of the work that showed in New York. Originally slated to be Calypso Fine Art Gallery's October exhibit, it was postponed until Black History Month because of Hurricane Matthew. "I believe this was divine intervention. This is the perfect time to focus on historical firsts by African Americans," Ryan said.
Ryan continues to make history: He was the first African American detective appointed to the New York Police Department's Forensic Artist Unit, the first African American to own an art gallery in Bunnell, in a county that was among the last place in the country to desegregate its schools, and the county's first African American Artist of the Year.
Calypso Fine Art Gallery opened on May 21, 2016. Weldon worked at a feverish pace and produced a record number of ten pieces for a carnival show in new York City. At the same time he cranked out two commissioned portraits and eight floral paintings, all within four months. "Being in control of my own destiny invigorated me. It put wind in by sails and pushed me forward," he said
Ryan's work captures the spirit of festive celebration with each painting in this Carnival Series, whether on Eastern Parkway, in Orlando, St Pete, or Miami. He creates an endless dance with feathered costumes, vivid colors, with a touch of loud, in-your-face attitude that echoes the sound of carnivals.
"I' m so passionate about my people and my culture, this is one reason I am drawn to this subject matter," he says of his Caribbean heritage. "Also as a realism painter, what better place to cast my net and grab a variety of faces, races, sexes, shapes and sizes, but at a West Indian Carnival Parade."
For years, Ryan worked from a studio at Hollingsworth Gallery then at its successor, Salvo Art, which closed in January but is slated to reopen at a new location in May. "The void created by Salvo's not being at Nature Scape does negatively affect the two small galleries in Marvin's Garden, Calypso Fine Art Gallery and ZinkZank Art," he says. "When Richlin and I decided to open our gallery between ZinkZank and Salvo it was in hopes to help expand 3rd Saturday openings and inspire other artist to rent space in Marvin's Garden creating a larger artist footprint. We will miss our neighbor Salvo, but the show must go on. We need community support to survive, come out Flagler."
Calypso Fine Art Gallery located at 4601 E Moody Blvd., Bunnell. It will mark its first-year anniversary in May.