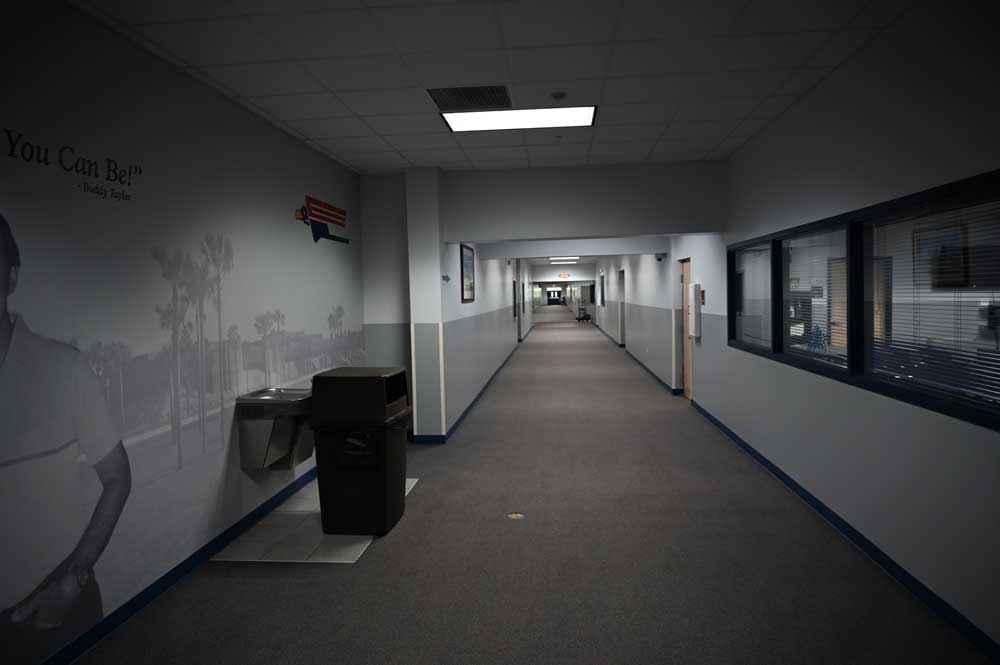 The Flagler County school district will survey its 1,600 employees to gauge whether there's interest among them to be armed in the district's nine campuses. They would provide a supplementary armed presence to existing sheriff's resource deputies, and would do so in addition to their regular school duties.
The survey will not ask whether employees support or oppose such a program–only whether the individual taking the survey is himself or herself interested in being armed on campus, and providing security in case of an emergency. The survey results will be presented to the board–and the public–at a February 21 workshop.
"Whether it's a teacher, a guidance counselor and administrator, a campus advisor, a custodian, a food service worker, a school counselor, a dean, these are the personnel that we're going to survey," Tommy Wooleyhan, the district's safety specialist, said.
Cheryl Massaro, the board's chair, doubts many employees will want to participate. "We need to know where our people stand and what they're interested in," she said. "If we don't have enough interest in having people in our schools do it, that takes away one of the possibilities."
In December the board also pledged to gauge public sentiment for such a program, through town hall meetings. Those were not discussed today. Two board members were absent: Christy Chong and Colleen Conklin.
The school board has been wrestling since last year with the possibility of arming some of its employees, an option Florida law made available to districts following the 2018 massacre of students by an armed intruder at a high school in Parkland. The board discussed the option for the fifth time in less than a year at a workshop today. It has not decided whether to arm its employees, or have any supplementary armed presence on campuses. It is still in the exploratory phase.




No data has been presented to the district about the effectiveness or validity of arming employees, because none exists. No data has been presented about the effectiveness of having any supplemental armed personnel on campus, such as armed guards, in addition to the 12 deputies and supervisors the district currently pays for, at an annual cost of $826,000 (before overtime, not including crossing guards).
Nevertheless some 46 counties in Florida have adopted an armed-civilian program in some form–either arming school personnel or arming a separate security force that is not part of a professional, law enforcement agency.
The first question in the survey going out to Flagler district personnel will not ask whether the respondent supports or opposes such a program. Rather, it will ask: "Are you interested in becoming a School Guardian?" (Florida refers to arming civilians by a euphemistic name enshrined in law, the Coach Aaron Feis Guardian Program, named for a coach murdered among the 17 victims of the Parkland shooting. There is no evidence that the program provides guardianship.)
If the respondent answers yes to the Flagler survey, the questions move on to other inquiries about the employee's job description, whether the employee has a concealed carry permit, whether the employee has law enforcement or military background. The survey will be anonymous, and will not be a commitment of any sort.
The survey will be problematic in a technical way: anyone can fill it out any number of times. That would tend to skew results, if participants stack answers.




It isn't clear why the survey will not also gauge employees' opinions about arming civilians on campus in general. The survey will be issued to employees only through a Google platform, likely by the end of the week.
Surveys have consistently found a majority of Americans opposed to arming school personnel, and even larger majorities of teachers in opposition. In 2018, the National Education Association, the union representing teachers, found opposition to arming teachers among 74 percent of the membership it surveyed. A more independent survey by Florida Atlantic University in 2019 found 51 percent of Floridians at large opposed. Education Week, the trade publication unaffiliated with unions or particular schools, last August found 45 percent of adults in support of arming teachers, though 80 percent support armed law enforcement in schools.
Classroom teachers, or "individuals who exclusively perform classroom duties," as the law states, had originally not been eligible to participate. But that exclusion was removed in 2019. So teachers can now participate.
That raised a question for School Board member Sally Hunt, who pointed to the possibility of an armed teacher leaving the classroom–to answer the call of duty in an emergency–just when the students would depend on their teacher most. "I don't know that I would be in favor of utilizing instructional or otherwise," Hunt said, referring to teachers, who in education lingo are often referred to as "instructional personnel," or "other staff members who would reasonably during the school day have, whether it's more than one student or whatever that number would be, because we need them with those students at that moment."
That and most other parameters of the programs are, in fact, in the school board's hands to define, Superintendent Cathy Mittelstadt told the board.
If the district were to adopt such a program, the school employee would have to volunteer to be armed, in addition to the employee's usual duties.




No one would know who the armed personnel are. Florida law makes provision for their identity to be concealed, even from the parents of students who may be in a classroom with an armed teacher. "These are plainclothes concealed carry who have other job descriptions and other job duties," Wooleyhan said. "There are actually two people that in a Florida county that would know who these personnel are. The first one is Superintendent Mittlestadt. The other one would be the sheriff. There is no other notification of who the guardians are."
At least that's what the program provides for. But on a school campus, it may be difficult to keep the identity concealed for very long. "Even though it's only the superintendent and the sheriff that know who they are, I'd be very surprised that that's kept to a big secret," Cheryl Massaro, who chairs the school board, said.
The lowest cost option is to arm existing employees. It gets more expensive after that, if the district were to have separate, uniformed personnel–its own security guards–in addition to the Sheriff's Office's existing school resource deputies. That option would cost Flagler schools about $300,000. If district employees were armed, without uniforms, then the cost would be less(it would be limited to training and the time the employees put in for training). That cost was not specified. But Wooleyhan said each district wanting to participate in the program is potentially allocated $100,000 from a state grant fund to cover training, supply and other costs, as long as state funds are available. Those funds can run out.
Last September, Wooleyhan put the cost range between $150,000 to $600,000 in the first year, depending on the approach the district would choose.
Participating employees would have to train at least for 144 hours over the summer, and most likely more, depending on what the local district want them trained for. The school board has yet to discuss a number of issues associated with the program, such as liability and insurance costs.
Sheriff Rick Staly, whose agency would oversee and provide all training, has supported a program that would supplement his deputies, but said he would oppose any program that would be used as a substitute or a replacement for deputies. Yet the district's exploration of an armed civilian approach is by definition a substitution for a more professional approach: the district would prefer to have additional deputies. It says it cannot afford them. So it's going the route of arming civilians.




Surprisingly, not a single board member so far has raised the question of data–or the absence of data–regarding arming civilians in schools.
The Journal of Adolescent Health in 2019 published a study that found that, in an analysis of school shootings between 1999 and 2018, "the presence of a school resource officer was unassociated with any reduction in school shooting severity." There are no studies or data about the effectiveness of arming civilians.
"The question about whether to arm teachers has seen very limited scholarly discussion and scientific inquiry," a report in the American Journal of Public Health noted in 2018, in the wake of the Parkland massacre. "Although no empirical evidence is currently available regarding whether arming teachers would deter gun violence in elementary and secondary school settings, we can extrapolate from existing research on the possible outcomes of such efforts. Research has shown that increased gun access and gun possession are not associated with protection from violence, which suggests that increasing the presence of guns in the hands of civilians in schools, no matter how well intentioned, may backfire."
Reader Interactions