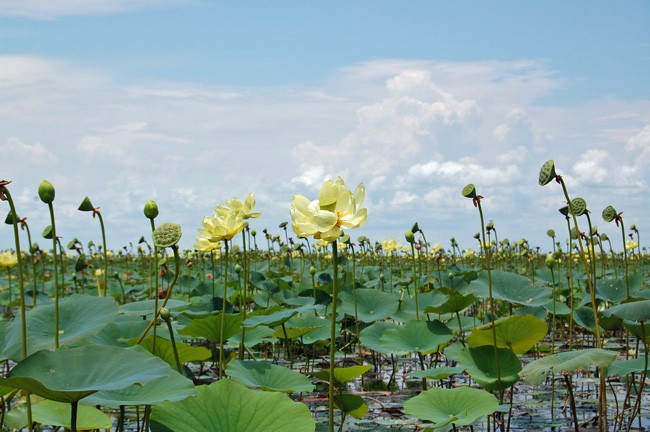 Florida's natural springs would get $50 million, the Kissimmee River is in line for $30 million, and a wastewater plan for the Florida Keys is up for $25 million, under a newly released House proposal that would help carry out a voter-approved increase in conservation dollars.
But there are few other clearly outlined projects in a $772.1 million proposal for next fiscal year released Tuesday by the House Agriculture & Natural Resources Appropriations Subcommittee. The proposal is focused more on land management and water projects than on new land acquisitions.
The plan quickly drew mixed reviews from conservationists, whose reactions included that it was a "a good starting point" for negotiations and that lawmakers disregarded the intent of voters who supported a constitutional amendment, known as Amendment 1, in November.
"The recommendation ignores what the voters thought that they were voting for, which was to put money into land acquisition for parks and wildlife habitat and trails," said Audubon Florida Executive Director Eric Draper, a lobbyist on environmental issues.
Among the House funding proposals were $191 million for debt service for the Florida Forever program, Everglades restoration and water-management districts; $100 million for Everglades restoration bonding; $91.6 million for management of state parks, greenways and wildlife management areas; $35 million for water farming; $25 million for beach restoration; $15 million for an agricultural project on the west side of Lake Okeechobee; and $800,000 for an increase in pay for Forest Service firefighters.
"There is some serious funding in there to solve some serious problems," said subcommittee Chairman Ben Albritton, R-Wauchula. "We focused on the things that we think have to do with helping the environment, helping out ecosystems and providing for quality land management."
The proposed spending plan is about $30 million more than state economists have projected will be available.
The Senate's proposal for the Amendment 1 money will be released Thursday by the General Government Appropriations Subcommittee.
Sen. Alan Hays, a Umatilla Republican who is chairman of the subcommittee, said Tuesday he had only briefly seen the House proposal, but that he supports the idea of favoring land management over acquisitions.
"I think that's a move in the right direction," said Hays, who added that the Senate proposal may offer similar approaches.
The amendment, approved in November by 75 percent of voters, lays out for 20 years an increase in funding for land and water conservation.
The amendment requires 33 percent of the proceeds from a real-estate tax to go for land and water projects. The funding level is currently projected to generate $741 million in next year's budget, more than $200 million above what lawmakers allocated for such uses in the current year.
Nearly $200 million of the House proposal falls under two categories — water resource development and fund shifts from the General Revenue Fund — that don't fully indicate how that money will be used.
"That's mystery money," Draper said. "You might call that a reserve for lobbyist-driven water projects."
More importantly, the budget is limited to the state's springs and the area around Lake Okeechobee, he said.
"If you're a voter from Tallahassee, outside the capital, or you're in Miami, or in Orlando, this really doesn't do anything for you," Draper said.
House Speaker Steve Crisafulli, R-Merritt Island, disagreed, saying the money will get spread statewide to maintain lands the state already owns.
The House proposal addresses the Kissimmee River, some cleanup in the Indian River Lagoon, and includes the Keys wastewater plan, but doesn't break down further local projects for purchase or management.
Noticeably absent is any indication that there will be funding to buy U.S. Sugar land south of Lake Okeechobee.
Some South Floridians have recently called for the state to complete a 2010 deal to acquire 46,800 acres from U.S. Sugar, of which 26,100 acres would be used for construction of the Everglades Agricultural Area reservoir, which would aid in the shifting of water now going east and west to the south.
The deal, estimated at $350 million, must be completed by Oct. 12 or Florida would have to buy an additional 157,000 acres to get the land for the reservoir.
Albritton noted that U.S. Sugar has recently soured on the deal.
"For there to be an agreement consummated, everyone has to want to do it and agree on a price, and I don't think U.S. Sugar is interested in selling," Albritton said.
As with most of the Amendment 1 spending plan, spending on local projects must still get hammered out through negotiations with the Senate later in the legislative session.
Janet Bowman of The Nature Conservancy said she was encouraged with the plan enhancing land management, increasing from $5 million to $25 million the annual funding for the Rural and Family Lands program, while putting $105 million into programs that could result in land acquisitions.
"It's a good starting figure going into conference," said Bowman
Gov. Rick Scott has offered his own spending plans, some of which have drawn criticism.
While touting a desire to provide funding on a recurring basis for Everglades restoration and springs maintenance, Scott during the upcoming fiscal year wants $150 million for the Everglades, of which $122 million would cover work already underway. He also wants lawmakers to allocate $50 million for springs and $178 million for debt service on bonds tied to the Florida Forever and Save Our Everglades programs. Another $20 million would go for land purchases and restoration of the Kissimmee River.
Scott has drawn criticism for his proposal to use $7.6 million for state park ranger wages and $63 million to cover operating expenses at water-management districts and the Department of Environmental Protection.