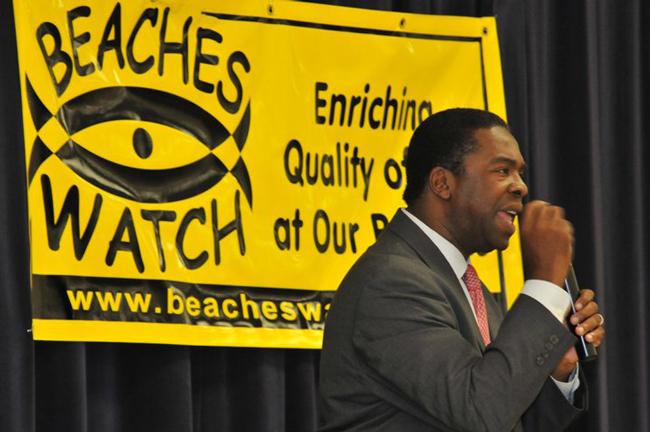 The first African-American mayor in the history of Jacksonville and the first Democrat to be elected to the city's top post in two decades comes into office raising questions about whether his win could portend tougher times for Republicans in what has been a staunchly conservative county.
In a narrow and ultimately surprising race for mayor of the state's geographically largest city, Democrat Alvin Brown defeated Republican opponent Mike Hogan in the second round of elections Tuesday. The race had been closely followed because of the potential that Brown could win the office in what is often a cornerstone for GOP statewide campaigns.
In a press conference in Jacksonville on Thursday morning, Brown sought to play down the political significance of his victory.
"This win isn't about party," he said. "This victory was about Jacksonville and its future. My campaign was nonpartisan. My administration will be bipartisan."
But with a presidential election in little more than a year, the first Democratic win in Jacksonville in 20 years quickly stirred questions about whether the reliably red county might be taking on a more purple hue. Brown's victory raises concerns because Duval County was critical to Gov. Rick Scott's 2010 victory — the county accounted for almost a quarter of his margin of victory against then-CFO Alex Sink.
Local experts, however, urged caution Thursday, saying Brown's victory may not portend a fundamental electoral shift.
"I don't think we're sort of heading for a new Democratic dominance of Duval County," said Matthew Corrigan, a political-science professor at the University of North Florida.
While the contest could signal some trouble for Scott, there were unique threads running through the campaign for mayor. Hogan's campaign, and the candidate himself, had their share of flaws. In one infamous episode, Hogan joked that he wouldn't bomb an abortion clinic, "but it may cross my mind," he's quoted in an account of the event in the Florida Times-Union.
Hogan also pushed back against efforts to revitalize downtown development, scaring some business supporters that often back Republicans into the camp of Brown, a relatively conservative Democrat, and gave the underdog's campaign access to more fundraising.
"Not only did it hurt him with votes, but it hurt him with money," said Jake Godbold, Democratic mayor of the city in the 1980s who tepidly backed Hogan in the second round of voting.
The fundraising helped Brown piece together a coalition that included Democrats, independents and some among the Republican-friendly business community.
"They felt that they could work with Mayor-elect Brown and he understood their concerns," said Rep. Mia Jones, D-Jacksonville, a supporter.
While voting was up in the county's heavily black districts, Brown also did well in somewhat diverse but largely white areas that had voted for some Republicans eliminated in the first round, said Mario Piscatella, a local political consultant. In three of those districts, Brown's share went from 11 percent in the first round to 40 percent in the second.
Some observers see overtones for the coming presidential election in the results of the voting. Rep. Mike Weinstein called the race "a wake-up call for both sides," indicating that future races in Duval could be financially and logistically hard-fought. He said national parties began paying more attention to the race after the first round of voting narrowed the field down to Hogan and Brown.
"It became a Republican-Democrat stepping-off point for 2012," said Weinstein, R-Jacksonville. "It became a very different election in the last six weeks."
Piscatella said Brown's victory signaled that Democrats can do better in Duval and that Obama might be able to fare as well as he did in 2008, a critical piece of the formula for winning Florida's trove of electoral votes.
"At the very least, he can get the same 48, 49 percent he got last time, and that probably decides the statewide election," Piscatella said.
Others are more skeptical.
"Obama will be on his own," Godbold said. "This is a very conservative town."
But Corrigan said state politics might have shaped the race in some ways, as state Republicans' budget plans to slice education spending helped Brown's decision to push education as an issue in the campaign.
"Rick Scott may have hurt Hogan in this race," Corrigan said. " … I think there's more of a connection for the governor-mayor race than there is for the presidential-mayor race."
–Brandon Larrabee, News Service of Florida