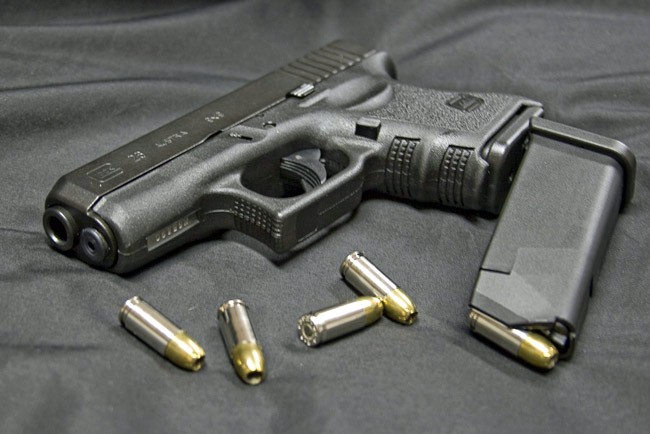 The Flagler County Sheriff's Office on Thursday fired seven-year veteran Alfonzo Dillard, a former narcotics detective, after Dillard did not report to work and did not provide a documented excuse for his absence after numerous requests. Two weeks earlier, an internal affairs investigation concluded that Dillard had misplaced one of his guns, traveled out of county with a department-issued vehicle, lied about the trip and possibly about whether the gun was a personal firearm or a department-issued Glock–all violations of Sheriff's Office policy.
Dillard had been demoted from the Tri-County Task Force and the sheriff's Special Investigations Unit last October, when the investigation was launched and he was earning $38,000 a year. He was reassigned to road patrol pending the outcome of the internal investigation.
The reason for Dillard's firing was job abandonment. But his troubles began last September when he attended a two-week training session under the federal High Intensity Drug Trafficking Areas program, better known as HIDTA. Dillard stayed at the Staybridge Suites. As he was almost back in Flagler County, he got a call from a hotel clerk informing him that he'd left a bag at the hotel. Unbeknownst to the clerk, the bag contained one Dillard's guns.
While in training in Tallahassee Dillard had met Amanda Dobson, a civilian agent with the Florida Department of Law Enforcement. He asked her by phone to go to the hotel to retrieve the bag. It's not clear from the internal investigation if at that point Dillard knew he'd left the gun behind. According to his statement to the internal investigator, Dillard asked Dobson to look in the bag for his Jordan sneakers, which were not there–but a gun was. According to the internal investigation, "Deputy Dillard said the gun in the bag was his personal weapon and not one of the two Glocks that were issued to him by the agency."
Deputies with off-duty weapons are required by policy to qualify through training for possessing such a gun. Dillard had not qualified for any off-duty weapon in his last training on Sept. 8. "He said he didn't qualify with the off-duty gun because it was never meant to leave his house," the investigative report continues. "He denied having knowledge that the gun was in the bag, and denies carrying the gun off duty." But in a conversation with a sheriff's Cpl. Jason Neat, the first superior Dillard spoke to regarding the misplaced gun, Dillard said the gun was his back-up, department-issued Glock.
Some three weeks had elapsed between the time Dillard had left the bag and the gun in Tallahassee, and the day he left work early, without permission, to drive to Tallahassee with a sheriff's car–without permission– and fueled up with sheriff's gas to retrieve the gun. That day, according to the investigation, he was working in a St. Augustine office of the narcotics task force. He told a colleague there that he would be working through lunch and leaving early. Again, there are conflicting stories about what he'd told whom: in one case he said he left early to take care of his daughter, who he said had been locked out of the house. In another case he said he was heading to Tallahassee to see the Florida State-Notre Dame football game the next day. Either way, he had not directly informed Cpl. Neat that he was leaving early.
In fact, Dillard was heading to Tallahassee to retrieve his gun. He would finally tell Neat as much the following Monday, when he asked to speak with him in a parking lot, but only because as he drove to Tallahassee, Dillard was pulled over outside of Tallahassee and issued a warning by a Florida Highway Patrol trooper. That took place just after 5 p.m. that Friday. The time stamp ion the documented encounter led investigators to believe that Dillard had lied about when he'd left his post. It's not clear whether Dillard would have revealed the nature of his trip to his superior had he not been stopped by a trooper. But during that conversation with Neat, he said it was his department-issued Glock that had gone missing–the Glock he was supposed to use when working under cover with the task force. Dillard told Neat that he had instead been using his larger Glock instead. (Dillard would also claim that he'd asked Neat for three hours' comp time the Friday he drove to Tallahassee.)
The investigator asked Dillard why he didn;t use his own vehicle to drive to Tallahassee. "Again," he told the investigator, "at the time I was just notified that my own personal weapon, which may I add had been missing at this time for a while, was no longer in my possession." He said retrieving the weapon became his main priority, even more so than going back to Palm Coast that Friday to let his daughter in the house. (In a different version of the story, his daughter had simply not gone to school and not been locked out.) In Tallahassee, Dillard stayed at Dobson's for the weekend, fueling up on his dime, he said, for the return trip to Palm Coast.
By the time the investigation was completed on April 24, the sheriff's office concluded that he'd violated five policies: truthfulness, conformance to state and federal laws, conduct unbecoming, use of department vehicles, and the department's personal firearm policy.
Counseled twice since the October matter and the start of the investigation, Dillard on May 3 left a voice mail for Ken McClinton, the human resources director, informing him that he would not be coming to work on Monday because of shoulder pain, and that he'd be going to the hospital for treatment. On May 5, Dillard claimed in another voice mail to McClinton that a doctor had placed him off work until Friday. But when a deputy was sent to his home, Dillard was not there, or did not answer the door. Several attempts by the office to communicate with Dillard failed. On May 7, he was mailed a letter informing him that he was considered to have abandoned his job, and was fired.
"While the Flagler County Sheriff's Office has a great degree of concern for your current health condition," the letter signed by McClinton and bearing Sheriff Jim Manfre's name, stated, "I feel we have provided every reasonable accommodation available to you and beyond what is deemed necessary."