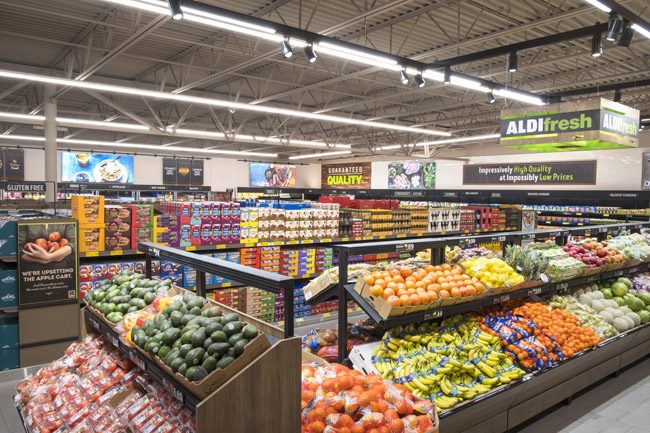 Publix had better beware: The Germans are coming.
Aldi, the fast-growing German discount grocery chain, opens its doors in Palm Coast at 8:30 Thursday morning in the new shopping center on State Road 100, across from the Target shopping center. It's a long-anticipated opening that has grocery bargain-hunters giddy, and Aldi bullish: the opening is part of a wave of new Aldi stores that's only growing with time. Just last month, the chain, third-largest among grocers in the United States behind Walmart and Kroger but largest in the world, announced a $3.4 billion expansion with 900 more stores opening across the country, on top of the 1,600 it already runs in 35 states. It wants to do so by 2022, so another Aldi store in the area is possible. It has more than 8,000 stores worldwide.
After Thursday's 8:25 ribbon-cutting, customers will be invited to tour the store, sample products and enter a local sweepstakes for a chance to win a year's supply of Aldi produce.
The company is increasingly devouring a share of a hyper-competitive market where shopping for produce can sometimes trigger double-takes, given the prices.
The company lowers prices by adopting a few tricks: customers have to drop a quarter as a deposit to get a cart. They get their quarter back when they return the cart. Customers pack their own groceries (if you can fill your own gas tank, cut your own meat and drive your own car, you can pack your own groceries). You'll get cashiers. But you won't see them weighing produce before pricing it. It all gets to the cash register pre-packaged, ready to scan.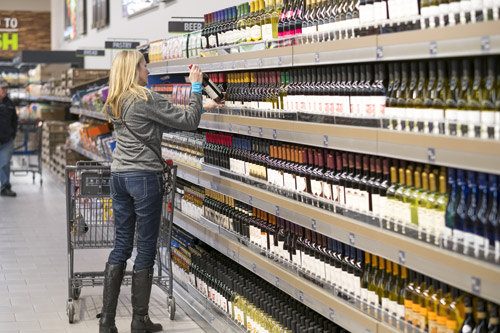 And nine out of 10 products are Aldi's own, which means there is no middleman adding to the cost. That means there are fewer choices (2,000 food items instead of 45,000, generally speaking), but if you're familiar with Costco, it's not much different: 73 different kinds of mustard may have some benefits, but Aldi is betting that most consumers will take the lower prices in exchange for diminished choices.
Inside the store, you'll notice few frills. No fancy shelving, no endless rearranging of shelves, and many fewer aisles than you're used to at Publix or even Winn Dixie. Items are often sold in their own boxes. And the lighting is a little less like the set of a sitcom, with lights shining from every angle, and more energy-conscious. There are produce, dairy and bakery sections, natural lighting and environmentally-friendly building materials. Because the store's organization is low-frills, it uses many fewer employees, thus cutting down on the biggest cost and, presumably, passing the savings to customers. (The company is privately held.)
"We're thrilled to join the Palm Coast community and offer customers the benefits of the Aldi shopping experience," Matt Thon, the Haines City division vice president for the company's U.S. operation, was quoted as saying in a release the company issued earlier today. "Our high-quality products and everyday low prices make for a combination our competitors just can't match."
According to its release, Aldi has added a number of new product lines including a growing organic selection, USDA Choice meats, the liveGfree gluten-free product line, the SimplyNature line of products free from over 125 artificial ingredients and preservatives and the Never Any! line of meats free from antibiotics, added hormones and animal by-products. The store carries a full line of baby products, Little Journey, which offers customers diapers, wipes, training pants, formula, organic food and snacks.
Aldi products are free of added MSG, certified synthetic colors and partially hydrogenated oils. The company, its release states, ensures its exclusive brands meet or exceed the national brands on taste and quality by conducting rigorous testing on all products. (If a customer doesn't like an Aldi exclusive brand food, the company will refund the money.)
The company says its staffers work at least 25 hours a week and get full health insurance benefits and dental coverage, plus participation in a 401(k) program.