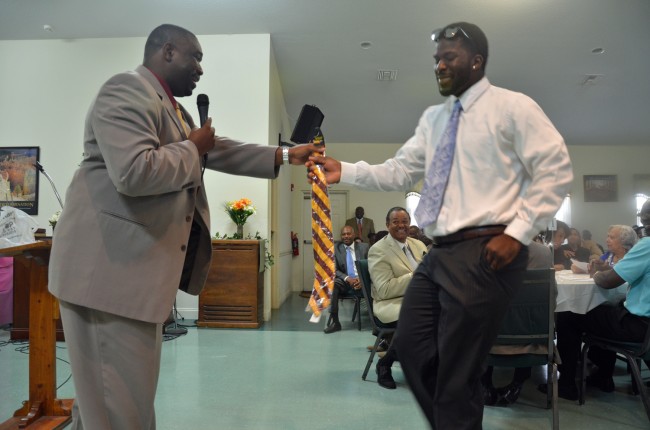 Rev. Ryan Griffin didn't sugar-coat it.
He was facing a hall-full of young men—all but a couple of them African-American high school students, all of them either with their parents or mentors, all of them in the Flagler County school district's African-American Mentor Program, most if not all of them because they need to be, because the alternative could be shards of just the sort of wreckage Griffin was describing.
Fifty percent of black males in grades 6 to 12 have been suspended compared to 21 percent for whites. Seventeen percent of black males have been expelled, compared to 1 percent of whites. In large urban districts, more than half of black males drop out of high school. Young black men in Philadelphia and Louisiana face a higher chance of death of by homicide than did soldiers in Iraq during the war. Blacks are 1.7 times more likely than whites to be victims of crime and more than twice as likely to be victims of aggravated assaults. The imprisonment rate of blacks is more than six times higher than those of other races.
And on he went.
Griffin is a minister and the director of player development at Bethune-Cookman University, where he previously attended college on a football scholarship,. Captained the football team, became an all-conference player, and graduated magna cum laude before earning another full scholarship that let him become the first member of his family to get his master's. He was the keynote speaker at the African American Mentor Program's annual year-end celebration and award ceremony, when some 42 active mentors stand proudly next to 62 students, "mentees," as they are usually referred to, having made it through the year, often with achievements that might have defied expectations—but for their mentors' guidance.
"I read those statistics," Griffin told the assembly of around 150 at Mt. Calvary Baptist Church, where the ceremony was hosted, "because that is what these young men are fighting against each day, these are statistics that have been put out about our young African-American males, but there's good news." Griffin, only minutes into his speech, got a handkerchief to wipe his brow, from John Winston, the president of the mentor program. He continued: "In spite of the turmoil, in spite of what the stats say, you can do it, you can be successful, you can make it."
The students in the assembly were proof, despite being works in progress.
"You are the lender, You are not the borrower," Griffin said. "When somebody says you can't you say, yes, I can."
He was just getting warmed up for his four pillars of wisdom—what he termed the four keys to success—that he eventually summed up this way: Know who you are. Value your education. Respect your parents. Choose your friends wisely.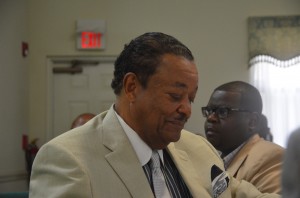 It's the sort of thing involved parents tell their teen-age children every day. It's not the sort of thing teen-age children like to take to heart. But it's the sort of thing, Griffin reminded the students, that makes the difference between success and trouble. He derided he notion that getting a high GPA isn't cool, and using his experience, told students that just getting by on athletic abilities, for example, doesn't cut it in college anymore. Colleges are looking for scholar-athletes, he said, a theme Winston picked up later when describing—to a reporter—his disappointment in school districts' emphasis on sports, when it's at the expense of academics: when colleges can make the choice between a 3.0 athlete and a 2.0 athlete, they'll choose the better student.
There was a hint of the bittersweet for Winston this evening. Winston has been involved in the mentor program for nine years, the last seven as its president. If the program has been as successful as it's been, it's been largely because of Winston's drive and energy, and his infectious dedication: he's recruited and inspired a slew of mentors, and kept the program going. But he's 75. He has seven children of his own, and 43 grandchildren, and his family needs his attention (his son just had a heart attack). The phone can ring four or five times a day and into the night, at times with issues related to mentees who get in trouble. A sheriff's deputy will call Winston and tell him: either the sheriff's office can handle the issue, or he can. So he does. But the demands are wearing on him.
This, Winston said, will be his last year as president, even though he'll continue to mentor students. He hasn't figured out who will succeed him. He's working on it. But he also wants younger mentors to get involved. "You've got to understand our age group," Winston says. "Look at us. We're old men. Our average age is 65. We have four who are 83," one of whom just had to leave the program for health reasons. But some new mentors are beginning to join.
"We're all volunteers. We do this because we care about our community," Winston said, speaking of the new mentors beginning to join, such as a young probation officers and one young retiree who was one of the few African-American plant managers of a chemical plant in the country.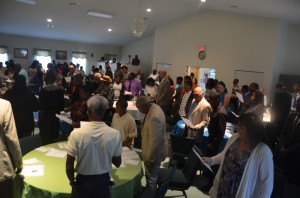 And others, like Ralph Lightfoot, are continuing to carry their load. Lightfoot is mentor to one student in high school, one in middle school, and five fourth graders in Bunnell. Daniel Mills, a 9th grader at Matanzas High School, was one of his students, at table with him this evening at the ceremony.
"My mom found it necessary," Mills said. "She said it's good to have a role model for me. I thought—true. Sh felt a strong male presence in my life would be good, considering my father was not really around." His father had not been involved
The ceremony carried through the handing out of medals and awards, and the recognition of 10 students who are graduating this year, some of them with full scholarships to attend college.
Winston was particularly complimentary of one of the few white men in the audience: John Fischer, the school board member, who's become attached to—and supportive of—the mentor program in the last 18 months. School Board Chairman Andy Dance was also present for much of the ceremony. The program is run with the district's support, and especially the administrative support of Sabrina Crosby, who was also recognized.
And Winston devoted his final words to Jim Guines, the former school board member and one of the founding members of the mentor program, who was not in the audience this time. Guines has been battling serious illnesses. Winston had spoken to him recently. "Jim just said one thing: tell them all, keep on going, keep on going," Winston said. "He said 'I don't know how long I'll be here.'" Guines has had two major strokes, and has been bedridden.
Every once in a while, during the dinner portion of the evening, a student would walk up to Winston, ask to speak with him, shake his hands, and every time, the words most heard from Winston—the words most heard all evening—would be: "I'm so proud of you."