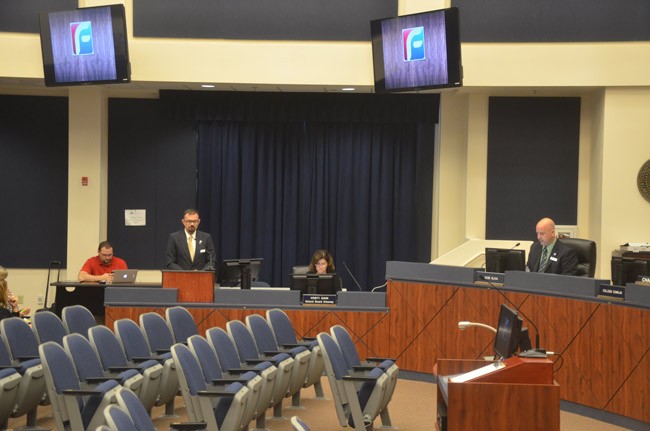 Flagler County's Adults With Disabilities program, which for two decades provided work and life skills to some 85 individuals who could not otherwise function as effectively in less supportive environments, was facing elimination this year after the Legislature and Gov. Rick Scott combined to slash millions of dollars out of the state's budget for disabilities program last spring.
Flagler County lost an annual appropriation of $536,000 that was offsetting most of the program's $713,000 cost, with Medicaid underwriting much of that difference.
Flagler was one of 40 districts that had adults with disabilities programs. Most eliminated the programs. The Flagler school district did not want to cut the program.
The adult education division has been scrambling to find money to make up the loss, prevent layoffs of the 15 people the disabilities program employs, and keep providing a service that scores of families have come to depend on, with a lengthening waiting list of families hoping to enroll individuals in the program.
The program will, in fact, continue. But it will not be different, and smaller.
"We've spent countless hours looking at the budget, looking at how to keep the doors open, but we've had to make some reductions," Adult and Community Education Director Kevin McCarthy said this evening.
Employees are down to eight. Participants will be down to 59. More than half will attend part-time, compared to almost all enrollment previously attending full-time. The waiting list is increasing to 73. Transportation options will be all but lost, with the exception of a van that can carry six clients, a fraction of previous capacity. Participants will have to pick up some of the cost. Services and activities will be curtailed.
The heart of the program–once known as Step Up–will no longer exist. In Step-Up, individuals worked, earned a minimum wage, and made products that could help local businesses. Sixty people were enrolled in that program. A program called Community Inclusion was the other component of Flagler's Adults With Disabilities programs. It catered to individuals with more profound disabilities. They couldn't work and earn a paycheck, but they could participate in various skill-building activities and field trips and learn life and health skills. The new program will be all community inclusion.
Despite all that, the district will still have a $30,000 deficit, which it hopes to fill with a county grant.
"This isn't a fix to the challenge that we have," Superintendent Jacob Oliva said. "This is a band-aid to try to facilitate some sort of program for the remainder of the year" as the district hopes for the Legislature to again fund the program.
Local legislators—Sen. Travis Hutson and Rep. Paul Renner—are promising that they'll do what they can to restore some funding during the coming session in January. But junior legislators tend to have little pull in Tallahassee, and to succeed they'll have to convince majorities in both chambers to restore millions of dollars. If they don't succeed, it is unlikely that Flagler will be able to continue even its scaled-down version of the adults with disabilities program.
Board members and Oliva used words like "tragic," "somber" and "vulnerable" Tuesday evening to describe what the governor's action (a veto that eliminated what funding the Legislature had tried to salvage) had caused and to whom in Flagler. Board member Andy Dance said the wheeling and dealing behind closed doors that ended with the elimination of the funding should alert voters to the way state government operates.
"We'll figure out how to get through this, part of it, so that services are being provided, but I just think it unfair, given the vulnerability—and I think it's a good word," Colleen Conklin, who chairs the board, said as her voice struggled to maintain composure. "While we don't like the changes, I don't think anybody likes the changes, but I commend this board for holding the line in trying to continue to provide some kind of programming."
"This has to be a shared responsibility in this community," Conklin continued. "We should all be sharing in this responsibility to take care of each other and to take care of really all of your families and those who need the programming." (County government and the county's cities have been reluctant to provide money.)
The board voted 4-0, approving the reductions. (Board member Sue Dickinson was absent.)