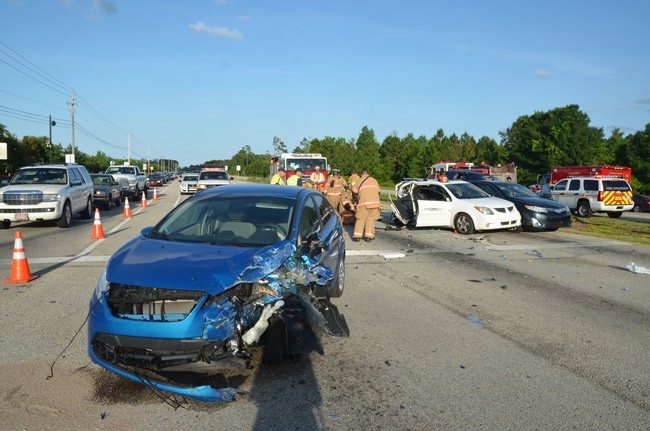 It's been a devastating 24 hours on Flagler County roads: between 10:30 p.m. Friday and 6:30 p.m. Saturday, authorities responded to four serious wrecks, including one resulting in the death of a motorcyclist on State Road 100 near the Bimini bar.
The fatal wreck took place Saturday afternoon just before 4 p.m. when a woman driving toward Bunnell rear-ended a motorcyclist in an instant of inattention, when she looked down to check her phone, according to authorities at the scene.
Adam Wade Ryone, 43, who lived on Mahogany Boulevard in Daytona North, was killed.
Florida Highway Patrol Investigators say Christopher Trella and his wife Renee Trella, of Daytona North, were riding on the same motorcycle on SR100, heading east toward Bunnell, along with Ryone, who was riding his own motorcycle by himself. None of the three wore helmets.
Tiffany Jenkins, 26, was driving her small SUV behind the motorcyclist. She had her son Corbin Jenkins, 18 months old, in a car seat behind her. No one was speeding. Jenkins was on her way to shop. She had been in contact with her husband by phone, and at one point looked down to her phone to push a button, according to the account she gave investigators. When she looked up, one of the motorcycles had stopped in the roadway to make a right turn into a private driveway.
She ran into Ryone's motorcycle, catapulting him against her windshield. His motorcycle ended up in a waterlogged ditch. Ryone was in critical condition when paramedics arrived at the scene–in too critical a condition to be flown. Paramedics worked on him in an attempt to to stabilize him as they took him to Florida Hospital Flagler, where he died.
According to investigators, Ryone was riding nearer the shoulder, while the Trellas were riding nearer the center line. He had slowed or stopped near the private driveway where the motorcyclists were about to turn, so he could let the Trellas go first. It was at that point that Jenkins briefly lost sight of him, looking up only to see him stopped immediately in front of her.
Jenkins suffered minor cuts on her fingers but she and her son were otherwise not hurt. Jenkins, however, was severely shaken upo by the wreck, and had to be hospitalized. No alcohol or drugs are suspected in the wreck, authorities said. Assuming that holds, Jenkins is likely to face a careless driving charge.
The wreck near the Bimini, not far from Deen Road, took place a little over two hours before another wreck, again on State Road 100 but at Belle Terre Parkway, involving three sedans. That wreck looked more serious than it was, at least to life and limb: two of the three vehicles were severely damaged, and firefighters freeing occupants of one of the three vehicles–a Pontiac Vibe–had to use their extraction tools. But the wreck resulted in two non-life-threatening injuries, with both individuals transported to Florida Hospital Flagler, where they were expected to recover.
The circumstances of that wreck, which is being investigated by the Flagler County Sheriff's Office, are not clear. It involved the Pontiac, a Toyota Camry and a Ford Fiesta, all three of which ended up facing west, in the westbound lanes of State Road 100, after the wreck. Traffic was not severely impeded, though the Palm Coast Fire Police reduced travel lanes to one, westbound.
Overnight, Palm Coast and Flagler County Fire Rescue personnel responded to two other serious wrecks. One took place at Seminole Woods Boulevard and Sesame Boulevard, where a woman missed a curve and drove her vehicle deep into the woods after 10 p.m. Friday night. She was transported to Halifax hospital in serious condition. Saxon's Towing, the wrecker on call for most or all of these wrecks, needed three trucks to extract the car from the woods. Four hours later, around 2 a.m., another vehicle wrecked on Colbert Lane at Waterside Parkway.